JAZZCLA – Classic Jazz Radio

ThejazzVnU.com Classic Jazz takes listener on a journey that covers a span of over five decades of jazz music, and includes a variety of music styles (Bebop, Hard Bop, Cool Jazz, Acid Jazz, Crossover Jazz, Avant-Garde Jazz, soul jazz, Swing, Big Band, Free Jazz, Traditional Jazz, and Dixieland) rich in history and geographical significance that includes artists from around the world.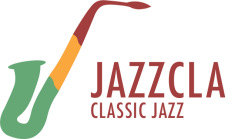 You will enjoy the music of hundreds of extraordinary artists, old masters as well as current and upcoming musicians, whose musical skills and creativity have inspired contemporaries in shaping the world of jazz.
Jazz After Midnight
Weeknights (Monday – Friday) from 12:00 AM to 3:00 AM/EST/US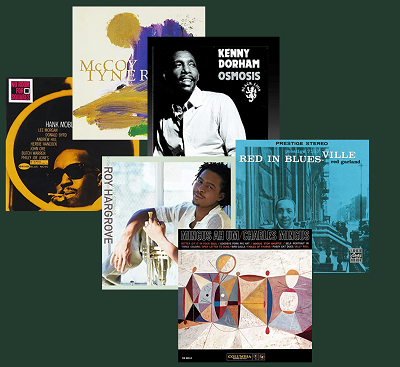 Jazzites, let us keep you company with the most beautiful ballads, from the old masters as well as current and upcoming musicians.
Artists such as Stanley Turrentine, Cannonball Adderley, Charlie Parker, Miles Davis, Dizzy Gillespie, Eric Dolphy, Hank Mobley, Dexter Gordon, Susanne Alt, Roy Hargrove, Terence Blanchard, Thad Jones, John Coltrane...and many more.
Our music format includes a variety of styles (Latin Jazz, Bebop, Hard Bop, Cool Jazz, Acid Jazz, Crossover Jazz, Avant-Garde Jazz, Swing, Big Band, Free Jazz, Traditional Jazz and Dixieland) and interpretations by artists from around the world.
JAZZCLA - Classic Morning Drive
Weekdays, Monday through Friday, 8:00 AM to 11:00 AM/EST/US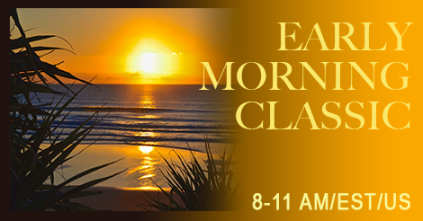 For you early morning risers, join us weekdays (Monday through Friday), from 3:00 AM – 6:00 AM/EST/US, for 3-hours of the best Classic Jazz Mix.
The music will keep you awake, lively and alert, and is a mixture of vocal and instrumental jazz in a variety of styles (Bebop, Cool Jazz, Acid Jazz, Crossover Jazz, Traditional Jazz and Popular Music) performed by musicians/artists such as Ray Bryant, Bilie Holiday, Stan Getz, Kenny Dorham, Dee Dee Bridgewater, Diana Krall, Stanley Turrentine, Art Farmer, Ella Fitzgerald, Miles Davis, Wes Montgomery, Eliane Elias.....and many more.
Elvin Jones - Nice Jazz Festival 200 (Live)
Ahmad Jamal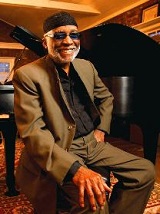 Ahmad Jamal is a jazz pianist, composer, bandleader, and educator. For five decades, he has been one of the most successful small-group leaders in jazz. Trained in both traditional jazz ("American classical music", as he prefers to call it) and European classical style, Ahmad Jamal has been praised as one of the greatest jazz innovators over his exceptionally long career. Following bebop greats like Charlie Parker and Dizzy Gillespie, Jamal entered the world of jazz at a time when speed and virtuosic improvisation were central to the success of jazz musicians as artists. Jamal, however, took steps in the direction of a new movement, later coined "cool jazz" – an effort to move jazz in the direction of popular music. He emphasized space and time in his musical compositions and interpretations instead of focusing on the blinding speed of bebop.
Billy Strayhorn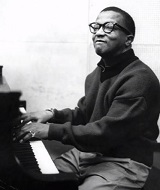 If you are familiar with the jazz composition, "Take the A Train," then you know something about not only Duke Ellington, but also Billy "Sweet Pea" Strayhorn, its composer. Strayhorn joined Ellington's band in 1939, at the age of twenty four. Ellington liked what he saw in Billy and took this shy, talented pianist under his wings. Neither one was sure what Strayhorn's function in the band would be, but their musical talents had attracted each other. By the end of the year Strayhorn had become essential to the Duke Ellington Band; arranging, composing, and sitting-in at the piano. Billy made a rapid and almost complete assimilation of Ellington's style and technique. It was difficult to discern where one's style ended and the other's began. The results of the Ellington-Strayhorn collaboration brought much joy to the jazz world.
Dizzy Gillespie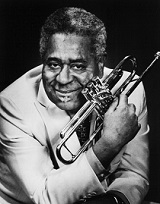 Dizzy" Gillespie (/ɡɪˈlɛspi/;   was a jazz trumpeter, bandleader, composer, and singer. He was a trumpet virtuoso and improviser, building on the virtuoso style of Roy Eldridge but adding layers of harmonic and rhythmic complexity previously unheard in jazz. His combination of musicianship, showmanship, and wit made him a leading popularizer of the new music called bebop. His beret and horn-rimmed spectacles, his scat singing, his bent horn, pouched cheeks, and his light-hearted personality provided some of bebop's most prominent symbols.
In the 1940s Gillespie, with Charlie Parker, became a major figure in the development of bebop and modern jazz. He taught and influenced many other musicians, including trumpeters Miles Davis, Jon Faddis, Fats Navarro, Clifford Brown, Arturo Sandoval, Lee Morgan, Chuck Mangione, and balladeer Johnny Hartman.
Scott Yanow wrote, "Dizzy Gillespie's contributions to jazz were huge. One of the greatest jazz trumpeters of all time, Gillespie was such a complex player that his contemporaries ended up being similar to those of Miles Davis and Fats Navarro instead, and it was not until Jon Faddis's emergence in the 1970s that Dizzy's style was successfully recreated. Arguably Gillespie is remembered, by both critics and fans alike, as one of the greatest jazz trumpeters of all time"
Herbie Hancock
By the time Herbie Hancock graduated from Grinnell College in 1960, he was already performing in Chicago jazz clubs with Coleman Hawkins and Donald Byrd.  Hancock music can be characterized as a creative blend of funk, soul and blues, jazz and classic music. Two of his well-known and popular songs that have achieved cross-over success with pop audience and music lovers around the world include "Watermelon Man" and "Cantaloupe Island".
Bobby Timmons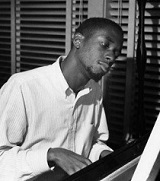 Bobby Timmons was a jazz pianist and composer. He was a sideman in Art Blakey's Jazz Messengers for two periods (July 1958 to September 1959; February 1960 to June 1961), between which he was part of Cannonball Adderley's band. Several of Timmons' compositions written when part of these bands – including "Moanin'", "Dat Dere", and "This Here" – enjoyed commercial success and brought him more attention. In the early and mid-1960s he led a series of piano trios that toured and recorded extensively.
Stanley Turrentine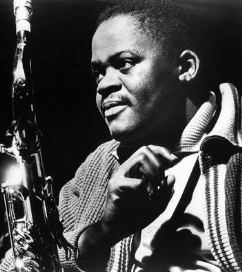 A legend of the tenor saxophone, Stanley Turrentine was renowned for his distinctively thick, rippling tone, an earthy grounding in the blues, and his ability to work a groove with soul and imagination.  Turrentine recorded in a wide variety of settings, but was best-known for his Blue Note soul-jazz jams of the '60s, and also underwent a popular fusion makeover in the early '70s. Born in Pittsburgh on April 5, 1934, Turrentine began his career playing with various blues and R&B bands, with a strong influence from Illinois Jacquet.
Cannonball Adderley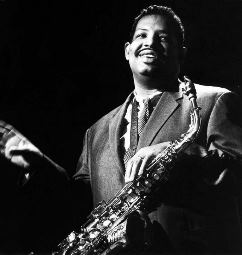 Following in the footsteps of his educator-father (a trumpet player), before moving to New York in 1955.  Cannonball Adderley initially planned to pursue graduate studies in Manhattan; but after sitting in with Oscar Pettiford's band at the Cafe Bohemia, the alto saxophonist became an instant sensation, hailed by many as the musician most likely to be the mantle of the late Charlie Parker.  Despite misguided promotional efforts to christen him as "the new Bird," Adderley clearly had his own approach to the horn, which drew on the inspiration of Benny Carter as well as Parker.
He took advantage of his early notoriety, however, by forming his first quintet, which featured his younger brother Nat Adderley on cornet.  While the group struggled economically, Cannonball did draw the attention of Miles Davis, who featured the alto saxophonist in the immortal Miles Davis sextet (alongside John Coltrane and either Red Garland, Bill Evans, or Wynton Kelly) for two years beginning in late 1957.
Miles Davis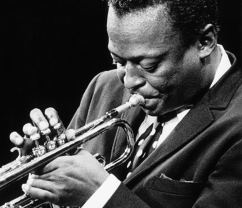 In 1945, after graduating from high school Miles Davis moved to New York City and set about finding his heroes, amongst them Charlie Parker, Thelonious Monk and Coleman Hawkins.  He can be heard on sessions led by Parker released in 1945, 1946 and 1947. The same year Mile Davis All-Stars made their debut at the Savoy.
By 1949, his career was beginning to blossom, and he began to work with arranger Gil Evans, with whom he would collaborate on many works over the next twenty years.
Playing in the jazz clubs of New York, Davis was in frequent contact with illegal drugs and developed a serious heroin addiction.  In 1954, he returned to Illinois, and with the help of his father, he kicked his heroin habit.
After an historic set at the Newport Jazz Festival in 1955, Davis was signed to Columbia Records, with whom he remained for the next 30 years.  He returned to New York reinvigorated, and formed the first great incarnation of the Miles Davis Quintet, with John Coltrane, and Charles Mingus.  Their records defined the sound of cool jazz.
John Coltrane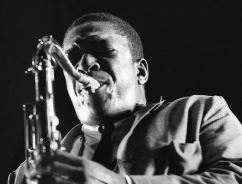 John Coltrane led at least fifty recording sessions and appeared on many albums by other musicians, including trumpeter Miles Davis and pianist Thelonious Monk.
Over the course of his career, Coltrane's music took on an increasingly spiritual dimension. He remains one of the most influential saxophonists in music history. He received many posthumous awards, including canonization by the African Orthodox Church and a Pulitzer Prize in 2007. His second wife was pianist Alice Coltrane and their son, Ravi Coltrane, is also a saxophonist.
McCoy Tyner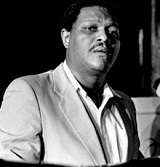 McCoy Tyner was a jazz pianist known for his work with the John Coltrane Quartet, and a long solo career. He is considered to be one of the most influential jazz pianists of the 20th century, an honor he earned during and after his time with Coltrane. Although he was a member of Coltrane's group, he was never overshadowed by Coltrane. He complemented and inspired Coltrane's open approach. His style of piano was comparable to Coltrane's maximalist style on saxophone. Tyner and Coltrane used similar scales, chordal structures, melodic phrasings, and rhythms.
After leaving Coltrane's group, Tyner produced a series of post-bop albums released by Blue Note from 1967 to 1970. These included The Real McCoy (1967), Tender Moments (1967), Time for Tyner (1968), Expansions (1968) and Extensions (1970). He signed with Milestone and recorded Sahara (1972), Enlightenment (1973), and Fly with the Wind (1976), which included flautist Hubert Laws, drummer Billy Cobham, and a string orchestra.
Wes Montgomery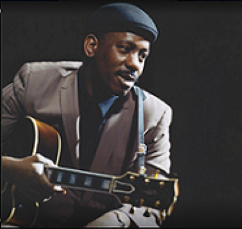 Wes Montgomery is universally acknowledged as one of the greatest guitarists in the history of jazz.  He virtually defined modern jazz guitar during the 1950s and '60s.  His unique idiomatic conception to the instrument and the power of his soloing influenced generations of players who followed him; guitar icons such as George Benson, Pat Martino, Larry Coryell, John Scofield, Pat Metheny, Lee Ritenour and Russell Malone.
Historically, Wes Montgomery's relatively short career arose in the era after Charlie Christian and Django Reinhardt had established the prevailing standard for jazz guitar in the early and mid-twentieth century.  Indeed, Wes was heavily influenced by Charlie Christian in particular,  but Wes changed the language of jazz guitar, harmonically, melodically and technically.
Johnny Lytle
Johnny Lytle was a jazz drummer and vibraphonist, who Lionel Hampton said was "the greatest vibes player in the world." Lytle was known for his great hand speed and showmanship. He was also a songwriter, penning many of his own hits, including "The Loop", "The Man", "Selim", "Lela", and the jazz classic "The Village Caller". Lytle recorded more than 30 albums for various jazz labels including Jazzland, Pacific Jazz, Solid State, Milestone and Muse. Throughout his career he performed and recorded with jazz greats including Louis Armstrong, Lionel Hampton, Miles Davis, Nancy Wilson, Bobby Timmons and Roy Ayers. Lytle was such an admirer of the music of Miles Davis that he wrote "Selim" (Miles spelled backwards) in honor of Davis. He also featured his son, Marcel Lytle, on several recordings, as a vocalist and drummer.
Ben Webster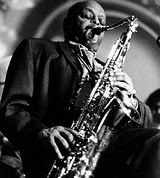 Ben Webster was a jazz tenor saxophonist, and considered to be one of the three most important "swing tenors" along with Coleman Hawkins and Lester Young. Known affectionately as "The Brute" or "Frog", he had a tough, raspy, and brutal tone on stomps (with growls), yet on ballads he played with warmth and sentiment. He was indebted to alto saxophonist Johnny Hodges, who, he said, taught him to play his instrument.
Webster played with Duke Ellington's orchestra for the first time in 1935, and by 1940 was performing with it full-time as the band's first major tenor soloist. He credited Johnny Hodges, Ellington's alto soloist, as a major influence on his playing. During the next three years, he played on many recordings, including "Cotton Tail" and "All Too Soon".
Chet Baker
Chet Baker's earliest notable professional gigs were with saxophonist Vido Musso's band, and also with tenor saxophonist Stan Getz, though he earned much more renown in 1952 when he was chosen by Charlie Parker to play with him for a series of West Coast engagements.
In 1952, Baker joined the Gerry Mulligan Quartet, which was an instant phenomenon.  Several things made the Mulligan/Baker group special, the most prominent being the interplay between Mulligan's baritone sax and Baker's trumpet.  Rather than playing identical melody lines in unison like bebop giants Charlie Parker and Dizzy Gillespie, the two would complement each other's playing with contrapuntal touches, and it often seemed as if they had telepathy in anticipating what the other was going to play next.  The Quartet's version of "My Funny Valentine", featuring a Baker solo, was a hit, and became a tune with which Baker was intimately associated.
Oscar Peterson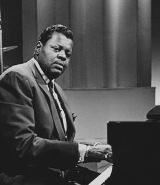 The late Oscar Peterson had an illustrious career that spanned over six decades, and during that period he performed with some of the biggest names in jazz, Count Basie, Dizzy Gillespie, Herbie Hancock, Jon Faddis, Ella Fitzgerald, Carmen McCrae, Ray Brown and Herb Ellis to name a few.
He was a giant among giants, and was so admired by his peers that they described his piano playing excellence in ways that let you know he was one of the best in the business. Duke Ellington referred to him as "The Maharajah of the keyboard", Count Basie said, "Oscar Peterson plays the best ivory box I've ever heard," and Marian McPartland referred to him as "the finest technician that I have seen." Oscar Peterson released over 200 recordings, won eight Grammy Awards, and received numerous other awards and honors.
Gene Ammons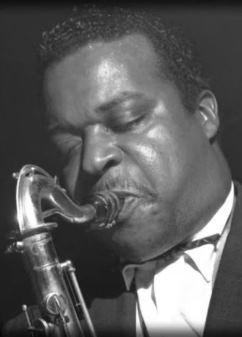 Gene also known as "The Boss", was a jazz tenor saxophonist. The son of boogie-woogie pianist Albert Ammons, Gene Ammons is remembered for his accessible music, steeped in soul and R&B.
Gene Ammons studied music with instructor Walter Dyett at DuSable High School, and began to gain recognition while still at high school, when in 1943, at the age of 18, he went on the road with trumpeter King Kolax's band. In 1944 he joined the band of Billy Eckstine (who bestowed on him the nickname "Jug" when straw hats ordered for the band did not fit), playing alongside Charlie Parker and later Dexter Gordon.
Notable performances from this period include "Blowin' the Blues Away," featuring a saxophone duel between Ammons and Gordon. After 1947, when Eckstine became a solo performer, Ammons then led a group, including Miles Davis and Sonny Stitt that performed at Chicago's Jump-town Club. In 1949 Ammons replaced Stan Getz as a member of Woody Herman's Second Herd, and then in 1950 formed a duet with Sonny Stitt.
Johnny Hodges
Johnny Hodges was an alto saxophonist, best known for solo work with Duke Ellington's big band. He played lead alto in the saxophone section for many years. Hodges was also featured on soprano saxophone, but refused to play soprano after 1946. He is considered one of the definitive alto saxophone players of the big band era (along with Benny Carter).
After beginning his career as a teenager in Boston, Hodges began to travel to New York and played with Lloyd Scott, Sidney Bechet, Luckey Roberts and Chick Webb. When Ellington wanted to expand his band in 1928, Ellington's clarinet player Barney Bigard recommended Hodges. His playing became one of the identifying voices of the Ellington orchestra. From 1951 to 1955, Hodges left the Duke to lead his own band, but returned shortly before Ellington's triumphant return to prominence (the orchestra's performance) at the 1956 Newport Jazz Festival.
Arturo Sandoval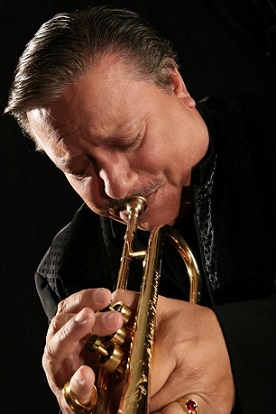 Sandoval is also a renowned classical musician, performing regularly with the leading symphony orchestras from around the world. Arturo has composed his own "Concerto for Trumpet & Orchestra", which can be heard on "Arturo Sandoval: "The Classical Album." Arturo has performed with the foremost orchestras in the country as well as abroad and recorded John Williams' Trumpet Concerto with the London Symphony Orchestra. His classical artistry has earned him the respect and admiration from the most prestigious conductors, composers and symphony orchestras worldwide.
Arturo Sandoval's versatility can be heard on recordings with everyone from Dizzy Gillespie, Woody Herman, Woody Shaw, Michel Legrand, Josh Groban, Tony Bennett, Bill Conti, and Stan Getz to Johnny Mathis, Frank Sinatra, Paul Anka, Rod Stewart and Alicia Keys amongst many others. He has performed with John Williams with the Boston Pops, and in the Super bowl with Tony Bennett and Patti LaBelle.  Sandoval is the recipient of 10 Grammy Awards,; he has also received 6 Billboard Awards and an Emmy Award.
Stan Getz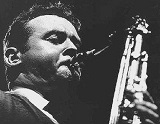 Stan Getz was a jazz saxophonist playing primarily the tenor saxophone, and was known as "The Sound" because of his warm, lyrical tone. His prime influence being the wispy, mellow timbre of his idol, Lester Young. Coming to prominence in the late 1940s with Woody Herman's big band, He is described by critic Scott Yanow as "one of the all-time great tenor saxophonists". Getz performed in bebop and cool jazz groups. Influenced by João Gilberto and Antônio Carlos Jobim, he popularized bossa nova in America with the hit single "The Girl from Ipanema" (1964).
Ray Brown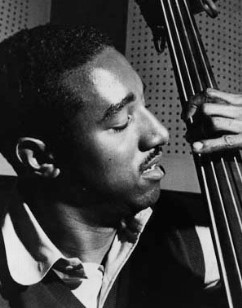 A major early influence on Brown's bass playing was the bassist in the Duke Ellington band, Jimmy Blanton.  As a young man Ray Brown became steadily better known in the Pittsburgh jazz scene, with his first experiences playing in bands with the Jimmy Hinsley Sextet and the Snookum Russell band.  After graduating from high school, hearing stories about the burgeoning jazz scene on52nd Street, in New York City, he bought a one way ticket to New York.  Arriving in New York at the age of twenty, he met up with Hank Jones, with whom he had previously worked, and was introduced to Dizzy Gillespie,  who was looking for a bass player.  Gillespie hired Brown on the spot and he soon played with such established musicians as Art Tatum and Charlie Parker.
Duke Ellington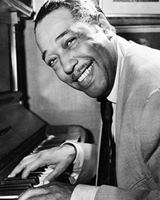 A master at writing miniatures for the three-minute 78 rpm recording format, the late Duke Ellington wrote more than one thousand compositions; his extensive body of work is the largest recorded personal jazz legacy, with many of his pieces having become standards. Ellington also recorded songs written by his bandsmen, for example Juan Tizol's "Caravan", and "Perdido", which brought a Spanish tinge to big band jazz.
In the early 1940s, Ellington began a nearly thirty-year collaboration with composer-arranger-pianist Billy Strayhorn, whom he called his writing and arranging companion. With Strayhorn, he composed many extended compositions, or suites, as well as additional short pieces. Following an appearance at the Newport Jazz Festival, in July 1956, Ellington and his orchestra enjoyed a major revival and embarked on world tours.
He led the orchestra by conducting from the keyboard using piano cues and visual gestures; very rarely did he conduct using a baton. By 1932 his orchestra consisted of six brass instruments, four reeds, and a four-man rhythm section. As a bandleader, Ellington was not a strict disciplinarian; he maintained control of his orchestra with a combination of charm, humor, flattery and astute psychology. A complex, private person, he revealed his feelings to only his closest intimates and effectively used his public persona to deflect attention away from himself.
Dexter Gordon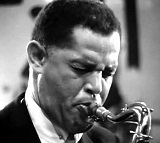 Dexter Gordon was a jazz tenor saxophonist. He was one of the first players of the instrument in the bebop idiom of musicians such as Charlie Parker, Dizzy Gillespie, and Bud Powell. Gordon's height was 6 feet 6 inches (198 cm), so he was also known as "Long Tall Dexter" and "Sophisticated Giant". His studio and performance career spanned over 40 years. He won a Grammy for Best Jazz Instrumental Performance, Soloist, for the soundtrack album The Other Side of Round Midnight (Blue Note Records, 1986). In 2019, Gordon's album Go! (Blue Note, 1962) was selected by the Library of Congress for preservation in the National Recording Registry for being "culturally, historically, or aesthetically significant".
Stan Kenton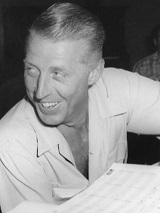 Stan Kenton was an innovative jazz musician and pianist, composer and arranger. He was also a band leader whose music covered several genres during the 1940s and 1960s, and he viewed his music as cutting edge, and in his own words referred to his music as "progressive jazz".