Johnny Hodges, Classic jazz Artist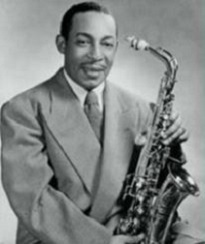 Cornelius "Johnny" Hodges (July 25, 1907 – May 11, 1970)
Johnny Hodges was an alto saxophonist, best known for solo work with Duke Ellington's big band. He played lead alto in the saxophone section for many years. Hodges was also featured on soprano saxophone, but refused to play soprano after 1946. He is considered one of the definitive alto saxophone players of the big band era (along with Benny Carter).
After beginning his career as a teenager in Boston, Hodges began to travel to New York and played with Lloyd Scott, Sidney Bechet, Luckey Roberts and Chick Webb. When Ellington wanted to expand his band in 1928, Ellington's clarinet player Barney Bigard recommended Hodges. His playing became one of the identifying voices of the Ellington orchestra. From 1951 to 1955, Hodges left the Duke to lead his own band, but returned shortly before Ellington's triumphant return to prominence (the orchestra's performance) at the 1956 Newport Jazz Festival.
Born: Cambridge, Massachusetts, USA
Genre: Jazz, Classic Jazz, Swing
Hodges was born in the Cambridgeport neighborhood of Cambridge, Massachusetts, to John H. Hodges and Katie Swan Hodges, both originally from Virginia. After moving for a short period of time to North Cambridge, the family moved to Hammond Street in the South End of Boston, where he grew up with baritone saxophonist Harry Carney, and saxophonists Charlie Holmes and Howard E. Johnson. His first instruments were drums and piano. While his mother was a skilled piano player, Hodges was mostly self-taught. Once he became good enough, he played the piano at dances in private homes for eight dollars an evening. He had taken up the soprano saxophone by his teens. It was around this time that Hodges developed the nickname "Rabbit", which some people believe arose from his ability to win 100-yard dashes and outrun truant officers, while others, including Carney, said he was called by that name because of his rabbit-like nibbling on lettuce and tomato sandwiches.
When Hodges was 14 he went with his eldest sister to see Sidney Bechet play in Jimmy Cooper's Black and White Revue in a Boston burlesque hall. Hodges' eldest sister introduced him to Bechet, who asked him to play something on the soprano saxophone he had brought with him. Hodges played "My Honey's Lovin' Arms" for Bechet, who was impressed with his skill and encouraged him to keep on playing.
Hodges built a name for himself in the Boston area before moving to New York in 1924. He joined Duke Ellington's orchestra in November 1928, and was one of the prominent Ellington Band members who featured in Benny Goodman's 1938 Carnegie Hall concert. Goodman described Hodges as "by far the greatest man on alto sax that I ever heard." Charlie Parker called him "the Lily Pons of his instrument."
Hodges' last performances were at the Imperial Room in Toronto, less than a week before his May 11, 1970 death from a heart attack, suffered during a visit to the office of a dental surgeon. His last recordings are featured on the New Orleans Suite, which was only half-finished when he died. He was married twice; he had a daughter by his first wife, Bertha Pettiford, and a son (John C. Hodges II) and a daughter (Lorna Lee) by his second wife, Edith Cue.
The loss of Hodges' sound prompted Ellington, upon learning of the musician's death from a heart attack, to lament to JET magazine: "The band will never sound the same without Johnny." In Ellington's eulogy of Hodges, he said: "Never the world's most highly animated showman or greatest stage personality, but a tone so beautiful it sometimes brought tears to the eyes—this was Johnny Hodges. This is Johnny Hodges.
Biographical information courtesy of Wiki; for more reading see link below.
https://en.wikipedia.org/wiki/Johnny_Hodges