Dizzy Gillespie, Classic jazz Artist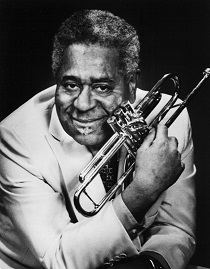 John Birks "Dizzy" Gillespie (/ɡɪˈlɛspi/; October 21, 1917 – January 6, 1993)
Dizzy" Gillespie (/ɡɪˈlɛspi/;   was a jazz trumpeter, bandleader, composer, and singer. He was a trumpet virtuoso and improviser, building on the virtuoso style of Roy Eldridge but adding layers of harmonic and rhythmic complexity previously unheard in jazz. His combination of musicianship, showmanship, and wit made him a leading popularizer of the new music called bebop. His beret and horn-rimmed spectacles, his scat singing, his bent horn, pouched cheeks, and his light-hearted personality provided some of bebop's most prominent symbols.
In the 1940s Gillespie, with Charlie Parker, became a major figure in the development of bebop and modern jazz. He taught and influenced many other musicians, including trumpeters Miles Davis, Jon Faddis, Fats Navarro, Clifford Brown, Arturo Sandoval, Lee Morgan, Chuck Mangione, and balladeer Johnny Hartman.
Scott Yanow wrote, "Dizzy Gillespie's contributions to jazz were huge. One of the greatest jazz trumpeters of all time, Gillespie was such a complex player that his contemporaries ended up being similar to those of Miles Davis and Fats Navarro instead, and it was not until Jon Faddis's emergence in the 1970s that Dizzy's style was successfully recreated. Arguably Gillespie is remembered, by both critics and fans alike, as one of the greatest jazz trumpeters of all time"
Born: Cheraw, South Carolina, USA
Genre: Jazz, Bebop, Afro-Cuban jazz
The youngest of nine children, Dizzy Gillespie was born in Cheraw, South Carolina. His father was a local bandleader, so instruments were made available to the children. Gillespie started to play the piano at the age of four. His father died when he was only ten years old, and he taught himself how to play the trombone as well as the trumpet by the age of twelve. From the night he heard his idol, Roy Eldridge, on the radio, he dreamed of becoming a jazz musician.
He won a music scholarship to the Laurinburg Institute in North Carolina which he attended for two years before accompanying his family when they moved to Philadelphia in 1935.
Gillespie's first professional job was with the Frank Fairfax Orchestra in 1935, after which he joined the respective orchestras of Edgar Hayes and later Teddy Hill, replacing Frankie Newton as second trumpet in May 1937. Teddy Hill's band was where Gillespie made his first recording, "King Porter Stomp". In August 1937 while gigging with Hayes in Washington D.C., Gillespie met a young dancer named Lorraine Willis who worked a Baltimore–Philadelphia–New York City circuit which included the Apollo Theater. Willis was not immediately friendly but Gillespie was attracted anyway. The two married on May 9, 1940.
Gillespie stayed with Teddy Hill's band for a year, then left and freelanced with other bands. In 1939, with the help of Willis, Gillespie joined Cab Calloway's orchestra. He recorded one of his earliest compositions, "Pickin' the Cabbage", with Calloway in 1940. After an altercation between the two, Calloway fired Gillespie in late 1941. The incident is recounted by Gillespie and Calloway's band members Milt Hinton and Jonah Jones in Jean Bach's 1997 film, The Spitball Story. Calloway disapproved of Gillespie's mischievous humor and his adventuresome approach to soloing. According to Jones, Calloway referred to it as "Chinese music". During rehearsal, someone in the band threw a spitball. Already in a foul mood, Calloway blamed Gillespie, who refused to take the blame. Gillespie stabbed Calloway in the leg with a knife. Calloway had minor cuts on the thigh and wrist. After the two were separated, Calloway fired Gillespie. A few days later, Gillespie tried to apologize to Calloway, but he was dismissed.
During his time in Calloway's band, Gillespie started writing big band music for Woody Herman and Jimmy Dorsey. He then freelanced with a few bands, most notably Ella Fitzgerald's orchestra, composed of members of the Chick Webb's band.
Gillespie did not serve in World War II. At his Selective Service interview, he told the local board, "in this stage of my life here in the United States whose foot has been in my ass?" and "So if you put me out there with a gun in my hand and tell me to shoot at the enemy, I'm liable to create a case of 'mistaken identity' of who I might shoot." He was classified 4-F. In 1943, he joined the Earl Hines band. Composer Gunther Schuller said,…
In 1943 I heard the great Earl Hines band which had Bird in it and all those other great musicians. They were playing all the flatted fifth chords and all the modern harmonies and substitutions and Gillespie runs in the trumpet section work. Two years later I read that that was 'bop' and the beginning of modern jazz … but the band never made recordings.
Gillespie said of the Hines band, "[p]eople talk about the Hines band being 'the incubator of bop' and the leading exponents of that music ended up in the Hines band. But people also have the erroneous impression that the music was new. It was not. The music evolved from what went before. It was the same basic music. The difference was in how you got from here to here to here … naturally each age has got its own shit."
Gillespie joined the big band of Hines' long-time collaborator Billy Eckstine, and it was as a member of Eckstine's band that he was reunited with Charlie Parker, a fellow member. In 1945, Gillespie left Eckstine's band because he wanted to play with a small combo. A "small combo" typically comprised no more than five musicians, playing the trumpet, saxophone, piano, bass and drums.
Bebop was known as the first modern jazz style. However, it was unpopular in the beginning and was not viewed as positively as swing music was. Bebop was seen as an outgrowth of swing, not a revolution. Swing introduced a diversity of new musicians in the bebop era like Charlie Parker, Thelonious Monk, Bud Powell, Kenny Clarke, Oscar Pettiford, and Gillespie. Through these musicians, a new vocabulary of musical phrases was created. With Parker, Gillespie jammed at famous jazz clubs like Minton's Playhouse and Monroe's Uptown House. Parker's system also held methods of adding chords to existing chord progressions and implying additional chords within the improvised lines
Gillespie compositions like "Groovin' High", "Woody 'n' You", and "Salt Peanuts" sounded radically different, harmonically and rhythmically, from the swing music popular at the time. "A Night in Tunisia", written in 1942, while he was playing with Earl Hines' band, is noted for having a feature that is common in today's music: a syncopated bass line. "Woody 'n' You" was recorded in a session led by Coleman Hawkins with Gillespie as a featured sideman on February 16, 1944 (Apollo), the first formal recording of bebop. He appeared in recordings by the Billy Eckstine band and started recording prolifically as a leader and sideman in early 1945. He was not content to let bebop sit in a niche of small groups in small clubs. A concert by one of his small groups in New York's Town Hall on June 22, 1945 presented bebop to a broad audience; recordings of it were released in 2005. He started to organize big bands in late 1945. Dizzy Gillespie and his Bebop Six, which included Parker, started an extended gig at Billy Berg's club in Los Angeles in December 1945. Reception was mixed and the band broke up. In February 1946 he signed a contract with Bluebird, gaining the distribution power of RCA for his music. He and his big band headlined the 1946 film Jivin' in Be-Bop.
A longtime resident of Englewood, New Jersey, Gillespie died of pancreatic cancer on January 6, 1993 at the age of 75 and was buried in Flushing Cemetery, Queens, New York City
Biographical information courtesy of Wiki; for more reading see link below.
https://en.wikipedia.org/wiki/Dizzy_Gillespie