Miles Davis, Classic jazz Artist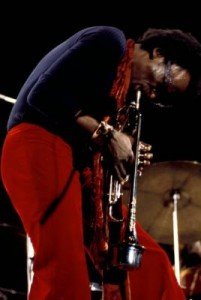 This week's Featured Artist was considered one of the most dynamic and influential jazz musicians of the 20th century.  He was always at the cutting-edge and forefront in the growth and development of jazz music, and is widely recognized world-wide as a key figure in the history of jazz music.  Meet musician, bandleader, composer and trumpeter – Miles Davis
Born in Alton, Illinois, USA
Genres: Jazz, Hard Bop, Cool Jazz, Jazz-Fusion, Jazz-Funk, Urbane Jazz
Davis was born into a wealthy family, and was raised in East St Louis, where his father was a dentist. For his 13th birthday his father bought him a trumpet, and he became a child prodigy.  By 15, he was playing in public with band leader, Eddie Randall.  He made his debut on 26 May 1926 in Alton, Illinois
In 1945, after graduating from high school, he moved to New York City and set about finding his heroes, amongst them Charlie Parker, Thelonious Monk and Coleman Hawkins.  He can be heard on sessions led by Parker released in 1945, 1946 and 1947. The same year Mile Davis All-Stars made their debut at the Savoy.
By 1949, his career was beginning to blossom, and he began to work with arranger Gil Evans, with whom he would collaborate on many works over the next twenty years.
Playing in the jazz clubs of New York, Davis was in frequent contact with illegal drugs and developed a serious heroin addiction.  In 1954, he returned to Illinois and, with the help of his father, he kicked his heroin habit.
After an historic set at the Newport Jazz Festival in 1955, Davis was signed to Columbia Records, with whom he remained for the next 30 years.  He returned to New York reinvigorated, and formed the first great incarnation of the Miles Davis Quintet, with John Coltrane, and Charles Mingus.  Their records defined the sound of cool jazz.
He then recorded a series of albums of stunning variety and complexity, 'Miles Ahead' (1957), 'Milestones', (1958), and 'Kind Of Blue' (1959), which is among the best selling jazz albums of all time, and still widely hailed as the greatest.  That year, Davis was beaten by the New York police in a racist attack.  He attempted to pursue the case in the courts, but eventually dropped proceedings.
Throughout the 1960s Davis continued his prodigious output but, increasingly influenced by the sound and attitude of rock music, he began to produce the first truly successful amalgamations of jazz with rock music.  His breakout record from this period, which was heavily inspired by Jimi Hendrix and James Brown, was the double LP 'Bitches Brew' in 1969.  Following this record, he became the first jazzman to adorn the front cover of Rolling Stones magazine.
By the mid-1970s an unwell Davis withdrew almost completely from the public eye, but by the 1980s he was back, and ready to assemble a new band from the finest musicians available.  They produced five experimental albums, and two movie soundtracks.  This included the strong comeback record 'The Man With The Horn' in 1981, which became the first album to reach the Billboard top 50 since 'Bitches Brew'.
After this, his new line up was recorded live for the 1982 album 'We Want Miles', which was followed by 'Star People' (1983) and 'Decoy' in 1984.  Davis' final album for Columbia was 'You're Under Arrest' in 1985.
He then recorded for Warner Bros, releasing the albums 'Tutu' (1986), 'Music From Siesta' (1987), 'Live Around The World' (1988), 'Amandla' (1989), 'Dingo' (1990) and his final record 'Doo-Bop' in 1991.  The latter hip-hop inspired album gave Davis his first posthumous hit single in 1992.
Miles Davis died from a stroke in September 1991.
On 13 March 2006, he was inducted into the Rock and Roll Hall of Fame, marking 80 years since his birth in 1926 and 15 years since his death.
Biographical information courtesy of the Biography Channel; for more reading see links below
http://www.milesdavis.com/us/biography