Ray Brown, Classic jazz Artist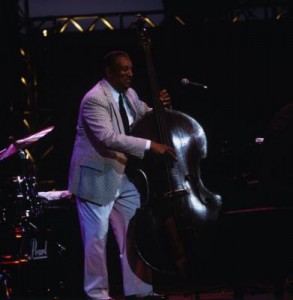 This week's Featured Artist played the Double Bass and Cello instruments, and in his early career was influenced by bassist, Jimmy Blanton of the Duke Ellington band.  His musical style was Bop and Mainstream Jazz, and in his early twenties he performed with and accompanied some of the biggest names in jazz such as Dizzy Gillespie, Charlie Parker, Bud Powell, Milt Jackson and Oscar Peterson to name a few.  Meet the late jazz composer, producer, Double bassist and Cellist – Ray Brown. 
Born in Pittsburg, Pennsylvania, USA
Genre: Jazz
Ray Brown was born in Pittsburgh, Pennsylvania, and had piano lessons from the age of eight.  After noticing how many pianists attended his high school, he thought of taking up the trombone but was unable to afford one.  With a vacancy in the high school jazz orchestra, he took up the upright bass.
A major early influence on Brown's bass playing was the bassist in the Duke Ellington band, Jimmy Blanton.  As a young man Ray Brown became steadily better known in the Pittsburgh jazz scene, with his first experiences playing in bands with the Jimmy Hinsley Sextet and the Snookum Russell band.  After graduating from high school, hearing stories about the burgeoning jazz scene on52nd Street, in New York City, he bought a one way ticket to New York.  Arriving in New York at the age of twenty, he met up with Hank Jones, with whom he had previously worked, and was introduced to Dizzy Gillespie,  who was looking for a bass player.  Gillespie hired Brown on the spot and he soon played with such established musicians as Art Tatum and Charlie Parker.
From 1946 to 1951 he played in Gillespie's band.  Brown, along with the Jackson, drummer Kenny Clarke, and the pianist John Lewis formed the rhythm section of the Gillespie band.  Lewis, Clarke and Jackson eventually formed the Modern Jazz Quartet.  Brown became acquainted with singer Ella Fitzgerald when she joined the Gillespie band as a special attraction for a tour of the southern United States in 1947.  The two married that year, and together they adopted a child born to Fitzgerald's half-sister Frances, whom they christened Ray Brown, Jr.  Fitzgerald and Brown divorced in 1952.
Around this time Brown was also appearing in Jazz at the Philharmonic concerts, organized by Norman Granz.  It was at a Jazz at the Philharmonic concert in 1949 that Brown first worked with the jazz pianist Oscar Peterson, in whose trio Brown would play from 1951 to 1966.  Between 1957 and 1959, he appeared on Blossom Dearie's first five recordings for Verve Records.  After leaving the Trio he became a manager and promoter as well as a performer.  In 1966, he settled in Los Angeles where he was in high demand working for various television show orchestras.  He also accompanied some of the leading artists of the day, including Frank Sinatra, Billy Eckstine, Tony Bennett, Sarah Vaughan and Nancy Wilson.  He also managed his former musical partners, the Modern Jazz Quartet, as well as a young Quincy Jones, produced some shows for the Hollywood Bowl, wrote jazz bass instruction books, and developed a jazz cello.  In Los Angeles he composed music for films and television shows.
From 1974 to 1982, Brown performed and recorded a series of albums withAlmeida saxophonist and Shank, and Manne (replaced by Jeff Hamilton after 1977) under the name The L.A. Four.  He also joined up with Milt Jackson again to record the classic Jackson, Johnson, Brown & Company (1983), featuring Jackson and Brown with J. J. Johnson trombone, Tom Ranier on piano, guitarist John Collin, and drummer Roy McCurdy.
In the 1980s and 1990s he led his own trios and continued to refine his bass playing style.  In his later years he recorded and toured extensively with pianist Gene Harris.  In the early 1980s, Ray Brown met Diana Krall in a restaurant in Nanaimo, British Columbia.  According to Jeff Hamilton, in an interview recorded on the "Diana Krall Live in Rio" DVD, he first heard Diana Krall play at a workshop and, impressed with her piano skills (she was not yet singing) introduced her to bassist John Clayton.  Hamilton and Clayton both encouraged Krall to move to Los Angeles to study under Ray Brown and others.  In 1990, he teamed up with pianist Bobby Enriquez and drummer Al Foster, for Enriquez's album, The Wild man Returns.  During 1990 – 1993 the "Legendary Oscar Peterson Trio" reunited, with Oscar Peterson, Herb Ellis and Ray Brown, with either Bobby Durham or Jeff Hamilton added on drums.  Albums of this group earned no less than 4 Grammy Awards.  In May 1993 this group ended, while Oscar Peterson suffered a severe stroke.
Ray played for a time with the "Quartet" with Monty Alexander, Milt Jackson and Mickey Roker.  After that he toured again with his own trio, with several young pianists like Benny Green, Geoff Keeezer and Larry Fuller.  The last edition of the Ray Brown Trio was that with pianist Larry Fuller and drummer KarriemRiggins.  With that trio he continued to perform until his death in 2002; he died in his sleep, after having played golf, before a show in Indianapolis.  Probably his last recorded show was in Europe, during the Bern Jazz Festival, on May 4, 2002, with Larry Fuller and Karriem Riggins.
http://www.concordmusicgroup.com/artists/ray-brown-trio/
For more reading check link – http://www.concordmusicgroup.com/artists/ray-brown-trio/