Stan Kenton, Classic jazz Artist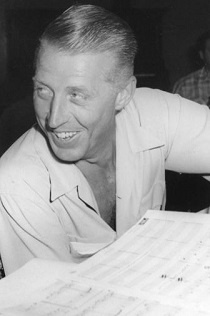 Stanley Newcomb Kenton (December 15, 1911 – August 25, 1979)
Stan Kenton was an innovative jazz musician and pianist, composer and arranger. He was also a band leader whose music covered several genres during the 1940s and 1960s, and he viewed his music as cutting edge, and in his own words referred to his music as "progressive jazz".
Born: Wichita, Kansas
Genre: Progressive jazz, West Coast jazz, swing, orchestral jazz
In 1940, Stan Kenton formed his first orchestra. He worked in the early days with his own groups as much more of an arranger than a featured pianist. Although there were no "name" musicians in his first band (with the possible exception of bassist Howard Rumsey and trumpeter Chico Alvarez), Kenton spent the summer of 1941 playing regularly before an audience at the Rendezvous Ballroom in Balboa Beach, CA. Influenced by Benny Carter and Jimmie Lunceford, the Stan Kenton Orchestra struggled for a time after its initial success. Its Decca recordings were not big sellers and a stint as Bob Hope's backup radio band during the 1943–44 season was an unhappy experience as Les Brown permanently took Kenton's place.
Kenton's first appearance in New York was in February 1942 at the Roseland Ballroom, with the marquee featuring an endorsement by Fred Astaire. By late 1943, with a contract with the newly formed Capitol Records, a popular record in "Eager Beaver", and growing recognition, the Stan Kenton Orchestra was gradually catching on, and developed into one of the best-known West Coast ensembles of the 1940s. Its soloists during the war years included Art Pepper, briefly Stan Getz, altoist Boots Mussulli, and singer Anita O'Day.
Biographical information courtesy of Wiki and Radio Swiss Jazz; for more reading see links below.
https://en.wikipedia.org/wiki/Stan_Kenton
http://www.radioswissjazz.ch/en/music-database/stan%20kenton%20orchestra/