Latin Jazz
ThejazzVnU.com offers music lovers around the world and from all walks of life a variety of rhythm and musical styles that form the rich tradition of Latin Jazz. You will hear a wide variety of music from past legends and pioneers of the genre, as well as today's contemporary musicians who continue to define the Latin genre.
Our Latin jazz format includes (Afro-Cuban jazz, Salsa, World jazz, Samba, Bossa Nova, Mambo, Merengue and Cha-Cha-Cha) music performed by artists such as Chucho Valdez, Eddie Palmieri, Israel "Cachao" Lopez, Tito Puente, Machito, Poncho Sanchez and Paquito D'Rivera, as well as David Sanchez, Danilo Perez, Ray Vega, Raulin Rosendo and many more.
Sunday Latin Grooves
Every Sunday, 8:00 AM to 11:00 AM/EST/US 
If you're a fan of (Afro-Cuban Jazz, Latin Pop, World Jazz, Salsa, Samba, Bossa Nova, Mambo, Merengue and Cha-Cha-Cha) Latin music, then  get ready to join us every Sunday, from 8:00 AM – 11:00 AM/EST/US, on a three-hour musical journey with the best Latin grooves.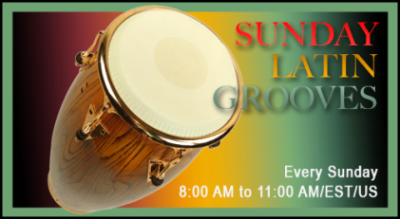 You will enjoy a mixture of Latin music from around the world, that covers the classics, as well as current releases featuring legends such as Poncho Sanchez, Tito Puente, Arturo Sandoval, Ray Barretto, Eliane Elias, Paquito D'Revera, Antonio Carlos Jobim and Eddie Palmieri, along with new and upcoming artists such as Rebeca Mauleon, Kat Parra, Leslie Paula and more.