Billy Strayhorn, Classic jazz Artist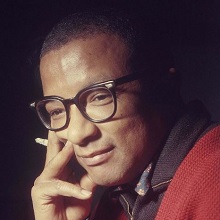 Billy Strayhorn (November 29, 1915, Dayton, Ohio – May 31, 1967, New York City)
If you are familiar with the jazz composition, "Take the A Train," then you know something about not only Duke Ellington, but also Billy "Sweet Pea" Strayhorn, its composer. Strayhorn joined Ellington's band in 1939, at the age of twenty four. Ellington liked what he saw in Billy and took this shy, talented pianist under his wings. Neither one was sure what Strayhorn's function in the band would be, but their musical talents had attracted each other. By the end of the year Strayhorn had become essential to the Duke Ellington Band; arranging, composing, and sitting-in at the piano. Billy made a rapid and almost complete assimilation of Ellington's style and technique. It was difficult to discern where one's style ended and the other's began. The results of the Ellington-Strayhorn collaboration brought much joy to the jazz world.
Born: Dayton, Ohio, USA
Genre: Jazz, Swing, Classical
Billy Strayhorn was born in Dayton, Ohio in 1915. His mother, Lillian Young Strayhorn, brought her children to Hillsborough often, and Billy was attracted to the piano that his grandmother, Elizabeth Craig Strayhorn owned. He played it from the moment he was tall enough to reach the keys. Even in those early years, when he played, his family would gather to listen and sing.
In 1923 Billy entered the first grade in a little wooden school house, since destroyed. Soon after that, however, his mother moved her family to Pittsburgh to join Billy's father, James Nathaniel Strayhorn. Mr. Strayhorn had gotten a job there as a gas-maker and wire-puller. Charlotte Catlin began to give Billy private piano lessons. He played the piano every day, sometimes becoming so engrossed that he would be late for his job. He also played in the high school band.
His father enrolled him in the Pittsburgh Musical Institute where he studied classical music. He had more classical training than most jazz musicians of his time.
Strayhorn lived a tremendously productive life. He influenced many people that he met, and yet remained very modest and unassuming all the while. For a time he coached Lena Horne in classical music to broaden her knowledge and improve her style of singing. He toured the world with Ellington's Band and for a brief time lived in Paris. Strayhorn's own music is internationally known and honored. It has been translated in French and Swedish.
Some of Strayhorn's compositions are: "Chelsea Bridge," "Day Dream," "Johnny Come Lately," "Rain Check" and "Clementine." The pieces most frequently played are Ellington's theme song, "Take the A Train" and Ellington's signatory, "Lotus Blossom". Some of the suites on which he collaborated with Ellington are: "Deep South Suite," 1947; the "Shakespearean Suite" or "Such Sweet Thunder," 1957; an arrangement of the "Nutcracker Suite," 1960; and the "Peer Gynt Suite," 1962. He and Ellington composed the "Queen's Suite" and gave the only pressing to Queen Elizabeth of England. Two of their suites, "Jump for Joy," 1950 and "My People," 1963 had as their themes the struggles and triumphs of blacks in the United States. Both included a narrative and choreography. The latter Strayhorn conducted at the Negro Exposition in Chicago in 1963. Another suite similar to these two was "A Drum Is a Woman." The "Far East Suite" was written after the band's tour of the East which was sponsored by the State Department.
In 1946, Strayhorn received the Esquire Silver Award for outstanding arranger. In 1965, the Duke Ellington Jazz Society asked him to present a concert at New York's New School of Social Research. It consisted entirely of his own work performed by him and his quintet. Two years later Billy Strayhorn died of cancer at the age of 51.
Duke Ellington's response to his death was to record what the critics cite as one of his greatest works, a collection titled "And His Mother Called Him Bill," consisting entirely of Billy's compositions. Later, a scholarship fund was established for him by Ellington and the Julliard School of Music.
Biographical information courtesy of Billy Strayhorn; for more reading see link below.
http://billystrayhorn.com/about/