Dexter Gordon, Classic jazz Artist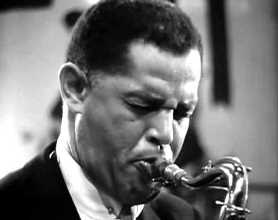 Dexter Gordon (February 27, 1923 – April 25, 1990)
Dexter Gordon was a jazz tenor saxophonist. He was one of the first players of the instrument in the bebop idiom of musicians such as Charlie Parker, Dizzy Gillespie, and Bud Powell. Gordon's height was 6 feet 6 inches (198 cm), so he was also known as "Long Tall Dexter" and "Sophisticated Giant". His studio and performance career spanned over 40 years.
He won a Grammy for Best Jazz Instrumental Performance, Soloist, for the soundtrack album The Other Side of Round Midnight (Blue Note Records, 1986). In 2019, Gordon's album Go! (Blue Note, 1962) was selected by the Library of Congress for preservation in the National Recording Registry for being "culturally, historically, or aesthetically significant".
Born: Los Angeles, California, USA
Genre: Jazz, swing, bebop, hard bop
Gordon's sound was commonly characterized as being "large" and spacious and he had a tendency to play behind the beat. He was known for humorously inserting musical quotes into his solos, with sources as diverse as popular tunes like "Happy Birthday" to the operas of Wagner. This is not unusual in common-practice jazz improvisation, but Gordon did it frequently enough to make it a hallmark of his style. One of his major influences was Lester Young. Gordon, in turn, was an early influence on John Coltrane and Sonny Rollins. Rollins and Coltrane then influenced Gordon's playing as he explored hard bop and modal playing during the 1960s.
Gordon was known for his genial and humorous stage presence. He was an advocate of playing to communicate with the audience. One of his idiosyncratic rituals was to recite lyrics from each ballad before playing it.
Gordon was nominated for an Academy Award for Best Actor in a Leading Role for his performance in the Bertrand Tavernier film Round Midnight (Warner Bros, 1986), and he won a Grammy for Best Jazz Instrumental Performance, Soloist, for the soundtrack album The Other Side of Round Midnight (Blue Note Records, 1986). He also had a cameo role in the 1990 film Awakenings. In 2019, Gordon's album Go (Blue Note, 1962) was selected by the Library of Congress for preservation in the National Recording Registry for being "culturally, historically, or aesthetically significant".
Gordon played clarinet from the age of 13, before switching to saxophone (initially alto, then tenor) at 15. While still at school, he played in bands with such contemporaries as Chico Hamilton and Buddy Collette.
Between December 1940 and 1943, Gordon was a member of Lionel Hampton's band, playing in a saxophone section alongside Illinois Jacquet and Marshal Royal. During 1944 he was featured in the Fletcher Henderson band, followed by the Louis Armstrong band, before joining Billy Eckstine. The 1942–44 musicians' strike curtailed the recording of the Hampton, Henderson, and Armstrong bands; however, they were recorded on V-Discs produced by the Army for broadcast and distribution among overseas troops. In 1943 he was featured, alongside Harry "Sweets" Edison, in recordings under Nat Cole for a small label not affected by the strike.
By late 1944, Gordon was resident in New York, a regular at bebop jam sessions, and a featured soloist in the Billy Eckstine big band (If That's The Way You Feel, I Want To Talk About You, Blowin' the Blues Away, Opus X, I'll Wait And Pray, The Real Thing Happened To Me, Lonesome Lover Blues, I Love the Rhythm in a Riff).
During early 1945 he was featured on recordings by Dizzy Gillespie (Blue 'n' Boogie, Groovin' High) and Sir Charles Thompson (Takin' Off, If I Had You, 20th Century Blues, The Street Beat). In late 1945 he was recording under his own name for the Savoy label. His Savoy recordings during 1945-46 included Blow Mr. Dexter, Dexter's Deck, Dexter's Minor Mad, Long Tall Dexter, Dexter Rides Again, I Can't Escape From You, and Dexter Digs In.
He returned to Los Angeles in late 1946 and in 1947 was leading sessions for Ross Russell's Dial label (Mischievous Lady, Lullaby in Rhythm, The Chase, Iridescence, It's the Talk of the Town, Bikini, A Ghost of a Chance, Sweet and Lovely). After his return to Los Angeles, he became known for his saxophone duels with fellow tenorman Wardell Gray, which were a popular concert attraction documented in recordings made between 1947 and 1952 (The Hunt, Move, The Chase, The Steeplechase).
The Hunt gained literary fame from its mention in Jack Kerouac's On The Road, which also contains descriptions of wild tenormen jamming in Los Angeles. Cherokee, Byas a Drink, and Disorder at the Border are other live recordings of the Gray/Gordon duo from the same concert as The Hunt.
In December 1947, Gordon recorded again with the Savoy label (Settin' the Pace, So Easy, Dexter's Riff, Dextrose, Dexter's Mood, Index, Dextivity, Wee Dot, and Lion Roars). Through the mid-to-late 1940s he continued to work as a sideman on sessions led by Russell Jacquet, Benny Carter, Ben Webster, Ralph Burns, Jimmy Rushing, Helen Humes, Gerry Mulligan, Wynonie Harris, Leo Parker, and Tadd Dameron.
During the 1950s, Gordon's recorded output and live appearances declined as heroin addiction and legal troubles took their toll. Gordon made a concert appearance with Wardell Gray in February 1952 (The Chase, The Steeplechase, Take the A Train, Robbins Nest, Stardust) and appeared as a sideman in a session led by Gray in June 1952 (The Rubiyat, Jungle Jungle Jump, Citizen's Bop, My Kinda Love). After an incarceration at Chino Prison during 1953-55, he recorded the albums Daddy Plays the Horn and Dexter Blows Hot and Cool in 1955, and played as a sideman on the Stan Levey album, "This Time the Drum's on Me". The latter part of the decade saw him in and out of prison until his final release from Folsom Prison in 1959.
He was one of the initial sax players for the Onzy Matthews big band in 1959, along with Curtis Amy. Gordon continued to champion Matthews' band after he left Los Angeles for New York, but left for Europe before getting a chance to record with that band. He recorded The Resurgence of Dexter Gordon in 1960. His recordings from the mid-1950s onward document a meander into a smooth West Coast style that lacked the impact of his bebop era recordings or his subsequent Blue Note recordings.
The decade saw Gordon's first entry into the world of drama. He appeared as a member (uncredited) of Art Hazzard's band in the 1950 film Young Man with a Horn. He appeared in an uncredited and overdubbed role as a member of a prison band in the movie Unchained, filmed inside Chino. Gordon was a saxophonist performing Freddie Redd's music for the Los Angeles production of Jack Gelber's play The Connection in 1960, replacing Jackie McLean. He contributed two compositions, Ernie's Tune and I Want More to the score and later recorded them for his album Dexter Calling.
Gordon signed to Blue Note Records in 1961. He initially commuted from Los Angeles to New York to record, but took up residence when he regained the cabaret card that allowed him to perform where alcohol was served. The Jazz Gallery hosted his first New York performance in twelve years. The Blue Note association was to produce a steady flow of albums for several years, some of which gained iconic status. His New York renaissance was marked by Doin' Allright, Dexter Calling…, Go!, and A Swingin' Affair. The first two were recorded over three days in May 1961 with Freddie Hubbard, Horace Parlan, Kenny Drew, Paul Chambers, George Tucker, Al Harewood, and Philly Joe Jones. The last two were recorded in August 1962, with a rhythm section that featured Blue Note regulars Sonny Clark, Butch Warren and Billy Higgins. Of the two Go! was an expressed favorite. The albums showed his assimilation of the hard bop and modal styles that had developed during his years on the west coast, and the influence of John Coltrane and Sonny Rollins, whom he had influenced before. The stay in New York turned out to be short lived, as Gordon got offers for engagements in England, then Europe, that resulted in a fourteen-year stay. Soon after recording A Swingin' Affair, he was gone.
Over the next 14 years in Europe, living mainly in Paris and Copenhagen, Gordon played regularly with fellow expatriates or visiting players, such as Bud Powell, Ben Webster, Freddie Hubbard, Bobby Hutcherson, Kenny Drew, Horace Parlan and Billy Higgins. Blue Note's German-born Francis Wolff supervised Gordon's later sessions for the label on his visits to Europe. The pairing of Gordon with Drew turned out to be one of the classic matchups between a horn player and a pianist, much like Miles Davis with Red Garland or John Coltrane with McCoy Tyner.
From this period came, "Our Man in Paris", "One Flight Up", "Gettin' Around", and "Clubhouse". Our Man in Paris was a Blue Note session recorded in Paris in 1963 with backup consisting of pianist Powell, drummer Kenny Clarke, and French bassist Pierre Michelot. One Flight Up, recorded in Paris in 1964 with trumpeter Donald Byrd, pianist Kenny Drew, drummer Art Taylor, and Danish bassist Niels-Henning Ørsted Pedersen, features an extended solo by Gordon on the track "Tanya".
Gordon also visited the US occasionally for further recording dates. Gettin' Around was recorded for Blue Note during a visit in May 1965, as was the album Clubhouse which remained unreleased until 1979.
Gordon found Europe in the 1960s a much easier place to live, saying that he experienced less racism and greater respect for jazz musicians. He also stated that on his visits to the US in the late 1960s and early 1970s, he found the political and social strife disturbing. While in Copenhagen, Gordon and Drew's trio appeared onscreen in Ole Ege's theatrically released hardcore pornographic film Pornografi (1971), for which they composed and performed the score.
He switched from Blue Note to Prestige Records (1965–73) but stayed very much in the hard-bop idiom, making classic bop albums like The Tower of Power! and More Power! (1969) with James Moody, Barry Harris, Buster Williams, and Albert "Tootie" Heath; The Panther! (1970) with Tommy Flanagan, Larry Ridley, and Alan Dawson; The Jumpin' Blues (1970) with Wynton Kelly, Sam Jones, and Roy Brooks; The Chase! (1970) with Gene Ammons, Jodie Christian, John Young, Cleveland Eaton, Rufus Reid, Wilbur Campbell, Steve McCall, and Vi Redd; and Tangerine (1972) with Thad Jones, Freddie Hubbard, and Hank Jones. Some of the Prestige albums were recorded during visits back to North America while he was still living in Europe; others were made in Europe, including live sets from the Montreux Jazz Festival.
In addition to the recordings Gordon did under his major label contracts, live recordings by European labels and live video from his European period are available. The Danish label SteepleChase released live dates from his mid-1960s tenure at the Montmartre Jazzhus. The video was released under the Jazz Icons series.
Less well known than the Blue Note albums, but of similar quality, are the albums he recorded during the 1970s for SteepleChase (Something Different, Bouncin' With Dex, Biting the Apple, The Apartment, Stable Mable, The Shadow of Your Smile and others). They again feature American sidemen, but also such Europeans as Spani
Biographical information courtesy of Wiki, and Dexter Gordon; for more reading see links below.
https://en.wikipedia.org/wiki/Dexter_Gordon