Herbie Hancock, Instrumental, Classic and Smooth jazz Artist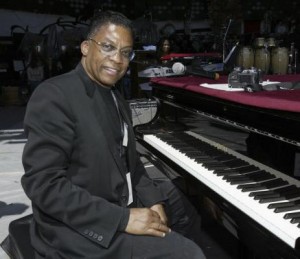 The music of this week's Featured Artist can be characterized as a creative blend of funk, soul and blues, jazz and classic music. Two of his well-known and popular songs that have achieved cross-over success with pop audience and music lovers around the world include "Watermelon Man" and "Cantaloupe Island".  Meet musician, composer, bandleader, pianist and keyboardist – Herbie Hancock
Born in Chicago, Illinois, USA
Genre: Jazz, Bebop, Jazz Fusion, Jazz Funk, R&B, Electric Funk, Classic
Born into a musical family, Herbie Hancock began studying the piano at the age of seven, and four years later performed the first movement of a Mozart concerto with the Chicago Symphony Orchestra in a young people's concert.  While attending Hyde Park High School he formed his own jazz ensemble.  His knowledge of harmony was early influenced by Clare Fischer's arrangements for the Hi-Los and Robert Farnon's orchestral arrangements of standard popular songs.
By the time he graduated from Grinnell College in 1960 he was already performing in Chicago jazz clubs with Coleman Hawkins and Donald Byrd.  Byrd invited him to join his quintet and move to New York where, during Hancock's first recording session with the group, Blue Note was sufficiently impressed to offer him his first date as a leader in May 1962.  The resulting album, Takin' Off, drew considerable public attention through an original tune with a strong gospel influence: Watermelon Man.
In May 1963, Hancock joined Miles Davis' quintet.  His piano style had by that time evolved into a highly personal blend of blues and bop with colorful harmony and exquisite tone — a rich combination of elements heard in Davis's previous pianists Red Garland, Bill Evans, Wynton Kelly, and Victor Feldman. Working with Ron Carter and Tony Williams, Hancock helped revolutionize traditional jazz concepts of the rhythm section and its relation to the soloists.  He built on the earlier developments of such diverse groups as Bill Evans's trio and OrnetteColeman's quartet, and established a musical rapport with an extraordinary degree of freedom and interaction.  During his five years with the quintet Hancock also composed several tunes which have become jazz standards, includingMaiden Voyage, Dolphin Dance, Cantaloupe Island, The Sorcerer, and Speak like a Child.
From 1971 to 1973 Hancock led a sextet which combined elements of jazz, rock, and African and Indian music with electronic devices and instruments.  Influenced by Davis' earlier fusion recordings, in which Hancock had participated, the sextet was notable for its colorful doubling of instruments, tasteful blend of acoustic and electronic sounds, and mastery of compound meters.  Thereafter Hancock began to use electric and electronic instruments more extensively, playing the Fender-Rhodes piano through a variety of signal processors such as wa-wa and fuzz pedals.  Later he turned to the Mellotron and the Hohner Clavinet, and, finally, various synthesizers, sequencers, and electronic percussion units.  The albumHeadhunters (1973) marked the beginning of a commitment to more commercial types of music, particularly rock, funk, and disco, and contained the hit singleChameleon.
Although Hancock returned occasionally to jazz projects from the late 1970s, particularly with his band V.S.O.P. and his piano duos with Chick Corea, some critics felt that his inventiveness and clarity of development had suffered as a result of his extended absence from the jazz scene.  During this period he enjoyed considerable commercial success; in 1983 the single Rockit reached number one on the pop chart, and the promotional video for this recording received widespread critical acclaim. Rockit demonstrated Hancock's ability to use the most complex innovations in electronic technology to produce fascinating music.  After this success he turned his attention almost exclusively to jazz for the next two years.  He acted and played in the film Round Midnight (1986) and won an Oscar for his score.  In 1987, he toured Europe in a trio with Buster Williams and Al Foster, and the USA and Japan leading a quartet that included Mike Brecker, Ron Carter, and Tony Williams.
Biographical information courtesy of pbs.org; for more reading see link below
http://www.pbs.org/jazz/biography/artist_id_hancock_herbie.htm