John Coltrane, Classic jazz Artist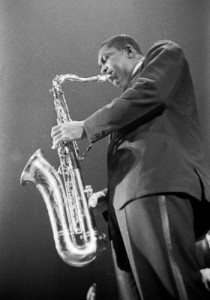 The late John Coltrane (jazz saxophone virtuoso, bandleader and composer) was very innovative and creative, and even though long gone, his distinctive jazz music style continues to influence modern-day jazz.
Born in – Hamlet, North Carolina, USA
Genre: Hard Bop, Modal Jazz, Free Jazz, Avant-garde Jazz
John William Coltrane (September 23, 1926 – July 17, 1967) was a jazz saxophonist and composer. Working in the bebop and hard bop idioms early in his career, he helped pioneer the use of modes and was at the forefront of free jazz. He led at least fifty recording sessions and appeared on many albums by other musicians, including trumpeter Miles Davis and pianist Thelonious Monk.
Over the course of his career, Coltrane's music took on an increasingly spiritual dimension. He remains one of the most influential saxophonists in music history. He received many posthumous awards, including canonization by the African Orthodox Church and a Pulitzer Prize in 2007. His second wife was pianist Alice Coltrane and their son, Ravi Coltrane, is also a saxophonist.
Coltrane father was John R. Coltrane and his mother was Alice Blair.He grew up in High Point, North Carolina and attended William Penn High School. Beginning in December 1938, his father, aunt, and grandparents died within a few months of each other, leaving him to be raised by his mother and a close cousin. In June 1943, he moved to Philadelphia. In September, his mother bought him his first saxophone, an alto. He played clarinet and alto horn in a community band before beginning alto saxophone in high school.
From early to mid-1945 he had his first professional work: a "cocktail lounge trio" with piano and guitar.
Biographical information courtesy of Wiki; for more reading see link below.
https://en.wikipedia.org/wiki/John_Coltrane