Chet Baker, Classic jazz Artist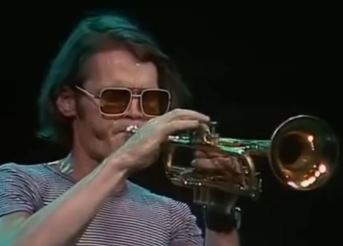 This talented jazz trumpeter, flugelhornist and vocalist became widely known, and gained much attention on the jazz scene in the 1950s, after joining Charlie Parker to play a series of West Coast engagements.  He is cool, laid-back, and delivers his music with a soft romantic touch. 
Born in Yale, Oklahoma, USA
Genre: Jazz, Bebop, Cool/West Coast Jazz
Chet Baker was born and raised in a musical household.  His father was a professional guitar player, and his mother was a talented pianist.  Baker began his musical career singing in a church choir, and his father introduced him to the trombone, which was replaced with a trumpet when the trombone proved too large.
Baker received some musical education at Glendale Junior High School, but left school at age 16 in 1946 to join the United States Army.  He was posted to Berlin, where he joined the 298th Army band.  After leaving the army in 1948, he studied theory and harmony at El Camino College in Los Angeles.  He dropped out in his second year, however, re-enlisting in the army in 1950.  Baker became a member of the Sixth Army Band at the Presidio in San Francisco, but was soon spending time in San Francisco jazz clubs such as Bop City and the Black Hawk.  He once again obtained a discharge from the army to pursue a career as a professional musician.
Baker's earliest notable professional gigs were with saxophonist Vido Musso's band, and also with tenor saxophonist Stan Getz, though he earned much more renown in 1952 when he was chosen by Charlie Parker to play with him for a series of West Coast engagements.
In 1952, Baker joined the Gerry Mulligan Quartet, which was an instant phenomenon.  Several things made the Mulligan/Baker group special, the most prominent being the interplay between Mulligan's baritone sax and Baker's trumpet.  Rather than playing identical melody lines in unison like bebop giants Charlie Parker and Dizzy Gillespie, the two would complement each other's playing with contrapuntal touches, and it often seemed as if they had telepathy in anticipating what the other was going to play next.  The Quartet's version of "My Funny Valentine", featuring a Baker solo, was a hit, and became a tune with which Baker was intimately associated.
Biographical information courtesy of Wikipedia; for more reading see link below
https://en.wikipedia.org/wiki/Chet_Baker