Wes Montgomery, Classic jazz Artist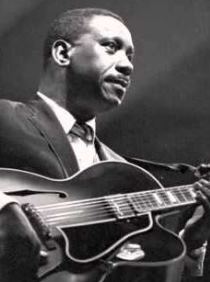 Wes Montgomery was a virtuoso guitarist, who is considered to be one of the greatest Jazz guitarist in the history of Jazz.  His distinctive style of playing the instrument influenced generations of world-class guitar players such as George Benson, Russell Malone, Larry Coryell, Kenny Burrell and Pat Martino to name a few.
Born inIndianapolis, Indiana, USA
Genre: Classic Jazz; Hard Bop, Soul Jazz, Crossover Jazz,
Universally acknowledged as one of the greatest guitarists in the history of jazz, Wes Montgomery virtually defined modern jazz guitar during the 1950s and '60s.  His unique idiomatic conception to the instrument and the power of his soloing influenced generations of players who followed him; guitar icons such as George Benson, Pat Martino, Larry Coryell, John Scofield, Pat Metheny, Lee Ritenour and Russell Malone.
Historically, Wes Montgomery's relatively short career arose in the era after Charlie Christian and Django Reinhardt had established the prevailing standard for jazz guitar in the early and mid-twentieth century.  Indeed, Wes was heavily influenced by Charlie Christian, in particular.  But Wes changed the language of jazz guitar, harmonically, melodically and technically.  The way he approached the harmonic structures of tunes, re-harmonizing them by implication in the course of his improvisations set the standard for virtually every guitarist who followed him.  Typically in his solos, he outlined chords melodically, but the chords he outlined were often different chords than the rhythm section was playing—a kind of subtle chord substitution—which, in effect, extended the overall harmony in an idiosyncratic way that was unique, distinctive and immediately identifiable.  Wes's compelling harmonic approach, his remarkably fluid single note facility along with his trademark octaves and use of sophisticated chord melodies influenced generations of players who followed in his wake.
Biographical information courtesy of Wes Montgomery.com; for more reading see link below
http://www.wesmontgomery.com/about/