Paulina Rubio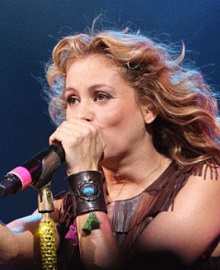 Paulina Susana Rubio Dosamantes (Spanish pronunciation: [pawˈlina ˈruβjo]; generally known professionally as Paulina Rubio, is a Mexican singer, actress, television music competition judge, hostess, model, and businesswoman. Born in Mexico City, Mexico, she achieved recognition as an original member of the pop group Timbiriche from 1982 through 1991, where she stood out as one of the main members. She appeared in 3 Mexican soap operas and 1 film in her first years of professional artistic career. Referred to as the "Queen of Latin Pop", Rubio is regarded as a pop icon and is credited with influencing the revival of Latin pop during the 2000s. She is also considered to be one of the most influential Latin celebrities in the world. Rubio has sold between 15 million and 20 million records worldwide, and is one of the best-selling Latin music artists.
Born: Mexico City, Mexico
Genre: Pop, Latin, Rock, Dance
Paulina Rubio was born on 17 June 1971 in Mexico City, Mexico. Her father, Enrique Rubio González (1943-2011), was a lawyer of Spanish descent; Her mother is Susana Dosamantes, a consecrated Mexican actress. Dosamantes had lived in Guadalajara, Jalisco until adolescence when she decided to become a film actress and, just before Rubio's birth, she became one of the most popular sex symbols of the 1970s in Mexico. Rubio's younger brother, Enrique Rubio Jr., is an important lawyer and socialite, while her half-sister Ana Paola Rubio is keeping out of the spotlight. Her musical legacy comes from her grandmother and great-grandmother, who were a mezzo-soprano singer and pianist, respectively.
Rubio's first two studio albums, La Chica Dorada (1992) and 24 Kilates (1993), were comercial successes and made her the best-selling Mexican female artist for her record label EMI Music. In the mid-1990s she adopted more mature and dance songs for her next two studio albums, El Tiempo Es Oro (1995) and Planeta Paulina (1996), and made her feature film debut in a starring role in Bésame En La Boca (1995). Following a series of concerts with the band Timbiriche and ending her contract with EMI Music, Rubio's career was interrupted, before the release of her fifth studio album under the Universal Music label, the homonym Paulina (2000), which is critically referred to as her best work.
Her self-titled album was a global successes and made her the best-selling Latin artist of the early 2000s. She returned to the top of the record charts again with her sixth and seventh studio albums, the crossover Border Girl (2002) and Pau-Latina (2004).
Rubio garnered high praise, including nominations for the Grammy Awards and Latin Grammy Award. Her next records Ananda (2006) and Gran City Pop (2009), took her to the top on the U.S. Latin charts. Influenced by pop and rock, the albums received very good reviews. She followed this with 2011's Brava, which delved into dance-pop.
In 2012 and 2013, Forbes reported that Rubio was one of the "50 Most Powerful Women in Mexico" and in 2015 she was included in the "Celebrity 100: Twitter's most-followed superstars" list.
Early in x2010, Rubio stood out for participating as a coach in the most important talent shows in America and Spain. In 2012, she served as a coach on the second season of La Voz… Mexico. In 2013; Rubio became a coach on La Voz Kids, and also became a judge on the American version of The X Factor. In 2019, during the promotion of her eleventh studio album, Deseo (2019) she returned on La Voz… España and La Voz Senior.
Rubio has scored three number one albums on the Billboard Top Latin Albums. Five of Rubio's singles have reached number one on the US Billboard Hot Latin Songs: "Te Quise Tanto", "Dame Otro Tequila", "Ni Una Sola Palabra", "Causa Y Efecto", and "Me Gustas Tanto", making her the fifth best performing female artist on the chart. Other singles, "Mío", "Y Yo Sigo Aquí" and "Don't Say Goodbye", topped the charts in most Hispanic countries. Rubio has earned numerous awards and accolades, including seven Billboard Latin Music Award; five Lo Nuestro Awards; three MTV Latinoamerica Awards; and two Telehit Awards, including the Trajectory Award; and a special accolade as "Mexican artist with the greatest international projection".
Biographical information courtesy of Wiki; for more reading see link below
https://en.wikipedia.org/wiki/Paulina_Rubio