Gato Barbieri, Latin and Classic jazz Artist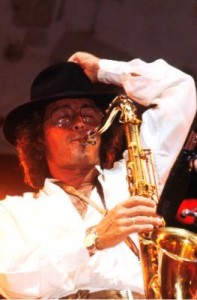 This week's Featured Artist is a native Argentinean musician who started his early music career playing Latin rhythms, before exploring avant-garde jazz, pop and jazz-fusion.  Meet musician, composer, bandleader and jazz saxophonist – Gato Barbieri
Born in Rosario, Argentina
Genre: Jazz, Latin Jazz, Smooth Jazz
Gato Barbieri's success lies in his enthralling music, which consists of a perfect blend of instrumental impetuousness, derived from Coltrane lessons and inflamed free jazz, together with his own natural sensibility for melody and charming Latin rhythms.
This Argentine saxophonist has been one of the forerunners of what these days is commonly referred to as World Music.  His urgency of expression creates music full of passion, with the power to reach everyone.
Hear just a few notes, and one instantly recognizes that it is the "Cat" playing his tenor.  His legend continues on his most recent and 50th album, called New York Meeting (Melopea Discos, 2009), on which he collaborated with renown bassist David Fink and two fellow Argentine Musicians, pianist and composer CarlosFranzetti and drummer Nestor Astarita.
Barbieri began professionally as a teenager playing alto sax in Buenos Aires clubs, and since then his five-decade career has covered virtually the entire jazz landscape, from free jazz (with trumpeter Don Cherry in the mid-60s) and avant-garde to film scoring and his ultimate embrace of Latin music throughout the 70's and 80's.  He began playing tenor with his own band in the late 50's and moved to Rome with his Italian-born first wife Michelle in 1962, where he began collaborating with Cherry.  The two musicians recorded two albums for Blue Note, Complete Communion andSymphony for Improvisers, which are considered classics of free group improvisations.  Look for some never-before-heardBarbieri/Cherry music to be released on the ESP label in the near future.
Barbieri launched his career as a leader with the Latin flavored The Third World in 1969, and later parlayed his success with the soundtrack for Last Tango in Paris into a career as a film composer, scoring a dozen international films over the years in Europe, South America and the United States.  From 1976 through 1979, Barbieri released four popular albums on A&M Records, the label owned by trumpet great Herb Alpert.
The Shadow of the Cat (Peak/Concord PKD-8509-2), released in September 2002, won Billboard's prestigious 2003Latin Jazz Album of the Year and garnered a Latin Grammy nomination.  The Shadow of the Cat is a reunion of sorts forGato and Herb Alpert, with Alpert playing trumpet on three songs.
The Shadow of the Catfeatures musical friends Peter White, Sheila E, Russ Freeman and others.  Shadow also includes "El Chico", dedicated to longtime friend and collaborator Chico O'Farrell.  It also contains a re-recording of the theme from 1972's film Last Tango In Paris (celebrating the 30th anniversary of the controversial and ground-breaking Bertolucci-directed classic) for which Gatowon his first Grammy for the composing and recording of the score.
tary named el Gato: A lifetime contribution to Jazz.
He is the recipient of the U.N.I.C.E.F award in Honor of Celia Cruz, which was presented to him in fall of 2009 at the Argentine Consulate (NYC). He is currently composing a collaborative CD for the Niños de Argentina, for U.N.I.C.E.F.
Biographical information courtesy og Gato Barbieri; for more reading see link below
http://www.gatobarbierimusic.com/about_gato.html