Rebeca Mauleón, Latin jazz Artist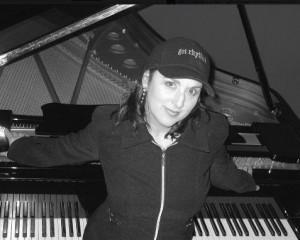 This week's Featured Artist is an internationally acclaimed musician, bandleader, composer, arranger, Grammy-nominated producer and educator.  She specializes in salsa, Latin America and Afro-Caribbean music, and plays the piano, drums, percussion and sings.  Meet Latin jazz musician, composer, pianist and vocalist – Rebeca Mauleón
Born in Santa Monica, California, USA
Genre:  Jazz, Latin, Afro-Caribbean
Rebeca Mauleón is an internationally acclaimed musician, bandleader, composer, Grammy-nominated producer and educator as well as author and reviewer.  As a pianist Mauleon follows a long-standing tradition of Afro-Cuban and Latin Jazz performers, and her expertise in Afro-Caribbean and Latin American music places her at the forefront of the musicological community, resulting in a multidimensional career spanning over three decades.
From her recording and performing work with an array of Grammy-winning legends including Tito Puente, Carlos Santana, Steve Winwood, Joe Henderson and Mickey Hart, to her diverse compositional projects (ranging from symphonic works and Afro-Cuban jazz to music for film, television and computer software companies), and her critically-acclaimed recordings, books and articles, Mauleonhas carved a distinct niche as one of the most multi-faceted artists on the world music scene.
She is the author of the critically acclaimed Salsa Guidebook and 101 Montunos, and is also musicological consultant and author to National Geographic, Time Life and other important institutions. Mauleon is also a freelance writer for mainstream music magazines including Keyboard, Bass Player, Mix Magazine and others.  Rebeca's compositional awards include Meet the Composer's prestigious New Residencies Award, the Sundance Composers' Fellowship, and a commission by the Oakland East Bay Symphony.  In 2008 she was honored by the San Francisco Jazz Festival with its Beacon Award for artistic excellence and dedication to the community.  In 2009 Rebeca received a Latin Grammy Nomination for her production of Orestes Vilató's "It's About Time."  She is a tenured professor of Latin American music, composition and Latin Jazz piano, as well as an internationally sought-after as a lecturer and clinician on the subject of Latin American and Afro-Caribbean music history and performance.  In 2011Mauleón was appointed Director of Education at SF JAZZ.
As a Grammy-nominated producer, Mauleón's solo releases Round Trip, Latin Fire and Descarga en California have garnered international critical acclaim, earning top-ten status on the Latin Beat Hit Parade for seven consecutive months, including number one.  Her 2006 release – Descarga en California – features some of Latin music's legendary figures, including Armando Peraza, Orestes Vilató and Giovanni Hidalgo, and explodes with the passion and energy of the classic Cuban descarga.  As the leader of her own ensemble, Rebeca has appeared at numerous renowned music festivals, including the Kennedy Center's "Women in Jazz" festival, the Monterey Jazz Festival and San Francisco and San José Jazz Festivals.
In 2001 she was the recipient of the prestigious Meet the Composer New Residencies Award, for a three-year residency at San Francisco's Yerba Buena Center for the Arts, and in 2008 Rebeca was the recipient of the SF Jazz Festival Beacon Award.  As a composer Rebeca has written works for diverse clients (Electronic Arts, MSNBC, etc…) in addition to her own performing ensembles.  Rebeca is also much in-demand as a teacher and clinician throughout the U.S. and Europe, specializing in Latin music performance and history, combining hands-on master classes with high- energy performances by her ensemble.  She is the author of several texts on Latin music technique, including the highly acclaimed Salsa Guidebook (© Sher Music, 1993), the Latin Real Book(© Sher Music, 1997), 101 Montunos(© Sher Music, 1999) and Muy Caliente(© Sher Music, 2000).  She is a regular contributor to several top industry magazines, including JazzTimes, Keyboard, Grammy Gateway, Modern Drummer, Mix en Español and Bass Player, and serves as musicological consultant and writer for National Geographic.
Rebeca is a tenured professor of Latin American/Afro-Caribbean Music, Jazz/Latin piano and Composition at City College of San Francisco, a guest lecturer at U.C. Berkeley and Mills College, and is Director of Education at SFJAZZ.
Read Rebeca's profile in the December 2008 issue of Mix Magazine.
Biographical information courtesy of Rebeca Mauleón.  For more information see links below.
http://www.rebecamauleon.com/biography