Jack Costanzo, Latin jazz Artist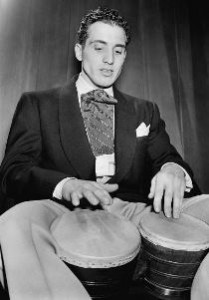 Jack Costanzo (September 24, 1919 – August 18, 2018)
The Versatile Jack Costanzo was a percussionist/drummer who played jazz, Latin music and Afro-Cuban jazz. He was a composer and conductor, but is best known for having been a bongo player, and was nicknamed "Mr. Bongo".
Costanzo visited Havana, Cuba, three times in the 1940s and learned to play Afro-Cuban rhythms on the bongos and congas. He also played an important part in influencing the use of "Bongo" (Bongosero) drums as a percussion instrument in jazz music. In 1947 Costanzo joined the Stan Kenton jazz band/orchestra, becoming the first bongo drummer to join a jazz band, and because of his superb musicianship, Kenton had "Bongo Riff" written into the music to feature Costanzo
Born: Chicago, Illinois, US
Genre: Afro-Cuban Jazz, Latin Jazz
Jack James Costanzo was born in Chicago to Matteo and Virginia Sances Costanzo, both immigrants from Italy. He grew up in Chicago at a time when dancing was studied and practiced by young people, who envisioned making it a career. Costanzo, at the young age of 14, would visit places like the Merry Garden Ballroom to work on his dance steps. During one visit, a band from Puerto Rico was playing, and the drummer on one song came out front and played the bongos; that was the first time CostanzoI saw a pair of bongos, and he fell in love with the instrument.
Costanzo wanted to learn the instrument, but there was no place to purchase them; you could not find bongos anywhere in Chicago, so he made a set out of butter tubs.
Costanzo career started as a dancer, touring as a team with his wife before World War II. He joined the Navy in 1942, and after his discharged in 1945, was working as a dance instructor at the Beverly Hills Hotel, where Latin band leader Bobby Ramos heard him playing bongos in a jam session and offered him a job. Throughout the 1940s, Costanzo worked with several Latin bands, including a revived version of the Lecuona Cuban Boys, Desi Arnaz, and Rene Touzet.
Costanzo toured with Stan Kenton from 1947–48 and occasionally in the 1950s, and played with Nat King Cole from 1949 to 1953. He also played with the Billy May Orchestra, Peggy Lee, Danny Kaye, Perez Prado, Charlie Barnet, Pete Rugolo, Betty Grable, Harry James, Judy Garland, Patti Page, Jane Powell, Ray Anthony, Martin & Lewis, Frances Faye, Dinah Shore, Xavier Cugat, Frank Sinatra, Tony Curtis, and Eddie Fisher.
Costanzo formed his own band in the 1950s, which recorded and toured internationally. Many Hollywood stars studied bongos with him, including Marlon Brando, Rita Moreno, Carolyn Jones, Hugh O'Brian, Keenan Wynn, Van Johnson, Tony Curtis, Betty Grable, Vic Damone, James Dean, and Gary Cooper.
Costanzo was in retirement until 1998 when he decided to make a comeback and in 2001 recorded "Back From Havana" under the Ubiquity Records umbrella. This album featured the likes of Black Note's Gilbert Castellanos, Steve Firerobing and the Panamanian singer Marilu.
In 2002 he released another album with the same cast called "Scorching the skins", this time he also added Quino from Big Mountain. Costanzo continued to tour and perform in California and abroad.
Costanzo died of complications from a ruptured abdominal aortic aneurysm at his home in Lakeside, California on August 18, 2018, aged 98.
Biographical information courtesy of Wiki; for more reading see link below.
https://en.wikipedia.org/wiki/Jack_Costanzo