Israel Lopez Valdes - Cachao, Latin jazz Artist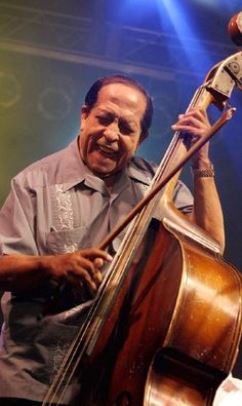 Israel López Valdés better known as Cachao (September 14, 1918 – March 22, 2008),
(/kəˈtʃaʊ/ kə-CHOW), was a Cuban double bassist and composer. Cachao is widely known as the co-creator of the mambo and a master of the descarga (improvised jam sessions. Throughout his career he also performed and recorded in a variety of music styles ranging from classical music to salsa. An exile in the United States since the 1960s, he only achieved international fame following a career revival in the 1990s.
Born into a family of musicians in Havana, Cachao and his older brother Orestes were the driving force behind one of Cuba's most prolific charangas, Arcaño y sus Maravillas. As members of the Maravillas, Cachao and Orestes pioneered a new form of ballroom music derived from the danzón, the danzón-mambo, which subsequently developed into an international genre, mambo. In the 1950s, Cachao became famous for popularizing improvised jam sessions known as descargas. He emigrated to Spain in 1961, and moved to the United States in 1963, starting a career as a session and live musician for a variety of bands in New York during the rise of boogaloo, and later, salsa.
Born: Habana Vieja, La Habana, Cuba
Genre: Danzón, mambo, descarga
In the 1970s, Cachao fell into obscurity after moving to Las Vegas and later Miami, releasing albums sporadically as a leader. In the 1990s, he was re-discovered by actor Andy García, who brought him back to the forefront of the Latin music scene with the release of a documentary and several albums. Before his death in 2008, Cachao had earned a star on the Hollywood Walk of Fame and several Grammy Awards. He is ranked number 24 on Bass Player magazine's list of "The 100 Greatest Bass Players of All Time".
Cachao was born on September 14, 1918 in Belén, a neighbourhood in Old Havana, into a family of musicians, many of them bassists—around 40 or more in his extended family. He was born and raised in the same house in which José Martí was born. His nickname and stage name Cachao was given to him by his grandfather Aurelio López.
Cachao began his musical career in 1926, taught by his father and his older brother, multi-instrumentalist Orestes López, nicknamed "Macho". As an 8-year-old bongo player, he joined a children's son cubano septet directed by a 14-year old Roberto Faz. A year later, already on double bass, he provided music for silent movies in his neighborhood theater, in the company of a pianist who would become a true superstar, the great cabaret performer Ignacio Villa, known as Bola de Nieve.
His parents made sure he was classically trained, first at home and then at a conservatory. In his early teens he was already playing contrabass with the Orquesta Filarmónica de La Habana (of which Orestes was a founding member), under the baton of guest conductors such as Herbert von Karajan, Igor Stravinsky and Heitor Villa-Lobos. He played with the orchestra from 1930 to 1960.
Cachao's and Orestes' rise to fame came with the charanga Arcaño y sus Maravillas, founded by flautist Antonio Arcaño. As members of the group they composed literally thousands of danzones together and were a major influence on Cuban music from the 1930s to the 1950s. They introduced the nuevo ritmo ("new rhythm") in the late 1930s, which transformed the danzón by introducing a syncopated final section open to the improvisation of the players and dancers. This section, known as the mambo, was named after the danzón "Mambo", co-written by Cachao and Orestes. In the words of Cuban writer Guillermo Cabrera Infante, it was the "mother of all mambos".
In their vast repertoire were also compositions by other songwriters such as "Isora Club", written by their sister Coralia López, as well as arrangements of standards such as "Somewhere Over the Rainbow" and songs by George Gershwin and Jelly Roll Morton. The Maravillas, or La Radiofónica as they were popularly known, became a radio sensation in the mid-1940s, having their own program and expanding their lineup to 14 musicians in 1944.
The need to constantly write music sheets for each member of the band was one of the reasons why Cachao left the group in 1949. He then joined Blanquita Theater orchestra, whose fifty members played in Broadway-style revues. The Maravillas went on for another ten years. Their swan song, released in 1957, was "Chanchullo", composed by Cachao himself, who organized the session. The song became a hit in the United States, and was the basis for Tito Puente's "Oye cómo va", although Puente denied copying Cachao's composition.
One day in 1957 Cachao gathered a group of musicians in the early hours of the morning (from 4 to 9 AM), energized from playing gigs at Havana's popular nightclubs, to jam in front of the mics of a recording studio. The resulting descargas, known to music aficionados worldwide as Cuban jam sessions, revolutionized Afro-Cuban popular music. Under Cachao's direction, these masters improvised freely in the manner of jazz, but their vocabulary was Cuba's popular music. This was the model that for live performances of other Afro-Cuban based genres, such as salsa and Latin jazz. These descargas were released in 1957 by the Panart label under the title Cuban Jam Sessions in Miniature. They have been named by many critics as one of the most essential Cuban records of the 1950s, including being cited by the book 1000 Recordings to Hear Before You Die.
Between 1957 and 1959 he recorded many more descargas at Panart studios. These recordings were released in the following years by Kubaney and Maype, and re-released by EGREM. He also recorded descargas with Tojo's orchestra and Chico O'Farrill's All-Stars Cubano amongst other ensembles. He worked alongside Peruchín, Tata Güines and Alejandro "El Negro" Vivar.
In 1961, Cachao went into exile. He crossed the Atlantic by boat, reaching Madrid  thanks to Ernesto Duarte, who demanded him to play with his orchestra–Orquesta Sabor Cubano–and where he spent a few years touring the country, until the orchestra finally broke up in 1963. Then he moved to the US, as seen in the documentary film La época.
Cachao was one of the most in-demand bassists in New York City, along with Alfonso "El Panameño" Joseph and Bobby "Big Daddy" Rodríguez. Joseph and López substituted for each other over a span of five years, performing at New York City clubs and venues such as the Palladium Ballroom, The Roseland, The Birdland, Havana San Juan and Havana Madrid. While Cachao was performing with Machito's orchestra in New York, Joseph was recording and performing with Cuban conga player Cándido Camero. When Joseph left Cándido's band to work with Charlie Rodríguez and Johnny Pacheco, it was Cachao who took his place in Cándido's band.
For a while, he had two distinct musical personae. In the New York salsa scene he was revered as a music god, with homage concerts dedicated to him, and records of his music produced by musicologist René López in 1977 (Cachao y su Descarga 77 and Dos), after over 15 years without recording as a leader. Thanks to López, Cachao was "rediscovered" by the thriving Latin music scene in NYC. Conversely, in Miami, he was an ordinary working musician who would play quinceañeras and weddings, or back dance bands in the notorious Latin nightclubs of the Miami Vice era.
Cachao played at the White House during National Hispanic Heritage Month on October 10, 2007.
In the 1990s, actor Andy García produced the recordings known as Master Sessions and big concerts honoring his legacy. Since then, Cachao became again a household word among Cubans and his reputation continued to grow. His nephew, Orlando "Cachaíto" López, a prolific bassist as well, became one of the mainstays of the famed Buena Vista Social Club group, named after one of Cachao's danzones, "Social Club Buenavista".
Cachao's music has been featured in movies such as The Birdcage and on the Grand Theft Auto: Vice City soundtrack. Andy García produced two documentaries about this music, Cachao… como su ritmo no hay dos ("With A Rhythm Like No Other") (1993) and Cachao: Uno más, which premiered in April 2008 at the San Francisco International Film Festival. The inspiration for Cachao: Uno más, made by San Francisco State University's DOC Film Institute, came largely from a concert Cachao played at Bimbo's 365 Club in San Francisco, and the film's premiere was followed by a tribute concert with the John Santos Band at Yoshi's Jazz Club SF.
López died on the morning of March 22, 2008 in Coral Gables, Florida, at the age of 89. He died from complications resulting from kidney failure. Following his death, the Cachao's Mambo All-Stars were formed in his memory. This band, comprising his former bandmates, recorded an album in his honour, Como siempre.
In 1994, López was inducted into Billboard's Latin Music Hall of Fame. He was a recipient of a 1995 National Heritage Fellowship awarded by the National Endowment for the Arts, which is the highest honor in the folk and traditional arts in the United States.
In 1999, Cachao was inducted into the International Latin Music Hall of Fame. He also received a Lifetime Achievement Award a year later.
López has won several Grammy Awards for both his own work and his contributions on albums by Latin music stars, including Gloria Estefan. In 1994, he won a Grammy for Master Sessions Volume 1. In 2003, he won a Latin Grammy for Best Traditional Tropical Latin Album together with Bebo Valdés and Carlos "Patato" Valdés for El arte del sabor. López won another Grammy in 2005 for his album ¡Ahora Sí!. In 2012, a posthumously released album, The Last Mambo, won the Grammy Award in the Best Tropical Latin album category.
On June 11, 2006, López was honored by Union City, New Jersey with a star on the Walk of Fame at Union City's Celia Cruz Park. On November 7, 2006, Cachao received an Honorary Doctorate of Music from Berklee College of Music during Berklee's Latin Culture Celebration.
Biographical information courtesy of wiki; for more reading see link below.
https://en.wikipedia.org/wiki/Cachao