Streetwize, Urbane jazz Artist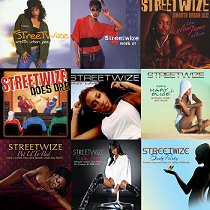 Streetwize is a dynamic Urbane jazz studio band, led by smooth jazz saxophonist Kim Waters, and feature some well-known artists such as vocalist Maysa and guitarist Ken Navarro. The music of Streetwize is contemporaneous, and is a mixture of various music styles/genres (Crossover Jazz, Smooth Jazz, Pop, R&B, Adult Contemporary, Rap and Hip-Hop) that produce a unique blend of urbane jazz music.
Formed: 2002
Genre: Urbane Jazz,
Streetwize first album "Smooth Urban Jazz" was released in 2002 and featured versions of Mystikal's "Shake It Fast", Aaliyah's "Rock the Boat", and D'Angelo's "Brown Sugar". Their second album "Work It" released in (2003) featured Kim Waters and company polishing the edges off tracks made popular by Missy Elliott, Erykah Badu, and Jennifer Lopez; and in 2004, they delivered the sultry "Slow Jamz", featuring covers of The Isley Brothers "Don't Say Goodnight" and "Between the Sheets."
Two years later, in 2006, the band returned with the album "Streeetwize Does Dre", which included songs associate with rapper Dr. Dre such as Eminem's "My Name Is," Snoop Dogg's "Gin and Juice," and "Nuthin' But a G Thang". The band continued with a string of slow jam cover songs with the albums "Sexy Love" (2007), and "Streetwize Does Mary J Blige" (2008), and in 2009, it was "Put U to Bed".
Their eight studio album "Feelin' Sexy" was released in 2012, and it featured covers of songs by Robin Thicke, R. Kelly, Frank Ocean and others. Their ninth album "Body Party" followed in 2013 with versions of Ciara's song of the same title, Drake's "Hold On, We're Going Home", and Tamar Braxton's "The One".
Biographical information courtesy of Top40-Charts; for more reading see link below
https://top40-charts.com/artist.php?aid=16210