Ryan Montano, Smooth jazz Artist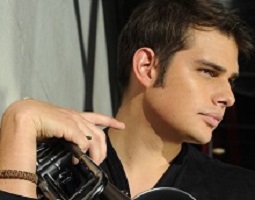 Ryan Montano, influenced by the late Roy Hargrove music/recordings and compositions, is a jazz trumpeter, songwriter, bandleader and recording artist. His debut contemporary jazz single "I'd Like That" found nationwide popularity and acclaim by reaching the 14th position on the Billboard National Jazz Airplay chart. His follow up single "Honey Girl" peaked at #13 on Billboard after 20 consecutive weeks on the chart.
Ryan's music is captivating, and is a fusion of Jazz, Soul and Latin stylings. His music can be heard on radio stations worldwide, and his live performances are elegant, refined and powerful. His current release "Soulfully" is currently in the top 30 on the Billboard National Jazz Airplay chart.
Born: Albuquerque, New Mexico
Genre: Jazz, Smooth Jazz, Contemporary Jazz, Latin
The success of Ryan's music has led to nation-wide performances at jazz and music festivals across the country including the Jacksonville Jazz Festival, The Albuquerque International Balloon Fiesta, The Phil Denny Armory Jazz Festival, The Seabreeze Jazz Festival "Rising Star" performance slot and several others.
In addition to his musical artistry, Montano is a talented and truthful actor having appeared in several commercials and Hollywood films with speaking roles in "GoodKill" starring Ethan Hawke, Disney's "Lemonade Mouth" and "Love N' Dancing" starring Amy Smart, Rachel Dratch and Betty White. He has been a featured performer on "CSI Miami" and "Wildfire" and has several runway modeling shows and print campaigns to his modeling credits.
Montano has also appeared on "Jimmy Kimmel Live!" playing the trumpet for pop stars "Hanson" as part of the "Cleto & The Cletones" horn section. He is also a professional filmmaker, director, videographer, photographer, editor and graphic artist. His work has been featured on several national networks including ESPN, CBS, NBC and FOX.
Specializing in music-based visual media, Montano has filmed and directed award-winning music videos for "Dustin Lynch", "Kane Brown", "Runaway June", "Ozomatli", "Nosotros" & "Citizens Of Tape City". He has created films for major universities, marketing agencies, and companies across the nation.
While his talents encapsulate many different passions, it is music and the trumpet that truly define Montano as an artist. With a truthful artistic vision and emotive songwriting, delivered through a graceful and soft tone, Ryan Montano is an artist with a path and sound all his own…
Biographical information courtesy of Ryan Montano; for more reading see link below.
https://www.ryanmontano.com/about