Joe Williams, Vocal jazz Artist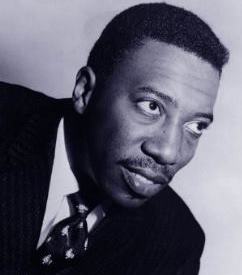 Jazz singer Joe Williams was a balladeer well known for his baritone voice, singing style and crossover with jazz and blues. Born in Cordele, Georgia, Williams moved to Chicago, Illinois, with his mother at the tender age of three, and as a youth he sang with a gospel group.
In 1937 he joined The Jimmie Noone's Band; he also worked with other big bands such as Coleman Hawkins, Lionel Hampton, Andy Kirk and Red Saunders.  Williams's breakthrough in the music industry came in 1954, when he joined the Count Basie Orchestra.  His association with Count Basie made the balladeer famous with hit recordings such as "Every Day I Have the Blues", "Alright, Okay, You Win, " and "Going to Chicago." Joe Williams staying with Basie until 1961.
Born: Cordele, Georgia
Genre: Jazz, Blues, Traditional Jazz, Swing, Pop
On December 12, 1918 Joseph Goreed, later to be known as Joe Williams, was born in . His parents were Willie Goreed and Anne Beatrice Gilbert. "Willie Goreed left the family soon after Joe was born, but his mother was a strong woman who provided a good home for him."3 Originally Joe and his mother lived with his grandparents, but soon Anne moved to Chicago and eventually saved enough money to bring the rest of the family to live in Chicago with her. They lived there for many years.
Living in Chicago in the 1920s was hugely influential to Joe Williams. There were many African-American musicians thriving on the music scene, and "years later, he recalled going to the Vendome Theatre with his mother to hear Louis Armstrong play his trumpet."3 Joe Williams was exposed to the music of Duke Ellington, Ethel Waters, Cab Calloway, Big Joe Turner, and many others who were featured on Chicago radio stations.
By his early teen years, Joe Williams had taught himself to play the piano. He formed a Gospel vocal quartet called "The Jubilee Boys." By his mid-teens Williams was singing solos at formal events with local bands. He was not paid more than five dollars a night, but his family allowed him to drop out of school at age sixteen so he could make a living with his rich baritone. Together Joe's family decided on "Williams" as his stage name. Williams got a job singing with a band at Kitty Davis' club in the evenings. He was allowed to keep the tips and sometimes made up to $20 in an evening.
"Williams' first real break came in 1938 when clarinet and saxophone master Jimmie Noone invited him to sing with his band."6 Within a year, this young singer was touring the Midwest with the Les Hite band, which accompanied the likes of Louis Armstrong and Fats Waller, and his voice could be heard on radio stations nationwide. In 1941, he toured more extensively with saxophonist Coleman Hawkins.
Biographical information courtesy of University of Idaho; for more reading see link below
https://www.ijc.uidaho.edu/williams_joe/bio.html