Will Downing, Smooth jazz Artist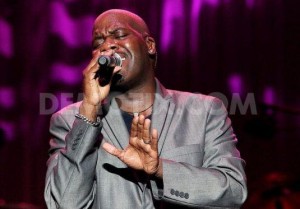 This week's Featured Artist is well known as a contemporary jazz and R&B crooner.  In his early musical career he performed as a background session singer for artists such as Jennifer Holliday, Billy Ocean, Kool and the Gang, Stephanie Mills, and many others.  Meet singer-songwriter and music producer – Will Downing
Born in Brooklyn, New York, USA
Genre: R&B, Soul, Neo Soul, Jazz
Rising from anonymity as a journeyman session singer in the 1970s to become a popular solo crooner in the 1990s, Will Downing has been a popular fixture on the mellow jazz music scene since releasing his debut album in 1988.  Serving as "a reliable source for potent R&B music that nourishes the mind," according to Billboard magazine, he successfully bridged the gap between contemporary jazz and rhythm and blues with hits such as "In My Dreams" and "A Love Supreme."  Downing has been especially popular in the United Kingdom where, for over a decade, he has been a big draw in major concert venues and his albums have frequently gone gold or platinum.
Downing's crossover appeal helped him build audiences in both the jazz/adult and up-tempo rhythm and blues genres.  The singer frequently covers R&B classics and jazz standards on his albums, and has had hits with remakes of songs such as Deniece Williams' "Free," Rose Royce's "Wishing on a Star," Nat King Cole's "When Sunny Gets Blue," and Phyllis Hyman's "I Don't Want to Lose You."  In a 1993 article in Billboard, Downing referred to his singing as "warm, sensitive, and sensual at the same time.  Very inviting and trusting.  There are a lot of singers who sing at you and not to you.  That's the kind of vocalist I try not to be."  Because he likes to create an intimate mood with listeners, Downing prefers performing in small settings rather than large arenas.
"I grew up listening to jazz and I was born when soul music was at its height," said Downing, according to the Mercury Records home page on the Internet.  While attending Erasmus Hall High School in Brooklyn, he listened fervently to singers such as Donny Hathaway, Aretha Franklin, Ray Charles, and Nat "King" Cole, all of whom influenced his style.  In Billboard, Downing said that he is also a long-time fan of D.J. Rogers, Stevie Wonder, and Phil Perry.
Downing kept busy in the recording studio in the 1970s as a background singer for Rose Roycde, Billy Ocean, Jennifer Holliday, Stephanie Mills, Kool and the Gang, Nona Hendryx, and others. His career got a major boost after he met the producer/performer Arthur Baker in the mid-1980s. At that time Downing teamed up with Baker's group, Wally Jump Jr. and the Criminal Element, whose members included Wally Jump, Craig Derry, Sonny Calvin, Dwight Hawkes, Jeff Smith, and Michigan and Smiley.  Downing's voice contributed to a number of dance hits by the group, including "Don't Push Your Luck."
After recording songs for Baker's label as part of Wally Jump Jr. and the Criminal Element, Downing signed a deal with Island Records.  Success came quickly with his first album as a solo artist–a self- titled LP released in 1988.  The album generated two hits in England that launched the LP into the Top 20 overseas, including the chart- topping "A Love Supreme."  Downing assumed more control over his next album, Come Together as One, serving as producer, as well as co- writer on many of the songs with Brian Jackson.  While skimming the edges of popularity in the United States, this 1989 release was very popular abroad and increased the singer's following across the Atlantic.  Each of Downing's first two albums sold over 100,000 copies in the United Kingdom, and built up legions of fans for the new solo star.  Their popularity resulted in Downing playing numerous sold-out shows at the Hammersmith Ballroom, a renowned concert hall in London.
Downing's career soared with his acclaimed A Dream Fulfilled, which hit the stores in 1991. This album made him an even bigger concert draw, and he toured on a steady basis for nearly three years after its release.  His popularity even drew the attention of England's royal family, resulting in an invitation for him to perform for Prince Charles and Princess Diana in the renowned Prince's Trust Concert in England.  In 1992 Blues & Soul magazine bestowed three major awards on him: Best Album of the Year, Vocalist of the Year, and Best Live Performer of the Year.
The singer continued riding the crest of fame in 1993 with his first release on the Mercury label, Love's the Place to Be, which remained a fixture on Billboard magazine's Black Album Chart for an entire year.  In her review of the album in Billboard, Danyel Smith wrote that "the soulful croonings of Will Downing arebluesy, romantic, and most of all, formidable."  Joan Anderman's review in the Boston Globe added that the singer is "blessed with a warm voice and sensible enough to avoid excess ornamentation."  Downing's first single release from the album, "Have I Told You," was referred to as "a pulsating strong song" by TaliseD. Moorer in the Amsterdam News.  Once again, Downing struck a major chord with British listeners, with buyers bringing home 300,000 copies of Love's the Place to Be to make it a certified platinum release.
In 1995, Downing created the album Moods, which reflected his own experiences and observations on everyday life and relationships.  The album was a highly personal one for the singer, not only because its subject matter was a compilation of his thoughts on life, but also because it featured many of Downing's long-time friends and creative collaborators, including Rex Rideout, Ronnie Foster, and Art Porter.  He tapped into the talents of his musician friends again for the 1997 release, Invitation Only, an album that continued the evolution of his observations on love and relationships.
In recent years Downing has often appeared in concert with his long-time friend, the gifted saxophonist Najee. During the 1990s he lamented changes on the music scene that have reduced his listening audience on the radio.  "Within the last six years, the music has changed so much," he told Ebony Man in 1998.  "What I used to do was considered the norm and rap was the specialty.  Now it's just flipped.  Radio stations look at what I do as quiet storm-type of music. They only play it at night, and then I don't get the radio and listener play that could be possible." Despite the trends working against him, Downing continues to stay the musical course he originally charted for himself.  As he told Billboard in 1993, "There's a definite place for my type of music.  The public has to make a concerted effort to let the radio stations know that they really want to hear it.  This music was once the mainstream.  Now it's becoming alternative."
Biographical information courtesy of Answers.com; for more reading see links below
http://www.answers.com/topic/will-downing
Read more: http://www.answers.com/topic/will-downing#ixzz2XcNfFMSo
http://willdowning.com/about-will/