Whitney Houston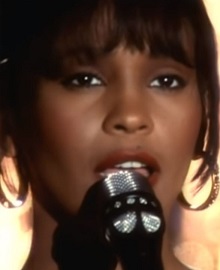 Whitney Elizabeth Houston (August 9, 1963 – February 11, 2012)
She was a singer and actress, and was cited as the most awarded female artist of all time by Guinness World Records. She is one of the best-selling recording artists of all time, with estimated sales of over 200 million records worldwide. Houston released seven studio albums and two soundtrack albums, all of which have been certified diamond, multi-platinum, platinum, or gold by the Recording Industry Association of America (RIAA). Her crossover appeal on the popular music charts as well as her prominence on MTV influenced several African-American female artists.
Her first two studio albums, Whitney Houston (1985) and Whitney (1987), both peaked at number one on the Billboard 200 and are among the best-selling albums of all time. She is the only artist to have seven consecutive number-one singles on the US Billboard Hot 100 chart, from "Saving All My Love for You" in 1985 to "Where Do Broken Hearts Go" in 1988.
Born: Newark, New Jersey, USA
Genre: R&B, Pop, Soul, Gospel, Dance
Whitney Houston began singing in church as a child and became a background vocalist while in high school. Her first two studio albums, Whitney Houston (1985) and Whitney (1987), both peaked at number one on the Billboard 200 and are among the best-selling albums of all time. She is the only artist to have seven consecutive number-one singles on the US Billboard Hot 100 chart, from "Saving All My Love for You" in 1985 to "Where Do Broken Hearts Go" in 1988.
Houston made her acting debut with the romantic thriller film The Bodyguard (1992). She recorded six songs for the film's soundtrack, including "I Will Always Love You", which won the Grammy Award for Record of the Year and became the best-selling physical single by a woman in music history. The soundtrack album won the Grammy Award for Album of the Year; it remains the best-selling soundtrack album in history. Houston starred and recorded soundtracks for two other high-profile films, Waiting to Exhale (1995) and The Preacher's Wife (1996), with the latter's soundtrack becoming the best-selling gospel album in history.
Following the critical and commercial success of My Love Is Your Love (1998), Houston renewed her contract with Arista for $100 million. However, her personal struggles began overshadowing her career, and the album Just Whitney (2002) received mixed reviews. Her drug use and a tumultuous marriage to singer Bobby Brown received widespread media coverage. After a six-year break from recording, Houston returned to the top of the Billboard 200 chart with her final studio album, I Look to You (2009). On February 11, 2012, Houston was found dead at the Beverly Hilton in Beverly Hills, California. The coroner's report showed that she had accidentally drowned in the bathtub, with heart disease and cocaine use as contributing factors. News of her death coincided with the 2012 Grammy Awards and was featured prominently in international media.
Whitney Houston was born in Newark, New Jersey. She was the daughter of Army serviceman and entertainment executive John Russell Houston, Jr. and gospel singer Emily "Cissy" (Drinkard) Houston. Her elder brother Michael is a singer, and her elder half-brother is former basketball player Gary Garland. Through her mother, Houston was a first cousin of singers Dionne Warwick and Dee Dee Warwick. Her godmother was Darlene Love. Houston was raised a Baptist, but was also exposed to the Pentecostal church. After the 1967 Newark riots, the family moved to East Orange, New Jersey, when she was four. Her parents later divorced.
At age 11, Houston started performing as a soloist in the junior gospel choir at the New Hope Baptist Church in Newark, where she also learned to play the piano. Her first solo performance in the church was "Guide Me, O Thou Great Jehovah".
While Houston was still in school, her mother, Cissy, continued to teach her how to sing. Cissy was a member of the group The Sweet Inspirations which also opened for and sang backup for Elvis Presley. Houston spent some of her teenage years touring nightclubs where Cissy was performing, and she would occasionally get on stage and perform with her. Houston was also exposed to the music of Chaka Khan, Gladys Knight, and Roberta Flack, most of whom would have an influence on her as a singer and performer. In 1977, at age 14, she became a backup singer on the Michael Zager Band's single "Life's a Party". In 1978, at age 15, Houston sang background vocals for Chaka Khan and Lou Rawls. Houston attended Mount Saint Dominic Academy, a Catholic girls' high school in Caldwell, New Jersey; she graduated from Mount Saint Dominic in 1981. During her teen years, Houston met Robyn Crawford, who she described as the "sister she never had". Crawford went on to become Houston's best friend, roommate, and executive assistant. After Houston rose to stardom, she and Crawford were rumored to be lovers, which they both denied in 1987. In 2019, several years after Houston's death, Crawford stated that their early relationship had included sexual activity, but that Houston ended this for fear of others' reactions.
In the early 1980s, Houston started working as a fashion model after a photographer saw her at Carnegie Hall singing with her mother. She became the first woman of color to appear on the cover of Seventeen and appeared in Glamour, Cosmopolitan and Young Miss, and appeared in a Canada Dry soft drink TV commercial. Her looks and girl-next-door charm made her one of the most sought-after teen models. In 1982, under the suggestion of longtime friend Valerie Simpson, Houston signed with Tara Productions and hired Daniel Gittleman, Seymour Flics and Gene Harvey as her managers. With Gittleman, Flics and Harvey, Houston continued her burgeoning recording career by working with producers Michael Beinhorn, Bill Laswell and Martin Bisi on an album they were spearheading called One Down, which was credited to the group Material. For that project, Houston contributed the ballad "Memories", a cover of a song by Hugh Hopper of Soft Machine. Robert Christgau of The Village Voice called her contribution "one of the most gorgeous ballads you've ever heard". She also appeared as a lead vocalist on one track on a Paul Jabara album, entitled Paul Jabara and Friends, released by Columbia Records in 1983.
In 1983, Gerry Griffith, an A&R representative from Arista Records, saw Houston performing with her mother in a New York City nightclub. He convinced Arista's head Clive Davis to make time to see Houston perform. Davis was impressed and immediately offered a worldwide recording contract, which Houston signed. (Houston had been offered deals by recording agencies before—by Michael Zager in 1980, and by Elektra Records in 1981—but her mother declined them on the grounds that Whitney had yet to complete high school. Later that year, Houston made her national television debut alongside Davis on The Merv Griffin Show. She performed "Home", a song from the musical The Wiz.
Houston did not begin work on an album immediately. The label wanted to make sure no other label signed her away, and Davis wanted to ensure he had the right material and producers for Houston's debut album. Some producers had to pass on the project because of prior commitments. Houston first recorded a duet with Teddy Pendergrass, "Hold Me", which appeared on his gold album, Love Language. The single was released in 1984 and gave Houston her first taste of success, becoming a Top 5 R&B hit. It would also appear on her debut album in 1985.
Biographical information courtesy of Wiki and Whitney Houston; for more reading see links below.
https://en.wikipedia.org/wiki/Whitney_Houston