Theresa Grayson, Smooth jazz Artist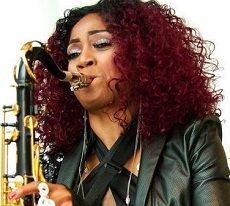 After drawing on her extensive church music background to record her inspirational instrumental debut "It's All About You", Theresa Grayson, a longtime first call side musician tapped renowned gospel and jazz pianist and multi-instrumentalist Terence Fisher, a musical mainstay in both Shreveport and Houston to help her take her urban jazz game to the next level.
On her second solo release, "Live2Love", which spawned the successfully charting radio singles "Afterthoughts" and a cover of Maroon 5's "Moves Like Jagger", the multi-talented Grayson showcased her versatile skills on soprano and tenor saxophones and flute, along with her soulful lead vocals on several tracks. The album blended everything from gospel, pop and R&B to blues, calypso, Latin and classical music into her unique brand of cutting edge contemporary jazz.
Born: Tyler, Texas
Genre: Smooth Jazz, Gospel, Pop, Latin, Blues
Theresa Grayson began playing piano and saxophone (among other woodwind instruments) in fourth grade, and enjoyed an encouraging stream of accolades for her outstanding musicianship throughout grade school.
Building a musical foundation on regular performances at church beginning at age 12, she further honed her musical skills and developed her passion under the tutelage of internationally known instructors/musicians Chuck Nolan, Dr. Woody Witt and Dr. Rod Cannon of Sam Houston State University and North Texas University, where she earned a degree in music performance and jazz studies.
Grayson continued her education with two master's degrees with an emphasis in music education and leadership. She plans to continue her studies to earn her doctorate degree. She has been a renowned music educator since the early 2000s, first as an orchestra director at a middle school and currently teaching music at an elementary school in Ft. Bend County.
While embarking on her solo career, the Texas based saxtress has performed in her hometown of Houston and in most of the state's major cities with her own band and two renowned cover ensembles. She's since shared the stage and opened for notable contemporary jazz stars like Peter White, Marion Meadows, Mindi Abair and Ronnie Laws as well as vocalists Michael Bolton and Will Downing.
Over the years, Grayson has performed at the Third Annual Soul Fest in Austin, Texas, Beaumont Jazz Festival, Red Cat Jazz Festival, Idyllwild Jazz Festival, Zachary Breaux Jazz Festival, Women In Jazz, AFRAM Festival, Baltimore, MD, Jeff Majors Homeless Tour, One Love Cruise, Yolanda Adams Wellness Tour, Lamp Lighters Awards, and many others…
Biographical information courtesy of Theresa Grayson; for more reading see link below.
http://theresagrayson.com/?page_id=414