Swing Out Sister, Smooth jazz Artist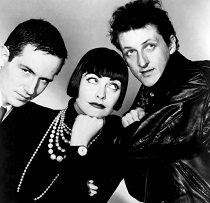 Swing Out Sister is an English pop group best known worldwide for the 1986 song "Breakout". Other hits include "Surrender", "Twilight World", "Waiting Game", and a remake of the Eugene Record soul composition "Am I the Same Girl?"
Although Swing Out Sister is currently a duo, they began as a trio in the UK. The group was formed by Andy Connell (keyboards) and Martin Jackson (drums); they were later joined by Corinne Drewery (vocals). The group's name came from the title of a 1945 movie starring Arthur Treacher, called Swing Out, Sister, and they claim they chose the name because it was the only thing the band could agree on, in that they all hated it. Both Connell and Jackson had been playing in other bands prior to forming SOS, while Drewery was a fashion designer and model before she became the band's lead vocalist.
Formed: Manchester, England, UK (1985)
Genre: Jazz, Pop, Rock
Beginnings and debut album: It's Better to Travel (1985–1987)
Together with their producer, Paul Staveley O'Duffy, they signed with Mercury Records. Before their first album, they released the single "Blue Mood" in the UK in November 1985. However, it did not chart.
In late 1986, the single "Breakout" was released. It reached the number four position on the UK Singles Chart in November 1986, and number six on the Billboard Hot 100 chart in the United States in November 1987. The song originality came under scrutiny as Brighton-based songwriter Les Field claimed he had originally written the music. This was not upheld due to insufficient copyright material.
Consequently when they released their debut album, "It's Better to Travel", on 11 May 1987, it reached number one on the UK Albums Chart. The album blended real horns, synths (arranged subtly, to sound like strings), drums, and xylophones, scored by producer/arranger Richard Niles. The follow-up single to the effervescent "Breakout" was the brooding "Surrender", which featured a trumpet solo performed by John Thirkell. It rose to number seven on the UK charts in January 1987. The next single was the more serious and jazzy "Twilight World". This song was the subject of many remixes and was a dance club favourite worldwide. The final single, "Fooled By a Smile", returned to the upbeat pop orientation characteristic of "Breakout". The group was subsequently nominated for two Grammy Awards in 1988: Best New Artist and Best Pop Vocal Performance by a Group or Duo ("Breakout"). In addition to long-time partner O'Duffy as well as Thirkell, Swing Out Sister also enlisted the talents of saxophonist Gary Barnacle (who with Thirkell comprise the Phantom Horns known for their work with Level 42); percussionist Luis Jardim; guitarist Tim Cansfield; trumpet/fluegelhorn master Jerry Hey; and songwriter-arranger Jimmy Webb.
Kaleidoscope World (1989)
Original member Jackson left the group during the making of the second album, Kaleidoscope World. Although the liner notes give "special thanks to Martin Jackson" and his co-writing credits appear on the songs "Tainted" and "Between Strangers", they also point out that "Swing Out Sister are Corinne Drewery and Andy Connell." Drewery and Connell have been the core on all subsequent albums. After leaving Swing Out Sister, Jackson later worked for Frank Zappa.
Kaleidoscope World was released in May 1989, achieving critical acclaim and UK Top 10 success. Their turn away from contemporary styles towards retro musical sources on this album would establish the musical path that they would continue to follow with their subsequent albums. The duo found inspiration in Easy Listening music, such as Burt Bacharach, as well as songwriter Jimmy Webb, who arranged two tracks, "Forever Blue" and "Precious Words". The incorporation of an orchestra in their recordings realised their sound in a richer, fuller way than their previous effort which relied more heavily on synthesisers. Consequently, this album featured arrangements and songwriting more classical in inclination. The lead-off single "You On My Mind" featured a more sophisticated blend of musical components (the video was strongly inspired by the 1968 cult film The Thomas Crown Affair) than their previous efforts while the upbeat tone of "Breakout" was echoed in the lead U.S. single "Waiting Game". Further singles included "Where in the World" and "Forever Blue", which featured a descending phrase that reminds some people of the John Barry theme for the film Midnight Cowboy.
Get in Touch with Yourself (1992)
Now a duo of Drewery and Connell, Swing Out Sister put out their third album, "Get in Touch with Yourself", in June 1992. With strong dance rhythms reverberating throughout the entire album, tracks draw influences from 1960s and 1970s jazz, pop, soul, and funk. A breezy cover version of the 1968 Barbara Acklin soul hit "Am I the Same Girl?" became Swing Out Sister's last US hit, reaching No.1 on the adult contemporary chart. The album's title track, a blend of 1970s soul music and modern pop, gained the duo heavy airplay on smooth jazz radio and was a crossover hit, gaining airtime on adult contemporary stations as well. The musical influences of Stevie Wonder, The Jackson 5, Curtis Mayfield and others would become evident on this album but continue on through their later releases. In line with the album theme, Drewery also grew out her hair from her trademark bob which had become a visual signature for their early years.
Biographical information courtesy of Wiki; for more reading see link below.
https://en.wikipedia.org/wiki/Swing_Out_Sister