Spyro Gyra, Instrumental and Smooth jazz Artist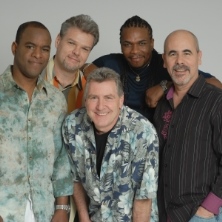 Spyro Gyra (spaɪroʊˈdʒaɪrə) is a jazz fusion band that was formed in Buffalo, New York in 1974. The band's music combines jazz, R&B, funk, and pop music, and the band's name comes from Spirogyra, a genus of green algae which founder Jay Beckenstein had learned about in college.
Formed: 1974, Buffalo, New York
Genre: Jazz, jazz fusion, smooth jazz
Saxophonist Jay Beckenstein and keyboardist Jeremy Wall formed a band with jazz and rock musicians who were playing in the Buffalo bar and club circuit. In 1974, when a bar owner asked for the band's name, Beckenstein said, "spirogyra", a type of algae he had learned about in school. The bar owner wrote the name incorrectly, "Spyro Gyra", and it stuck.
The founding members of the band were Beckenstein, Wall, bassist Jim Kurzdorfer, drummer Tom Walsh, and keyboardist Tom Schuman.
In 1977, they released Spyro Gyra independently before making a deal with Amherst Records, which re-released the album with a different cover. The album included "Shaker Song", which reached No. 90 on Billboard's Hot 100, No. 99 on the pop chart in Canada, and No. 26 on the Canadian AC chart.
Morning Dance reached No. 11 in the UK Albums Chart, No. 27 on the Billboard Top 200 albums chart, and No. 47 in Canada. The song "Morning Dance" reached No. 17 in the UK Singles Chart, No. 1 on the US Adult Contemporary singles chart, No. 45 on the Canadian pop charts, and No. 6 on the Canadian AC charts. The album was certified gold in 1979, then platinum in 1987 by the RIAA.
When Infinity Records folded, Catching the Sun was released on MCA in February 1980, becoming the No. 4 jazz album of 1980, peaking at No. 31 in the UK, and No. 80 in Canada.
Bassist Jim Kurzdorfer died of cancer in 2011, and former drummer Ted Reinhardt died in an airplane crash on March 4, 2015, at the age of 63.
Biographical information courtesy of Wiki and Spyro Gyra; for more reading see links below.
https://en.wikipedia.org/wiki/Spyro_Gyra