Sammy Davis, Jr., Vocal jazz Artist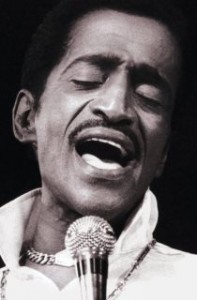 Samuel George Davis Jr. (December 8, 1925 – May 16, 1990)
Sammy Davis, Jr. was a singer, musician, dancer, actor, vaudevillian, comedian, and activist known for his impressions of actors, musicians, and other celebrities. In 1954, at the age of 29, he lost his left eye in a car accident. Several years later, he converted to Judaism, finding commonalities between the oppression experienced by African-American and Jewish communities.
Born: Harlem, New York, USA
Genre: Traditional Jazz, Pop, Big Band Jazz, Easy Listening, Show Tunes, Swing, Vocal jazz
Davis was born on December 8, 1925, in Harlem, a section of Manhattan in New York City, the son of African-American entertainer and stage performer Sammy Davis Sr., and Cuban American tap dancer and stage performer Elvera Sanchez.
Davis learned to dance from his father and his "uncle" Will Mastin. Davis joined the act as a child and they became the Will Mastin Trio.
Throughout his career, Davis included the Will Mastin Trio in his billing.
Growing up as a child, his father and Will Mastin shielded him from racism, such as by explaining race-based snubs as jealousy. However, when Davis served in the United States Army during World War II, he was confronted by strong prejudice. He later said: "Overnight the world looked different. It wasn't one color any more. I could see the protection I'd gotten all my life from my father and Will. I appreciated their loving hope that I'd never need to know about prejudice and hate, but they were wrong. It was as if I'd walked through a swinging door for 18 years, a door which they had always secretly held open." At age seven, Davis played the title role in the film Rufus Jones for President, in which he sang and danced with Ethel Waters. He lived for several years in Boston's South End, and reminisced years later about "hoofing and singing" at Izzy Ort's Bar & Grille.
After his discharge, Davis rejoined the family dance act, which played at clubs around Portland, Oregon. He also recorded blues songs for Capitol Records in 1949, under the pseudonyms Shorty Muggins and Charlie Green.
On March 23, 1951, the Will Mastin Trio appeared at Ciro's as the opening act for headliner Janis Paige. They were to perform for only 20 minutes but the reaction from the celebrity-filled crowd was so enthusiastic, especially when Davis launched into his impressions, that they performed for nearly an hour, and Paige insisted the order of the show be flipped. Davis began to achieve success on his own and was singled out for praise by critics, releasing several albums.
In 1959, Davis became a member of the Rat Pack, led by his friend Frank Sinatra, which included fellow performers Dean Martin, Joey Bishop, and Peter Lawford, a brother-in-law of John F. Kennedy. Initially, Sinatra called the gathering "the Clan", but Davis voiced his opposition, saying that it reminded people of the Ku Klux Klan. Sinatra renamed the group "the Summit". One long night of poker that went on into the early morning saw the men drunken and disheveled. As Angie Dickinson approached the group, she said, "You all look like a pack of rats." The nickname caught on, and they were called the Rat Pack, the name of its earlier incarnation led by Humphrey Bogart and Lauren Bacall, who originally made the remark of the "pack of rats" about the group around her husband Bogart.
In August 1989, Davis began to develop symptoms—a tickle in his throat and an inability to taste food.  Doctors found a cancerous tumor in Davis's throat. He had often smoked four packs of cigarettes a day as an adult. When told that surgery (laryngectomy) offered him the best chance of survival, Davis replied he would rather keep his voice than have a part of his throat removed; he was initially treated with a combination of chemotherapy and radiation. His larynx was later removed when his cancer recurred. He was released from the hospital on March 13, 1990.
Davis died of complications from throat cancer two months later at his home in Beverly Hills, California, on May 16, 1990, aged 64. He was interred in Forest Lawn Memorial Park in Glendale, California. On May 18, 1990, two days after his death, the neon lights of the Las Vegas Strip were darkened for ten minutes as a tribute.
Biographical information courtesy of Wiki; for more reading see link below.
https://en.wikipedia.org/wiki/Sammy_Davis_Jr.
Sammy Davis, Jr. – I've Got You Under my Skin / Girl From Ipanema (Live Germany)
Sammy Davis, Jr. – Mr. Bojangles (Live in Germany 1985)