Regina Belle, Smooth jazz Artist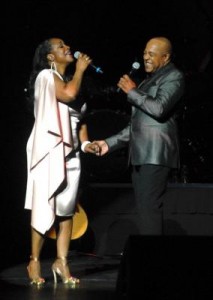 The musical roots of this week's Featured Artist are in gospel.  She first attracted attention to her natural vocal abilities as an eight-year old performing her first solo in the Baptist Church.  Her musical hits which include such songs as "Dream in Color," "Baby Come to Me," "Make It Like It Was," "Show Me the Way," "If I Could," "God is Good," "A Whole New World" (with Peabo Bryson) and her cover of the Isley Brothers' "For the Love of You," have established her with a solid presence on the R&B, Gospel and Jazz music scene.  Meet singer/song-writer – Regina Belle
Born in Englewood, New Jersey, USA
Genre: Jazz, R&B, Gospel
Singer Regina Belle has dazzled critics and fans alike since her debut album, All By Myself, was released in 1987.  Acclaimed as one of the most exciting new singers to emerge on the rhythm and blues scene, the New Jersey songstress boasts a style that recalls some of the most successful black pop female singers in the industry, yet is nonetheless distinctive.  Jim Miller in Newsweek heralded Belle's entry onto the music scene in 1987: "Move over, Anita Baker–and make way for Regina Belle, who may be the most electrifying new soul singer since Baker herself…. Imagine a singer who simultaneously recalls Aretha Franklin, Sade and Anita Baker, and you'll get a fair idea of Belle's singular style."  Belle's subsequent albums solidified her place on the American music scene, with reviewers comparing her favorably to jazz great Billie Holiday.
Belle's wide vocal range has particularly impressed reviewers.  "She has a strong, expressive voice and she's versatile, dealing well with sultry ballads ('Baby Come to Me') or sassy jump-ups ('When Will You Be Mine')," wrote David Hiltbrand inPeople of Stay With Me, Belle's follow-up to All By Myself.  Steve Bloom commented in Rolling Stone that Belle's "full-throated, pop-gospel vocal style brings to mind Anita Baker, Patti LaBelle, and Stephanie Mills."  A number of critics have similarly compared Belle's vocals to those of soul-jazz phenomenon Baker. Hiltbrand noted that, like Baker, Belle "displays a voice of tantalizing quality….She can sound both promisingly intimate and world-weary without sacrificing vibrancy."
Belle has remarked, however, that comparisons to Baker are off-target. She told Bloom: "Because Anita Baker is prominent right now, Regina Belle sounds like Anita Baker…. I've been singing since I was three years old.  By the time [Baker's 1986 album] Rapture came out, my style was already developed.  People say I got certain inflections from Anita, but I got them from Phyllis Hyman.  "That was my girl."  In addition to Hyman, Belle lists other musical influences as Billie Holiday, Donny Hathaway, and Nancy Wilson; she refers to the latter as her "show business mother."  Belle met famous song stylist Wilson at a music convention in Los Angeles. "When I met her she told me that Billie Holiday did it for Dinah [Washington], Dinah did it for her and she has to do it for me," Belle was quoted as saying in Jet.  Belle told Essence that she considers Billie Holiday her musical mentor, calling her "the total epitome of femininity." Although reviewers comment on the similarities between Belle's and Holiday's sultry style, Belle stated in Essence that "I don't want people to think that I want to be Billie Holiday.  But through my music, I can keep her alive–through zamani.  As long as you can remember a person and escalate that memory, that person lives. That's called zamani in Swahili."
Belle's musical roots are in gospel, which she grew up singing in church with her family.  She told an Ebony contributor that she was raised in a house where music was "something…involuntary."  Her mother's specialty was gospel, and she learned rhythm and blues from her father.  "The music was the same, just the message was different," she told Bloom. Belle sang during high school and on weekends attended classes at New York City's Manhattan School of Music, where she studied opera and classical music.  Belle did not study jazz until college, when she enrolled in the Jazz Ensemble at Rutgers University.  Belle told Bloom that with jazz she learned "to listen for colors, as opposed to trying to sing just notes.  For the longest time, I couldn't figure out what that meant."
Not sure that music would be her career, Belle majored in accounting and history at Rutgers.  She soon discovered that economics and accounting were not her strong suit, but that African-American history was.  "Learning my history was the beginning of Regina Belle–knowing who she is and where she fits in life," she toldEssence.  She would go on to incorporate her understanding of history into her music.
Her big break as a singer came when disc jockey Vaughn Harper heard her open a concert on the Rutgers campus.  Impressed, Harper introduced Belle to the manager of the singing group The Manhattans, who were looking for a female backup singer.  Shortly thereafter Belle was touring with the group; a recording contract from the group's label, Columbia, soon followed.
Belle's 1987 debut, All By Myself, was an instant success; Stay With Me, her 1989 effort, established Belle as a major singer on the rhythm and blues scene.  Both albums generated a string of solo hits, including "Show Me the Way," "Make It Like It Was," and "When Will You Be Mine."  Belle has been primarily popular on the black charts, something she hoped would eventually change.  "It's insulting to me when somebody says, 'You're Number One on the black charts.'  It suggests that nobody appreciates my music but black people," she told Bloom.  "I'd love to have a Number One pop single, but I'm not at the point where I have to.  It doesn't plague me."
Belle soon gained wider recognition, however.  In 1989 she scored back-to-back number one singles with "Baby Come to Me" and "Make It Like It Was."  Belle then earned her first Grammy award with a track from her Passion album. "A Whole New World (Aladdin's Theme)" her duet on that album with Peabo Bryson won four Grammy Awards in 1993.  While admitting to Billboard that neither she nor Bryson had expected the Grammy, Belle added that "it sure made us happy."  Her 2002 album This Is Regina was nominated for a Grammy.
Over her two-decade career, Belle has combined the sounds of R&B with jazz.  And with her 2004 album Lazy Afternoon, Belle realized her own sound.  She related on the Peak Records Web site that she hopes when her fans hear the album, they'll think: 'We always knew she was going to do this.'
In addition to receiving acclaim as a recording artist, Belle is also considered an outstanding live performer who is not afraid to take chances musically.  "Her gifted voice and stage presence make her a tough 'opening' act," noted Ebony."  She is said to hold her own on any given night, and on others make the 'headliner' acts sweat for their star-status."  Peter Watrous of the New York Timesreviewed a show-stealing opener by Belle in 1989, noting that "Ms. Belle, who has an extraordinary voice, dug deep into gospel and blues melodies, letting the grit of her voice show, often tearing apart the original impulse of a song."  The following year Watrous reviewed Belle as a headliner at New York's Avery Fisher Hall, commenting that "though she's not working as a jazz singer, she is an exceptional improviser.  "Belle's shows, Watrous continued, are expansive andimprovisatory, old-fashioned qualities that make her one of the most exciting pop singers working."  In 2005 Belle was a featured artist at the eleventh annual Essence Festival, the premier R&B festival in America.
Biographical information courtesy of answers.com
http://www.answers.com/topic/regina-belle