Nina Simone, Vocal jazz Artist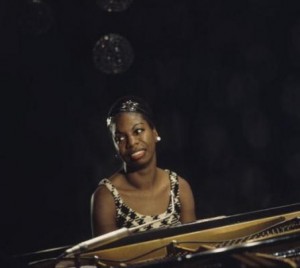 This week's Featured Artist could be considered one of the most gifted jazz vocalist, songwriter, pianist, and arranger of the twentieth century.   She sang jazz, blues, gospel, pop, protest songs and folk songs, and with an extraordinary career that spanned over fifty years, has left us with a legacy of music/songs that kept her spirit alive.  Meet the late singer-songwriter/pianist – Nina Simone
Born in Tryon, North Carolina, USA
Genre: Jazz, Blues. R&B, Folk
She was one of the most extraordinary artists of the twentieth century, an icon of American music.  She was the consummate musical storyteller, a griot as she would come to learn, who used her remarkable talent to create a legacy of liberation, empowerment, passion, and love through a magnificent body of works.  She earned the moniker 'High Priestess of Soul' for she could weave a spell so seductive and hypnotic that the listener lost track of time and space as they became absorbed in the moment.  She was who the world would come to know as Nina Simone.
When Nina Simone died on April 21, 2003, she left a timeless treasure trove of musical magic spanning over four decades from her first hit, the 1959 Top 10 classic "I Loves You Porgy," to "A Single Woman," the title cut from her one and only 1993 Elektra album. While thirty-three years separate those recordings, the element of honest emotion is the glue that binds the two together – it is that approach to every piece of work that became Nina's uncompromising musical trademark.
By the end of her life, Nina was enjoying an unprecedented degree of recognition.  Her music was enjoyed by the masses due to the CD revolution, discovery on the Internet, and exposure through movies and television.  Nina had sold over one million CDs in the last decade of her life, making her a global catalog best-seller.
No one website can fully explore the many nuances and flavors that made up the more than 40 original albums in the Nina Simone library.  This site and accompanying radio station contain many of Nina's finest works.  However, we might not have had the chance to witness the breathtaking range of material Nina could cover if she hadn't taken the path she did.
Born Eunice Kathleen Waymon in Tryon, North Carolina on February 21st, 1933, Nina's prodigious talent as a musician was evident early on when she started playing piano by ear at the age of three.  Her mother, a Methodist minister, and her father, a handyman and preacher himself, couldn't ignore young Eunice's God-given gift of music.  Raised in the church on the straight and narrow, her parents taught her right from wrong, to carry herself with dignity, and to work hard.  She played piano – but didn't sing – in her mother's church, displaying remarkable talent early in her life.  Able to play virtually anything by ear, she was soon studying classical music with an Englishwoman named Muriel Mazzanovich, who had moved to the small southern town.  It was from these humble roots that Eunice developed a lifelong love of Johann Sebastian Bach, Chopin, Brahms, Beethoven and Schubert.  This website captures milestones in a career that has had more than its share of peaks and valleys.  After graduating valedictorian of her high school class, the community raised money for a scholarship for Eunice to study at Julliard in New York City before applying to the prestigious Curtis Institute of Music in Philadelphia.  Her family had already moved to the City Of Brotherly Love, but Eunice's hopes for a career as a pioneering African American classical pianist were dashed when the school denied her admission.  To the end, she herself would claim that racism was the reason she did not attend.  While her original dream was unfulfilled, Eunice ended up with an incredible worldwide career as Nina Simone – almost by default.
To survive, she began teaching music to local students. One fateful day in 1954, looking to supplement her income, Eunice auditioned to sing at the Midtown Bar & Grill on Pacific Avenue in Atlantic City, New Jersey.  Word spread about this new singer and pianist who was dipping into the songbooks of Gershwin, Cole Porter, Richard Rodgers, and the like, transforming popular tunes of the day into a unique synthesis of jazz, blues, and classical music.  Her rich, deep velvet vocal tones, combined with her mastery of the keyboard, soon attracted club goers up and down the East Coast.  In order to hide the fact that she was singing in bars, Eunice's mother would refer to the practice as "working in the fires of hell", overnight Eunice Waymon became Nina Simone by taking the nickname "Nina" meaning "little one" in Spanish and "Simone" after the actress Simone Signoret.
At the age of twenty-four, Nina came to the attention of the record industry.  After submitting a demo of songs she had recorded during a performance in New Hope, Pennsylvania, she was signed by Syd Nathan, owner of the Ohio-based King Records (home to James Brown), to his Jazz imprint, Bethlehem Records.  The boisterous Nathan had insisted on choosing songs for her debut set, but eventually relented and allowed Nina to delve in the repertoire she had been performing at clubs up and down the eastern seaboard. One of Nina's stated musical influences were Billie Holiday and her inspired reading of "Porgy" (from "Porgy & Bess") heralded the arrival of a new talent on the national scene.  At the same mammoth 13 hour session in 1957, recorded in New York City, Nina also cut "My Baby Just Cares For Me," previously recorded by Nate King Cole, CountBasie, and Woody Herman.  The song was used by Chanel in a perfume commercial in Europe in the 1980's and it became a massive hit for Nina, a British chart topper at #5, and thus a staple of her repertoire for the rest of her career.
Nina Simone's stay with Bethlehem Records was short lived and in 1959, after moving to New York City, she was signed by Joyce Selznik, the eastern talent scout for Colpix Records, a division of Columbia Pictures.  Months after the release of her debut LP for the label (1959's The Amazing Nina Simone), Nina was performing at her first major New York City venue, the mid-Manhattan-located Town Hall.  Sensing that her live performances would capture the essential spontaneity of her artistry, Colpix opted to record her September 12, 1959 show.  "You Can Have Him," a glorious torch song previously cut by Peggy Lee and Ella Fitzgerald, was one of the highlights of the evening.  The song opened with a dazzling keyboard arpeggio that would become her signature for decades.  So momentous was the Town Hall performance that it inspired some of the same musicians, featuring the vocals of Nina's only daughter, Lisa Simone Kelly, to do a tribute to a sold out audience over forty five years later.
As Nina's reputation as an engaging live performer grew, it wasn't long before she was asked to perform at the prestigious Newport Jazz Festival.  Accompanied on the June 30th,1960 show by Al Schackman, a guitarist who would go on to become Nina's longest-running musical colleague, bassist Chris White, and drummer Bobby Hamilton, the dynamic show was recorded by theColpix.  The subsequent release in 1961 of the old blues tune "Trouble In Mind" as a single gave Nina her third charted record.
Her stay with Colpix resulted in some wonderful albums – nine in all – included Nina's version of Bessie Smith's blues classic "Nobody Knows You When You're Down And "  Issued as a single in 1960, it became Nina's second charted Pop and R&B hit and one of two Colpix tracks to achieve such a feat during her five year stint with the label.  Other stand out tracks from that era were the soulful song "Cotton Eyed Joe," the torch tune "The Other Women," and the Norwegian folk rendition of "Black Is The Colour Of My True Love's Hair" – all beautiful examples of Nina Simone at her storytelling best, painting a vivid picture with her skill as a lyrical interpreter.  During this time with the label, Nina recorded one civil rights song, Oscar Brown s "Brown Baby," which was included on her fifth album for the label, At The Village Gate.
"Critics started to talk about what sort of music I was playing," writes Nina in her 1991 autobiography I Put A Spell On You, "and tried to find a neat slot to file it away in.  It was difficult for them because I was playing popular songs in a classical style with a classical piano technique influenced by cocktail jazz.  On top of that I included spirituals and children's song in my performances, and those sorts of songs were automatically identified with the folk movement.  So, saying what sort of music I played gave the critics problems because there was something from everything in there, but it also meant I was appreciated across the board – by jazz, folk, pop and blues fans as well as admirers of classical " Clearly Nina Simone was not an artist who could be easily classified.
Contributions by: David Nathan (RCA's 'Nina Simone Anthology', 'Simone On Simone'), Ed Ward & Richard Seidel (RCA/Legacy 'To Be Free-The Nina Simone Story'), Rob Bowman (Jazz Icons), additional editing by Sarah Epler
Biographical information courtesy of Nina Simone; click on the link below to read more.
http://www.ninasimone.com/about/bio/