Michael Paulo, Instrumental and Smooth jazz Artist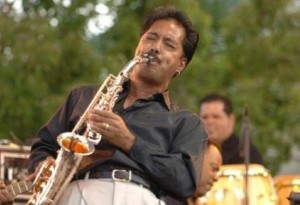 This week's Featured Artist is one of the most dynamic Saxophone players today.  His charismatic stage presence and showmanship at live performance excites audiences leaving them wanting more.  Over the years Michael Paulo toured and added his sax playing style to the music and performance of some of the biggest artist in the music business such as Al Jarreau, David Benoit, Bobby Caldwell, James Ingram, Rick Braun, Peter White, Oleta Adams and Patti Austin to name a few.  Meet smooth jazz saxophonist – Michael Paulo
Born in Hawaii, USA
Genre: Pop, Soul and Smooth/Contemporary Jazz
One of the most versatile and cosmopolitan saxophonists in pop, soul and contemporary jazz for nearly 20 years, Michael Paulo has added his distinctsaxpertise to a virtual who's who of artists, including Al Jarreau (Paulo's longest term touring association), James Ingram, No. 1 Smooth Jazz Trumpeter and guitarist Rick Braun and Peter White, Oleta Adams, Kenny Loggins, Patti Austin, Jeffrey Osborne, Jeff Lorber, David Benoit, Carl Anderson, Bobby Caldwell, Johnny Mathis and more.
Paulo grew up in a musical family (his father a pianist, his mother a singer, his siblings all playing instruments) and though he came upon the sax relatively late at age 15, he quickly became first horn player in his high school band and was playing professional gigs around the islands within a few years. Rather than accept a scholarship to North Texas State, he chose a more adventurous road by joining Hawaiian pop/rock band Kalapana, which had some success on the mainland but was most popular in Japan.  After playing regularly and recording on all four of Kalapana's albums from 1975 through 1979, Paulo recorded a solo album for Japanese release on Trio records.  In addition to exposing him to the Japanese jazz audience, Tats in the Rainbow gave him the opportunity to work with legendary pianist Herbie Hancock.
Paulo moved to Los Angeles in 1981 and quickly established himself by playing with percussionist Ray Armondo and a local R&B outfit featuring members of Rufus.  Two years later, he caught his big break when Al Jarreau hired him for his touring band. The young saxman became an integral part of the Jarreauexperience while touring the world for the next decade. Paulo also gained international recognition as a result of his work on Jarreau's famed "Live in London" release.
In 1988, Paulo met producer Robert Kraft while recording a solo for singer /songwriter Vonda Sheppard. Impressed with the young saxophonist talent, Kraft secured Michael a major recording contract with MCA Records.  Kraft produced his MCA debut "One Passion," which became a Top Ten hit on the contemporary Jazz/NAC charts.  1990's Fusebox, on GRP Records charted in the Top 20 on Billboard's Contemporary Jazz chart.
In 1994 Paulo launched his own label Noteworthy Records with the release of his fourth solo project "Save the Children."  Paulo spent much of the Nineties managing Noteworthy Records and touring with other artists, strengthening his solo career overseas with many Asian tours as well.  Internationally, he is especially beloved in Asia and Thailand where Save the Children was first released.  While that album found Paulo reflecting on the joys of fatherhood and his many world excursions, its similarly successful 1996 follow-up, "My Heart and Soul," was about the simple balance between Paulo's passions for slamming funk and dreamy balladry.  My Heart and Soul was immediately a top ten Smooth Jazz hit.
It's a love affair which continues on "Midnight Passion," a picture perfect reflection on where Paulo has been and where he-and smooth jazz-are headed as we approach the new millennium.
In 2002 Michael released a Holiday Recording "Sax for Christmas" that was awarded a "Hawaiian Grammy" Hoku Award for Best Jazz Cd of the Year.  To date Paulo has nine solo releases to his credit.
In 2003 and 2004 Michael expanded his Horizons performing with the Honolulu Symphony and Asian American Symphonies. His newest release was recorded in 2009 with a forty piece symphony Orchestra with Pianist/arranger David Benoit at the helm. Currently Michael is involved producing The Temecula Wine and Music Festival which is in its eighth year in Temecula California featuring some of the biggest names in Jazz and R&B.
Michael Paulo's reputation as the no.1 Asian American Jazz artist continues with each new year.  He has also toured extensively in the Far East performing for the Sultan of Brunei and the Royal Family of Thailand.  Michael is also popular in Japan where he has performed with numerous well known Japanese artists over the years such as: Namie Amuro, Eikichi Yazawa, Anrie, Mari Ijima, Globe, and more!  A dynamic live performer Michael has constantly left his audiences wanting more.  His emotive playing and endearing style has never failed to capture the hearts of his fans all over the world.  Michael Paulo has continued to build his status as one of the most dynamic saxophonist in the world.
Michael is currently an artist in residence at one of the largest Music Festivals in the world The Java Jazz Festival.  For the past seven years Michael has contributed to the success of the event by introducing many of America's top Jazz and R&B artists to the festival.  For the past three years Michael has produced highly successful jazz concerts in Honolulu and Hawaii.  Michael was recognized by the mayor of Los Angeles and The Governor for his contributions to charitable organizations and the community.
Currently Michael is producing his 8th annual Temecula Wine and Music Festival and his 3rd annual Pacific Rim Jazz Festival in Hawaii.  His company ApauloMusic Productions is also producing the third year of Grooves in The Grove at the world famous La Quinta resort and Spa.  As he swings into 2012 and beyond, it's a good bet that he'll be bringing his passion along for quite some time.  As he says, "Music is always going to evolve, and it's up to the artist to respond gracefully to the changes.  We don't know what the music will sound like years from now, but no matter what, it will be based on what the people in the audience feel."
Biographical information courtesy of Michael Paulo.com