Michael Fair, Instrumental and Smooth jazz Artist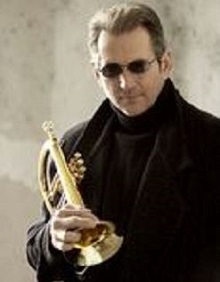 Over the last 30 years, flugelhorn and trumpet artist Michael Fair has placed himself prominently into the competitive smooth jazz market. Michael has carved a unique niche for himself musically here in the Middle Tennessee area for a couple of reasons. Performing and recording smooth jazz in a city primarily known for country and contemporary Christian music makes him a bit unique, and being notorious for playing the flugelhorn and trumpet make him a Nashville anomaly.
Born: St. Paul Minnesota
Genre: Jazz, Smooth Jazz
Michael's partnership with the trumpet began early in his life. At the age of 12 he was given his first horn. It was no time at all until he began playing the songs that he heard his parents listening to by Herb Alpert and the Tijuana Brass. Michael's early performances included solo features in school bands. He studied trumpet performance at Middle Tennessee State University and graduated in 1979 with a Bachelors of Music. Early post college gigs included the typical frat band circuit, club gigs and casuals. Michael moved to Southern California in 1985 and actually did not touch the trumpet or flugelhorn for two years while pursuing other interests. A move back to Nashville in 1987 seemed as natural as picking the horn back up and joining up with a new band, The Cliff Notes, at the time. Working with this group gave Michael exposure to the Nashville music community, opening up opportunities for both live and session work.
""It seemed to be an oddity to be a musician and to actually have grown up in Nashville. The first question anyone would ask me is 'Where are you from'? When I would tell them I was actually from here the response was always the same. No one who plays music is actually from here! As a result of that reaction, I've always felt as though that helped to make me somewhat unique even though I know there are a handful of native Nashville musicians."
Michael has shared the stage on shows with such legends as Michael McDonald, Christopher Cross, Larry Carlton, Olivia Newton-John, Leon Russell, Gary Puckett, Gregg Allman, John Hiatt, Sam Moore, Carman, Claude McKnight, Victor Wooten, Kirk Whalum, and Jim Horn just to name a few. Michael Fair's music has been heard throughout Nashville. He was featured on a cut with Kirk Whalum on the Kloud 9 release "Yearning 2 Love", showcased in the Southeast as the solo horn in the Latin Jazz ballet, "Arriving in Indigo City" and has performed on various CDs and movie soundtracks.
Aspiring to cultivate his own signature style, Michael teamed up with writer Brandon Barnes who has been the recipient of numerous songwriting awards, namely multi-Grammy nominations, the Soul Train Award, BMI Pop Song Award, American Music Award, MTV Music Award, Image Award, Blockbuster Award, and an ASCAP Award. Michael met Brandon Barnes in 1995 while Brandon was in Nashville working with Claude McKnight from Take 6 and right after Brandon completed his work with Brian McKnight on his first CD titled "Brian McKnight". Brandon was a fan of the flugelhorn and loved Michael's sound when he heard him playing at a Nashville club. The two "hit it off" and talked about doing a smooth jazz horn project for years. Finally schedules lined up and together the two have written and produced three smooth jazz projects, the debut CD, "Love Me Like That" in the summer of 2001, their sophomore offering "How Close Are We" released in the fall of 2003 and their 2006 release," Back for More".
Biographical information courtesy of Michael Fair; for more reading see links below.
http://michaelfairmusic.com/bio