Luis Villegas, Instrumental jazz Artist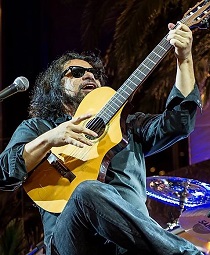 Luis Villegas is a Mexican American guitarist best known for his debut CD Cafe Olé, which mixed new-age music, flamenco, and jazz and garnered a spot on the Grammy ballot for Best New Age Album of the Year in 1999. He is known for using a technique of playing fast, intricate lines by using the fingernail of his right index finger in place of a guitar pick. He also had a small role, as a member of a band, in the film Collateral starring Tom Cruise and Jamie Foxx.
Born: East Los Angeles, California, USA
Genre: Jazz, Latin, World Jazz, New-age
Luis is a first generation son of Mexican immigrants.  As a boy, he listened to traditional Mexican boleros and even got to sing with the legendary Mexican ranchero singer, Vicente Fernandez.  But like so many teenagers, it was rock 'n roll that got him hooked on the guitar.
"The first instrument that I wanted to play was an electric guitar," says Luis.  "I wanted to learn the guitar solo from Led Zeppelin's "Heartbreaker" and "Eruption" by Eddie Van Halen."  A self-taught guitarist, Luis played in rock bands all through high school and into college.   Then in his early twenties, something happened.  "I think I hit a wall in my appreciation for rock music.  I needed a little more stimulus," he says. He picked up an acoustic guitar and started experimenting with classical music, jazz, blues and even flamenco.  "My dad had some classical music and flamenco LPs that he'd listen to at home.  My mom listened to latin music on the radio. I had friends that introduced me to jazz.  I'd hear WAR and El Chicano blasting from neighbor's houses.  And I worked at a library where I could easily get a hold of CDs of all these different genres and just listen to all these styles all the while trying to expand my knowledge on the guitar by incorporating these different approaches to my guitar playing."
During this period, Luis wrote and recorded songs that were to appear on his first two CD's a few years later. To perform these compositions he formed a band that initially consisted of some of his rock 'n roll friends and eventually featured some of L.A.'s best musicians. They built a large following by performing every weekend at clubs and restaurants in an around the Los Angeles area.
​Luis' popularity eventually landed him a recording contract and he released his first CD, "Cafe Ole'" (Domo/EMI) in 1998 which was on the Grammy ballot for Best New Age Album.  His follow-up, "Spanish Kiss" (Baja/TSR) in 2000 had him swept into the Nuevo Flamenco wave with the likes of Jesse Cook, Strunz & Farah and Ottmar Liebert.  That year had Luis performing at jazz festivals around the country on the strength of the single, "La Reyna" which played on smooth jazz radio stations.
When asked to describe his style, Luis seems to be at a loss.  "I've had that question posed to me so many times throughout the years and I still don't have a good answer.   It's a mixture of a lot of different styles.  And especially growing up in L.A. you hear one type of music here, and another type of music there and what ultimately comes out of you is an amalgamation of all these different styles."
On Luis' new CD "Eastside":  "I wanted to record an album that paid homage to the music of East L.A., not just in a musical sense but also in the way things were produced back in the 70's.  We're using equipment, instruments, and techniques that were used back then.  We were even lucky enough to have some special guest musicians on it!"  Tierra's Rudy and Steve Salas and original Hammond B3 organist, Joey Guerra make an appearance on the CD as does WAR's drummer Sal Rodriguez.  "It's a special record with some great music and awesome musician's on it. I think people will dig it!"
Biographical information courtesy of Wiki and Luis Villegas; for more reading see links below.
https://en.wikipedia.org/wiki/Luis_Villegas
https://www.luisvillegas.com/bio