Louis Armstrong, Vocal and Classic jazz Artist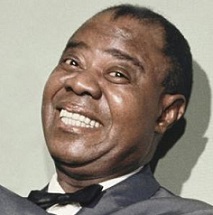 Louis Daniel Armstrong (August 4, 1901 – July 6, 1971)
Louis Armstrong nicknamed "Satchmo", "Satch", and "Pops", was an American trumpeter, composer, vocalist, and actor who was among the most influential figures in jazz. His career spanned five decades, from the 1920s to the 1960s, and different eras in the history of jazz. In 2017, he was inducted into the Rhythm & Blues Hall of Fame.
With his instantly recognizable rich, gravelly voice, Armstrong was also an influential singer and skillful improviser, bending the lyrics and melody of a song. He was also skilled at scat singing. Armstrong is renowned for his charismatic stage presence and voice as well as his trumpet playing. By the end of Armstrong's career in the 1960s, his influence had spread to popular music in general. Armstrong was one of the first popular African-American entertainers to "cross-over", meaning his music transcended his skin color in a racially divided America.
Born: New Orleans, Louisiana, USA
Genre: Jazz, Swing, Vocal, Dixieland Jazz, Traditional Jazz, Pop
The late Louis Armstrong came to prominence in the 1920s as an inventive trumpet and cornet player. Armstrong was a foundational influence in jazz, shifting the focus of the music from collective improvisation to solo performance. Around 1922, he followed his mentor, Joe "King" Oliver, to Chicago to play in the Creole Jazz Band. In Chicago, he spent time with other popular jazz musicians, reconnecting with his friend Bix Beiderbecke and spending time with Hoagy Carmichael and Lil Hardin. He earned a reputation at "cutting contests", and relocated to New York in order to join Fletcher Henderson's band.
With his instantly recognizable rich, gravelly voice, Armstrong was also an influential singer and skillful improviser, bending the lyrics and melody of a song. He was also skilled at scat singing. Armstrong is renowned for his charismatic stage presence and voice as well as his trumpet playing. By the end of Armstrong's career in the 1960s, his influence had spread to popular music in general. Armstrong was one of the first popular African-American entertainers to "cross-over", meaning his music transcended his skin color in a racially divided America. He rarely publicly politicized his race, to the dismay of fellow African Americans, but took a well-publicized stand for desegregation in the Little Rock crisis. He was able to access the upper echelons of American society at a time when this was difficult for black men.
Armstrong often stated that he was born on July 4, 1900. Although he died in 1971, it was not until the mid-1980s that his true birth date, August 4, 1901, was discovered by Tad Jones by researching baptismal records. At least three other biographies treat the July 4th birth date as a myth.
Armstrong was born in New Orleans to Mary Albert and William Armstrong. Mary Albert was from Boutte, Louisiana, and gave birth at home when she was about sixteen. William Armstrong abandoned the family shortly after. About two years later, he had a daughter, Beatrice "Mama Lucy" Armstrong, who was raised by Albert.
Louis Armstrong was raised by his grandmother until the age of five when he was returned to his mother. He spent his youth in poverty in a rough neighborhood known as The Battlefield. At six he attended the Fisk School for Boys, a school that accepted black children in the racially segregated system of New Orleans. He did odd jobs for the Karnoffskys, a family of Lithuanian Jews. While selling coal in Storyville, he heard spasm bands, groups that played music out of household objects. He heard the early sounds of jazz from bands that played in brothels and dance halls such as Pete Lala's, where King Oliver performed.
The Karnoffskys took him in and treated him like family. Knowing he lived without a father, they fed and nurtured him. In his memoir Louis Armstrong + the Jewish Family in New Orleans, La., the Year of 1907, he described his discovery that this family was also subject to discrimination by "other white folks" who felt that they were better than Jews: "I was only seven years old but I could easily see the ungodly treatment that the white folks were handing the poor Jewish family whom I worked for." He wore a Star of David pendant for the rest of his life and wrote about what he learned from them: "how to live—real life and determination." His first musical performance may have been at the side of the Karnoffsky's junk wagon. To distinguish them from other hawkers, he tried playing a tin horn to attract customers. Morris Karnoffsky gave Armstrong an advance toward the purchase of a cornet from a pawn shop.
When Armstrong was eleven, he dropped out of school. His mother moved into a one-room house on Perdido Street with him, Lucy, and her common-law husband, Tom Lee, next door to her brother Ike and his two sons. Armstrong joined a quartet of boys who sang in the streets for money. He also got into trouble. Cornetist Bunk Johnson said he taught the eleven-year-old to play by ear at Dago Tony's honky tonk. (In his later years Armstrong credited King Oliver.) He said about his youth, "Every time I close my eyes blowing that trumpet of mine—I look right in the heart of good old New Orleans … It has given me something to live for."
Borrowing his stepfather's gun without permission, he fired a blank into the air and was arrested on December 31, 1912. He spent the night at New Orleans Juvenile Court, then was sentenced the next day to detention at the Colored Waif's Home. Life at the home was spartan. Mattresses were absent. Meals were often little more than bread and molasses. Captain Joseph Jones ran the home like a military camp and used corporal punishment.
Armstrong developed his cornet skills by playing in the band. Peter Davis, who frequently appeared at the home at the request of Captain Jones, became Armstrong's first teacher and chose him as bandleader. With this band, the thirteen year-old Armstrong attracted the attention of Kid Ory.
On June 14, 1914, Armstrong was released into the custody of his father and his new stepmother, Gertrude. He lived in this household with two stepbrothers for several months. After Gertrude gave birth to a daughter, Armstrong's father never welcomed him, so he returned to his mother, Mary Albert. In her small home, he had to share a bed with his mother and sister. His mother still lived in The Battlefield, leaving him open to old temptations, but he sought work as a musician. He found a job at a dance hall owned by Henry Ponce, who had connections to organized crime. He met the six-foot tall drummer Black Benny, who became his guide and bodyguard.
Armstrong played in brass bands and riverboats in New Orleans, first on an excursion boat in September 1918. He traveled with the band of Fate Marable, which toured on the steamboat Sidney with the Streckfus Steamers line up and down the Mississippi River. Marable was proud of his musical knowledge, and he insisted that Armstrong and other musicians in his band learn sight reading. Armstrong described his time with Marable as "going to the University", since it gave him a wider experience working with written arrangements. He did return to New Orleans periodically. In 1919, Oliver decided to go north and resigned his position in Kid Ory's band; Armstrong replaced him. He also became second trumpet for the Tuxedo Brass Band.
During the 1920s, Louis Armstrong brought a huge impact during the Harlem Renaissance within the Jazz world. The music he created was an incredible part of his life during the Harlem Renaissance. His impact touched many, including a well-known man during that time named Langston Hughes. The admiration he had for Armstrong and acknowledging him as one of the most recognized musicians during the era. Within Hughes writings, he created many books which held the central idea of jazz and recognition to Armstrong as one of the most important person to be part of the new found love of their culture. The sound of jazz, along with many other musicians such as Armstrong, helped shape Hughes as a writer. Just as the musicians, Hughes wrote his words with jazz.
Armstrong changed the jazz during the Harlem Renaissance. Being known as "the world's greatest trumpet player" during this time he continued his legacy and decided to continue a focus on his own vocal career. The popularity he gained brought together many black and white audiences to watch him perform.
After spending many years on the road, Armstrong settled permanently in Queens, New York in 1943 in contentment with his fourth wife, Lucille. Although subject to the vicissitudes of Tin Pan Alley and the gangster-ridden music business, as well as anti-black prejudice, he continued to develop his playing. He recorded Hoagy Carmichael's "Rockin' Chair" for Okeh Records.
During the next 30 years, Armstrong played more than 300 performances a year. Bookings for big bands tapered off during the 1940s due to changes in public tastes: ballrooms closed, and there was competition from television and from other types of music becoming more popular than big band music. It became impossible under such circumstances to finance a 16-piece touring band.
During the 1940s, a widespread revival of interest in the traditional jazz of the 1920s made it possible for Armstrong to consider a return to the small-group musical style of his youth. Armstrong was featured as a guest artist with Lionel Hampton's band at the famed second Cavalcade of Jazz concert held at Wrigley Field in Los Angeles which was produced by Leon Hefflin Sr. on October 12, 1946.
Following a highly successful small-group jazz concert at New York Town Hall on May 17, 1947, featuring Armstrong with trombonist/singer Jack Teagarden, Armstrong's manager, Joe Glaser dissolved the Armstrong big band on August 13, 1947, and established a six-piece traditional jazz group featuring Armstrong with (initially) Teagarden, Earl Hines and other top swing and Dixieland musicians, most of whom were previously leaders of big bands. The new group was announced at the opening of Billy Berg's Supper Club.
This group was called Louis Armstrong and His All Stars and included at various times Earl "Fatha" Hines, Barney Bigard, Edmond Hall, Jack Teagarden, Trummy Young, Arvell Shaw, Billy Kyle, Marty Napoleon, Big Sid Catlett, Cozy Cole, Tyree Glenn, Barrett Deems, Mort Herbert, Joe Darensbourg, Eddie Shu and percussionist Danny Barcelona. During this period, Armstrong made many recordings and appeared in over thirty films. He was the first jazz musician to appear on the cover of Time magazine, on February 21, 1949. Louis Armstrong and his All Stars were featured at the ninth Cavalcade of Jazz concert also at Wrigley Field in Los Angeles produced by Leon Hefflin Sr. held on June 7, 1953 along with Shorty Rogers, Roy Brown, Don Tosti and His Mexican Jazzmen, Earl Bostic, and Nat "King" Cole.
By the 1950s, Armstrong was a widely beloved American icon and cultural ambassador who commanded an international fan base. However, a growing generation gap became apparent between him and the young jazz musicians who emerged in the postwar era such as Charlie Parker, Miles Davis, and Sonny Rollins. The postwar generation regarded their music as abstract art and considered Armstrong's vaudevillian style, half-musician and half-stage entertainer, outmoded and Uncle Tomism, "… he seemed a link to minstrelsy that we were ashamed of." He called bebop "Chinese music". While touring Australia, 1954, he was asked if he could play bebop. "Bebop?" he husked. "I just play music. Guys who invent terms like that are walking the streets with their instruments under their arms."
In June 1950, Suzy Delair performed rehearsals of the song "C'est si bon" with Aimé Barelli and his orchestra at the Monte Carlo casino where Louis Armstrong was finishing the evening. Armstrong enjoyed the song and he recorded the American version in New York City on June 26, 1950. In the 1960s, he toured Ghana and Nigeria.
After finishing his contract with Decca Records, he became a freelance artist and recorded for other labels. He continued an intense international touring schedule, but in 1959 he suffered a heart attack in Italy and had to rest.
In 1964, after over two years without setting foot in a studio, he recorded his biggest-selling record, "Hello, Dolly!", a song by Jerry Herman, originally sung by Carol Channing. Armstrong's version remained on the Hot 100 for 22 weeks, longer than any other record produced that year, and went to No. 1 making him, at 62 years, 9 months and 5 days, the oldest person ever to accomplish that feat. In the process, he dislodged the Beatles from the No. 1 position they had occupied for 14 consecutive weeks with three different songs.
Armstrong kept touring well into his 60s, even visiting part of the communist bloc in 1965. He also toured Africa, Europe, and Asia under the sponsorship of the US State Department with great success, earning the nickname "Ambassador Satch" and inspiring Dave Brubeck to compose his jazz musical The Real Ambassadors. By 1968, he was approaching 70 and his health began to give out. He suffered heart and kidney ailments that forced him to stop touring. He did not perform publicly at all in 1969 and spent most of the year recuperating at home. Meanwhile, his longtime manager Joe Glaser died. By the summer of 1970, his doctors pronounced him fit enough to resume live performances. He embarked on another world tour, but a heart attack forced him to take a break for two months.
Biographical information courtesy of Wiki; for more reading see link below.
https://en.wikipedia.org/wiki/Louis_Armstrong