Lindsey Webster, Vocal and Smooth jazz Artist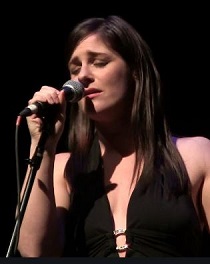 Lindsey Webster first single, "Fool Me Once", reached number one on the Smooth Jazz chart at Billboard magazine (2016), making her the first vocalist since Sade's 2010 "Soldier of Love" to have a #1 vocally-driven song in the primarily instrumental format. Since then Webster has scored six Top 5 hits, including "Where Do You Want To Go" (#1), Back To Your Heart (#2), Open Up (#3), Next To Me (#3), and Love Inside.
Born: Woodstock, New York, USA
Genre: Jazz, R&B, Pop
Webster was born in Woodstock, New York, and as a child played the cello. She became interested in singing and studied at the Fiorello H. LaGuardia High School of Music & Art and Performing Arts. She released her first album independently in 2013.
"I am an artist…period," declares Lindsey Webster. "I have influences from many musical genres and have been influenced by them from a young age. I believe in the power of music to empower and reach people on multiple levels."
The stunning, charismatic and amiable Lindsey Webster's roots span the worlds of R&B, Pop, Rock, and Jazz and beyond. Her flawless range has been compared to Mariah Carey, Whitney Houston and Minnie Ripperton, while her breezy and poetic songwriting is reminiscent of Sade. Soultracks says, "If Carole King and Sade had a kid, she would be Lindsey Webster" while Popmatters touts Webster's work as "Classy, consistent, and exceptional." Webster's refreshing approach has garnered two Billboard #1's and seven Top 10's on the Billboard Contemporary Jazz Chart, making her the first vocalist in the format to garner a #1 since the iconic Sade.
Her anticipated new recording, "A Woman Like Me", is a dazzling 11-track excursion that further solidifies her allure as both a songwriter and singer.  Her goal all along has been simple. "I want to continue to bring realness to the music world. I don't want to sing about things I don't feel," declares the Woodstock native.
Biographical information courtesy of Wiki and Lindsey Webster; for more reading see link below.
https://en.wikipedia.org/wiki/Lindsey_Webster
https://www.lindseywebstermusic.com/bio