Keiko Matsui, Smooth jazz Artist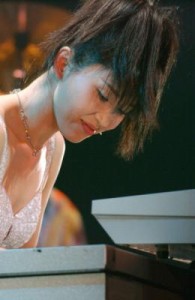 This week's Featured Artist took her first music lesson on the piano at the age of five, and in her early musical career was influenced by Stevie Wonder and Rachmaninov, as well as early fusion masters Maurice Jarre and Chick Corea.  You can also consider her to be a humanitarian, because she has used her music and star-power to make valuable contribution to improve human lives throughout the world.  Meet smooth/contemporary jazz, jazz fusion and new agekeyboardist and composer – Keiko Matsui
Born in Tokyo, Japan
Genre: Smooth/Contemporary Jazz, Jazz Fusion, New Age
Keiko Matsui is an icon of contemporary jazz. With nearly 1.2 million units sold in the U.S. alone and packed concert halls, she is one of the most recognized artists in the genre. Her elegant piano melodies and gentle jazz grooves have enormous appeal and never disappoint her loyal fanbasewhich she has cultivated with over a dozen albums and stunning live shows.  WALLS OF AKENDORA, Matsui's latest recording of all new material, showcases her signature sophisticated jazz style on ten tunes that range from the classically-inspired to bold and brassy. "Akendora," she explains, "is a fictional place of my own device! It is a place that I go to to find peace and to spend contemplative moments." The 'walls' of the title do not refer to any barriers around this haven, but rather milestones. "It's like marking your child's height on the wall. It's about seeing where you have been and where you can go," she explains.
Matsui has taken her music to extraordinary places since that fateful day of her first piano lesson. By the time she was in junior high school, she began composing and developing a taste for jazz, drawing inspiration from a variety of classical and contemporary composers ranging from Chopin, Mozart, and Rachmaninov to Chick Corea, Keith Jarrett, and Stevie Wonder. At the age of 17, Matsui was chosen to record for the Foundation, and that same year, she composed her first film score.
Matsui commenced her solo recording career with 1987's A DROP OF WATER. NO BORDERS (1989), UNDER NORTHERN LIGHTS (1990), NIGHT WALTZ (1991), CHERRY BLOSSOM (1992), DOLL (1994), SAPPHIRE (1995), and DREAM WALK (1996) further cemented her reputation and increased her popularity. No stranger to the upper reaches of the contemporary jazz album and airplay charts, Matsui was named Top Indie Contemporary Jazz Artist Of The Year by Billboard magazine in 1996.
In 1997, The American Society of Young Musicians honored Matsui with its Essence Award, which recognizes artists whose vitality captures "the very spirit and soul of audiences worldwide." That same year, she launched a tour dedicated to raising awareness of breast cancer, and released a four-song CD entitled A GIFT OF HOPE that benefited the Y-Me Breast Cancer Organization. Matsui's music was prominently featured in Say It, Fight It, Cure It, a special profiling several courageous women who were battling breast cancer that aired on the Lifetime cable television network.
In 1999, Matsui performed at "A Golden Moment," a skating concert featuring Olympic figure skaters Kristi Yamaguchi, Tara Lipinski, EkaterinaGordeeva, and Katarina Witt that benefited the renowned breast cancer organization, the Susan G. Komen Foundation.
1998 saw the release of Matsui's album FULL MOON AND THE SHRINE, which was accompanied by an acclaimed PBS-TV special entitled KeikoMatsui: Light Above The Trees. The special reflected the multicultural nature of Matsui's life and music and was filmed, in part, at Japan's breathtakingly beautiful 1,300-year-old Itsukushima Shrine and during a high-energy concert in San Francisco. The special earned Matsui a National Smooth Jazz Award for Best Long-Form Video Achievement in 2000. She was also honored as the Best Female Artist that year and again in 2001.
Matsui again turned her attention to charitable activities with the release of 2001's DEEP BLUE. Raising awareness of the need for bone marrow donors, particularly in the Asian, African-American, and Hispanic communities,Matsui launched a nationwide concert tour and donated a portion of ticket proceeds to The National Marrow Donor Program and The Marrow Foundation. She also released a four-song CD entitled GIFT OF LIFE to raise funds for the two organizations.
2001 brought about a period of reflection for Matsui and a strong desire to create music that would help heal a world in turmoil. She began to contemplate, "Why am I creating music, and as a musician, what can we do?" Matsui also reflected on the futures of children growing up in a world devastated by violence and hatred. The result was THE RING – an album intended to communicate a message of peace, compassion, and humanity to listeners around the world. Her technical and compositional virtuosity that has become her hallmark, along with the symphonic grandeur of her sound, paired beautifully in this stirring and emotional album.
On 2004's WILDFLOWER, Matsui once again used music as a platform for inspiring good. The album's title track benefits the United Nations World Food Programme's efforts in Africa. WFP is the world's largest humanitarian agency which, in 2002, fed 72 million people in 82 countries including most of the world's refugees and internally displaced people. "I decided I wanted to support the WFP after learning about the tremendous problems in Africa and how humanitarian assistance can change people's lives for the better,"Matsui said. "So much help is needed there, particularly for the children who have been orphaned or abandoned because of war and AIDS."
Biographical information courtesy of Keiko Matsui Fansite