Kate Ceberano, Vocal jazz Artist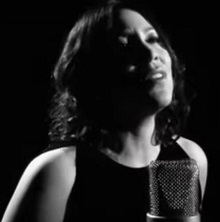 Catherine Yvette "Kate" Ceberano (/səˈbrɑːnoʊ/ or /sɛbəˈrɑːnoʊ/, is an Australian singer who performs in the soul, jazz, and pop genres, as well as in film and musicals.
Kate Ceberano first came to prominence in the mid-80's as a 15-year-old sensation fronting pop funk band, I'm Talking.  Five consecutive hit singles and a Platinum debut album, "Bear Witness", led to a swag of awards for both the band and Kate.  After launching her solo career, she took out Best Female Artist at the '88 and '89 ARIA awards with her triple Platinum album "Brave", nominated as ARIA Album of the Year.  In 1992, Kate hit the stage to perform the role of Mary in "Jesus Christ Superstar". The show's star-studded cast toured nationally, performed over 80 arena shows and the album was the biggest hit of the year earning four times platinum status.
Born: Melbourne, Victoria, Australia
Genre: Pop, rock, soul, jazz
Kate Ceberano was born in Melbourne, Australia to an American father of Filipino descent and an Australian mother. Her father is karate master Tino Ceberano, from Hawaii (his father emigrated from the Philippines to Hawaii; his name was Sobirano, but because of his illiteracy the spelling was changed on arrival). Her maternal forebears were some of the earliest settlers and government officials in South Australia, Victoria and Tasmania.
Ceberano first came to prominence singing back-up vocals with Melbourne, Australia band Models. The band produced a Top 5 album in 1985 called Out of Mind, Out of Sight, before Ceberano found fame with her funk band I'm Talking. I'm Talking are acknowledged as the band "who pioneered New York-style art pop in Australia during the Jurassic Period of Pub Rock". The group was managed by Ken West, now known for being a co-founder of the Big Day Out events. The group's debut album, Bear Witness, included three top ten singles and achieved a platinum sales certification. Ceberano won the Most Popular Female Performer award at the 1986 Countdown Awards.
After the debut album, the group broke up and Ceberano went solo. It was then, in the late '80s, that she earned a reputation for her soul, jazz and pop repertoire. Radio stations labelled her as having "one of the greatest voices our music industry has ever produced". Ceberano's first solo album was the live recording Kate Ceberano and her Septet, released in March 1987. The following year, she collaborated with Wendy Matthews on the album You've Always Got The Blues, which was the soundtrack to the ABC Television show Stringer. The album peaked at No. 7 on the ARIA charts and earned her a nomination for the ARIA Award for Best Female Artist in 1988.
In 1989, Ceberano released her album Brave. The album was the 20th highest-selling album in Australia in 1989, and spawned four singles, including "Bedroom Eyes", which became the fifth highest-selling single in Australia in 1989 and the highest-selling single by an Australian artist that year. At the 1989 ARIA awards, she won the ARIA Award for Best Female Artist, as well as "Highest Selling Single" for "Bedroom Eyes". At the end of 1990, she received three Mo Awards for Jazz Performer, Female Rock Performer and Contemporary Concert Performer of the Year.
Ceberano contributed "Nature Boy" to The Crossing soundtrack, before releasing the albums Like Now in 1990 and Think About It! in 1991.
In 1992, she joined the cast of the Australian national tour of Jesus Christ Superstar, in which she performed the role of Mary Magdalene. The album was the highest-selling album in Australia in 1992, certified four times platinum. Two singles were released from the album, including "Everything's Alright" (with John Farnham and Jon Stevens), which peaked at No. 6 on the ARIA charts. Ceberano won a Logie Award for Most Popular Music Video in 1993 for "Everything's Alright". "I Don't Know How To Love Him" was the second single and won Ceberano another nomination for Best Female Artist in 1993. Ceberano travelled to New York and recorded a number of songs which were to appear of an album with the working title of Globe. The album was scrapped by label Elektra Records. However, a number of recordings from this session appears on her 1996 album Blue Box.
Ceberano followed this success with a late-night cabaret show on ABC-TV called Kate Ceberano and Friends (1993–1994). The album from the program was certified gold and peaked at No. 19 in 1994. In 1996 she released her solo album Blue Box, which also went gold. She was nominated for another Best Female Artist at the ARIA awards. In 1997 she wrote and released "Pash", a pop song which went platinum. The album Pash went to No. 5 on the ARIA charts, was certified gold, and produced the singles "Pash" and "Love Is Alive".
In 1996, Ceberano recorded a cover version of The Carpenters' song, "We've Only Just Begun". Ceberano's label at the time (Mushroom Records) did not release the song commercially, however it was used over the end credits in the 1997 Australian film, The Castle, and appeared on a short run of CD soundtracks. In 2016, the song was included on her compilation album, Anthology.
Ceberano returned with her 2003 studio album The Girl Can Help It. In 2007, Ceberano saluted the 1980s with her cover album Nine Lime Avenue, which was recorded in three weeks while she was on television show Dancing with the Stars. The album was a commercial success, peaking at No. 4 and gave Ceberano her first 'top 5' album since 1989's "Brave". Ceberano toured in late 2007 before recording another cover album, released in 2008, titled So Much Beauty, which peaked at No. 9 in Australia.
Ceberano released three albums in 2009: the first is a collaborative jazz album that was recorded with Mark Isham, titled "Bittersweet", which earned Ceberano a nomination at the 2009 ARIA awards; the second, an indie album with Dallas Cosmas, titled Dallas et Kate; and in November, Ceberano released her first Christmas album, simply titled Merry Christmas, which was certified gold.
In 2010, Ceberano was crowned Queen of Moomba, while Molly Meldrum was crowned King.
Ceberano launched a studio album in August 2013, titled Kensal Road, and it was her first album of new material in ten years. The album was preceded by the single release "Magnet" and Ceberano toured nationally in October 2013.
On 6 May 2016, her 3-disc Anthology album was released. On 15 April 2018, Ceberano performed at the 2018 Commonwealth Games closing ceremony.
On 17 October 2018, Ceberano confirmed that she will reunite with I'm Talking, who will return to the stage in 2019 for to support Bryan Ferry's Australian tour. "I never, ever thought I'm Talking would reform and I'm a very optimistic person. The band split due to external pressures. So this reunion feels really good. Everything's amicable, we're all getting along. You learn a lot in hindsight. After 30 plus years things take on a treasured hue. You're not tired of the songs. They actually sound awesome. We are a time capsule."
In 2019, Ceberano released Tryst with Paul Grabowsky. The album won the ARIA Award for Best Jazz Album at the ARIA Music Awards of 2019.
Biographical information courtesy of Wiki and Kate Ceberano; for more reading see links below
https://en.wikipedia.org/wiki/Kate_Ceberano