Jumaane Smith, Vocal, Instrumental and Smooth jazz Artist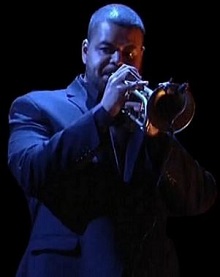 This world renowned trumpeter and vocalist, known for his work with Michael Bublé has already done what most musicians spend their lives dreaming about.  He has traveled the world, played stages in historic clubs, in massive stadiums and at cultural landmarks, recorded a solo album, appeared on national television and performed for two sitting U.S. presidents.
Born: Seattle, Washington, USA
Genre: Jazz, Smooth Jazz, Contemporary Jazz
His collaborations range from pop idols to jazz legends, and the list reads like a lineup for the best New Orleans Jazz Fest ever.  He has worked with Stevie Wonder, Quincy Jones, Michael Buble', Jackie Evancho, Alicia Keys, The Jonas Brothers, Wyclef Jean, Justin Bieber, Diddy, Natalie Cole, James Ingram, Wynton Marsalis, Ravi Coltrane, Chris Botti and many more.
Biographical information courtesy of Jumaane Smith; for more reading see link below:
http://www.jumaanesmith.com/bio/