Julie London, Vocal jazz Artist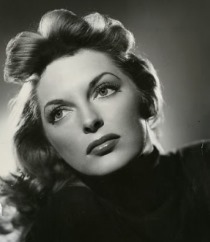 Julie London (born Nancy Gayle Peck; September 26, 1926 – October 18, 2000) was an American singer and actress, whose career spanned more than 40 years. Born in Santa Rosa, California to vaudevillian parents, London was discovered while working as an elevator operator in downtown Los Angeles, and began her career as an actress. London's 35-year acting career began in film in 1944, and included roles as the female lead in numerous Westerns, co-starring with Rock Hudson in The Fat Man (1951), with Robert Taylor and John Cassavetes in Saddle the Wind (1958), and opposite Robert Mitchum in The Wonderful Country (1959).
Born: Santa Rosa, California, U.S
Genre: Jazz, Pop
In the mid-1950s, she signed a recording contract with the newly established Liberty Records, and released a total of 32 albums of pop and jazz standards during the 1950s and 1960s, with her signature song being "Cry Me a River", which she introduced in 1955. London was noted by critics for her husky, smoky voice and languid vocal style. She released her final studio album in 1969, but achieved continuing success playing the female starring role of Nurse Dixie McCall, in the television series Emergency! (1972–1979), in which she appeared opposite her real-life husband, Bobby Troup. The show was produced by her ex-husband, Jack Webb.
After divorcing Webb in 1954, London resumed her career, appearing in the drama film The Fighting Chance, which was filmed in May 1955 and released by 20th Century Fox. Earlier in 1955, London was spotted singing at a jazz club in Los Angeles by record producer Simon Waronker, who was recommended to her by her friend (and future husband) Bobby Troup. Despite her notable stage fright, Waronker was impressed by London's vocals and delivery, and later recalled that "The lyrics poured out of her like a hurt bird." Waronker convinced London to pursue a recording career, and signed her with the then-newly established Liberty Records. London recorded 32 albums in a career that began in 1955 with a live performance at the 881Club in Los Angeles.
Her debut album, Julie Is Her Name, was released in December of that year after a self-titled single, and Billboard named her the most popular female vocalist for 1955, 1956, and 1957. She was the subject of a 1957 Life cover article in which she was quoted as saying, "It's only a thimbleful of a voice, and I have to use it close to the microphone. But it is a kind of over-smoked voice, and it automatically sounds intimate."
London's debut recordings (which appeared on her self-titled extended play) were completed under the New York-based Bethlehem Records label. Four additional tracks recorded during these sessions were later included on the album Bethlehem's Girlfriends, a compilation album released in 1957. Bobby Troup was one of the session musicians on the album. London recorded the standards "Don't Worry About Me", "Motherless Child", "A Foggy Day", and "You're Blasé".
London's most famous single, "Cry Me a River", was written by her high-school classmate Arthur Hamilton and produced by Troup. The recording became a million-seller after its release on her debut album in 1955.
While her music career earned her public notice, London also continued to appear in films, with lead roles in the film noir Crime Against Joe (1956), as well as appearing as herself in the Jayne Mansfield musical comedy The Girl Can't Help It (1956), in which London performs three songs, including "Cry Me a River".
The film was a box-office success, and became one of the top-30 highest-grossing films of 1956. London subsequently appeared in a television advertisement for Marlboro cigarettes, singing the "Marlboro Song". She went on to appear in several Westerns: In 1957, she appeared in Drango playing a Southern belle harboring fugitives, followed by a starring role opposite Gary Cooper in Man of the West, a Western drama in which her character, the film's only woman, is abused and humiliated by an outlaw gang. The same year, she appeared as a pending bride in the Western Saddle the Wind, opposite Robert Taylor and John Cassavetes; London's performance received critical acclaim in The New York Times. She subsequently appeared in The Wonderful Country in 1959, opposite Robert Mitchum, in which she plays a downtrodden wife of an army major.
In 1960, London released the album Julie…At Home, which was recorded at her residence in Los Angeles. The same year, she released Around Midnight, which incorporated a larger backing band in comparison to her previous releases. She continued to release numerous albums on Liberty Records throughout the 1960s, including Whatever Julie Wants (1961), Love Letters (1962), The End of the World (1963), and All Through the Night (1965), the latter a collection of songs by Cole Porter.
A shy and introverted woman, London rarely granted interviews, and spent the remainder of her life out of the public sphere. In 1995, she suffered a stroke, which left her with permanent health problems, and died five years later of a heart attack.
Biographical information courtesy of Wiki; for more reading see link below.
https://en.wikipedia.org/wiki/Julie_London