Harry Connick, Jr., Vocal jazz Artist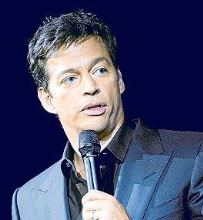 Harry Connick Jr. is a singer, composer, actor, and television host. He has sold over 28 million albums worldwide. Connick is ranked among the top 60 best-selling male artists in the United States by the Recording Industry Association of America, with 16 million in certified sales. He has had seven top 20 US albums, and ten number-one US jazz albums, earning more number-one albums than any other artist in US jazz chart history.
Connick's best-selling album in the United States is his Christmas album When My Heart Finds Christmas (1993). His highest-charting album is his release Only You (2004), which reached No. 5 in the US and No. 6 in Britain. He has won three Grammy Awards and two Emmy Awards. He played Debra Messing's character Grace Adler's husband, Leo Markus, on the NBC sitcom Will & Grace from 2002 to 2006.
Born: New Orleans, Louisiana, USA
Genre: Pop, Easy listening, Big-band, Jazz-Funk, Jazz, Swing, Blue-eyed Soul
Harry Connick Jr. was born and raised in New Orleans, Louisiana. His mother, Anita Frances Livingston (née Levy) was a lawyer and judge in New Orleans. His father, Joseph Harry Fowler Connick Sr., was the district attorney of Orleans Parish from 1973 to 2003. His parents also owned a record store. Connick's father is a Catholic of Irish, English, and German ancestry. Connick's mother, who died from ovarian cancer, was Jewish (her parents had emigrated from Minsk and Vienna). Connick and his sister, Suzanna, were raised in the Lakeview neighborhood of New Orleans.
Connick's musical talents came to the fore when he started learning keyboards at age three, playing publicly at age five, and recording with a local jazz band at ten. When he was nine years old, Connick performed the Piano Concerto No. 3 Opus 37 of Beethoven with the New Orleans Symphony Orchestra (now the Louisiana Philharmonic). Later he played a duet with Eubie Blake at the Royal Orleans Esplanade Lounge in New Orleans. The song was "I'm Just Wild About Harry". This was recorded for a Japanese documentary called "Jazz Around the World". The clip was also shown in a Bravo special, called Worlds of Harry Connick, Junior. in 1999. His musical talents were developed at the New Orleans Center for Creative Arts and under the tutelage of Ellis Marsalis Jr. and James Booker.
Connick attended Jesuit High School, Isidore Newman School, Lakeview School, and the New Orleans Center for Creative Arts, all in New Orleans. Following an unsuccessful attempt to study jazz academically, and having given recitals in the classical and jazz piano programs at Loyola University, Connick moved to the 92nd Street YMHA in New York City to study at Hunter College and the Manhattan School of Music. There he met Columbia Records executive, Dr. George Butler, who persuaded him to sign with Columbia. His first record, Harry Connick Jr., was a mainly instrumental album of standards. He soon acquired a reputation in jazz because of extended stays at high-profile New York venues. His next album, 20, featured his vocals and added to this reputation.
With Connick's reputation growing, director Rob Reiner asked him to provide a soundtrack for his romantic comedy, When Harry Met Sally… (1989), starring Meg Ryan and Billy Crystal. The soundtrack consisted of several standards, including "It Had to Be You", "Let's Call the Whole Thing Off" and "Don't Get Around Much Anymore", and achieved double-platinum status in the United States. He won his first Grammy Award for Best Jazz Male Vocal Performance for his work on the soundtrack.
Connick made his screen debut in Memphis Belle (1990), a fictional story about a B-17 Flying Fortress bomber crew in World War II. In that year he began a two-year world tour. In addition, he released two albums in July 1990: the instrumental jazz trio album Lofty's Roach Souffle and a big-band album of mostly original songs titled We Are in Love, which also went double platinum. We Are in Love earned him his second consecutive Grammy for Best Jazz Male Vocal.
"Promise Me You'll Remember", his contribution to the Godfather III soundtrack, was nominated for both an Academy Award and a Golden Globe Award in 1991. In a year of recognition, he was also nominated for an Emmy Award for Best Performance in a Variety Special for his PBS special Swingin' Out Live, which was also released as a video. In October 1991, he released his third consecutive multi-platinum album, Blue Light, Red Light, on which he wrote and arranged the songs. Also in October 1991, he starred in Little Man Tate, directed by Jodie Foster, playing the friend of a child prodigy who goes to college.
In November 1992, Connick released 25, a solo piano collection of standards that again went platinum. He also re-released the album Eleven. Connick contributed "A Wink and a Smile" to the Sleepless in Seattle soundtrack, released in 1993. His multi-platinum album of holiday songs, When My Heart Finds Christmas, was the best-selling Christmas album in 1993.
Biographical information courtesy of Wiki; for more reading see link below.
https://en.wikipedia.org/wiki/Harry_Connick_Jr.