Grover Washington, Jr, Classic and Smooth jazz Artist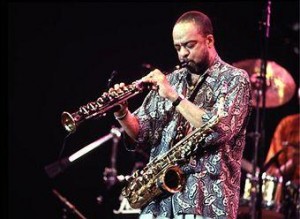 He is considered to be one of the finest and most popular saxophonists of all time, and is credited for his contribution as one of the founders of the smooth jazz, pop-jazz and soul-jazz style of music.  Over the course of his life he made some of the most memorable music that are still as popular today as when they were first recorded. 
Born in Buffalo, New York, USA
Genre: Jazz, Pop, Soul and R&B
Grover Washington, Jr. (December 12, 1943 – December 17, 1999) was an American jazz-funk/soul-jazz saxophonist. Along with John Klemmer, George Benson, David Sanborn, Bob James, Chuck Mangione, Herb Alpert, and SpyroGyra, he is considered by many to be one of the founding fathers of the smooth jazz genre.
Throughout the 1970s and 1980s, Washington made some of the genre's most memorable hits, including "Mr. Magic", "Black Frost", and "The Best is Yet to Come". In addition, he performed very frequently with other artists, including Bill Withers on "Just the Two of Us" (still in regular rotation on radio today) and Phyllis Hyman on "A Sacred Kind of Love". He is also remembered for his take on a Dave Brubeck classic, called "Take Five", and for his hit "Soulful Strut".
Washington played on black nickel-plated saxophones including a SX90R alto,SX90R tenor, and soprano.
Washington was born in Buffalo, New York, 12 December 1943. Regarded as one of the revolutionaries in jazz music, he was and is considered one of the greatest saxophone players in modern jazz history. He led many others to follow in his footsteps.
Washington's history was music-filled. His mother was a church chorister, and his father was a collector of old jazz 78s and a saxophonist as well, so music was everywhere in the home. He grew up with the great jazzmen and big band leaders like Benny Goodman, Fletcher Henderson, and others like them. At the age of 10, with the desire for him to be more than he could be, Grover Sr. gave Jr. a saxophone. He practiced and sneaked into clubs to see famous Buffalo blues musicians.
He left Buffalo and played with a midwest group called the Four Clefs. He was drafted into the US Army shortly thereafter, but this was to be to his advantage, as he met drummer Billy Cobham. Cobham, a mainstay in New York City, introduced Washington to many New York musicians. After leaving the Army, Washington freelanced his talents around New York City, eventually landing in Philadelphia in 1967.
Grover's big break came at the expense of another artist. Alto sax man Hank Crawford was unable to make a recording date with Prestige Records, and Washington took his place, even though he was a backup. This led to his first album, "Inner City Blues". He was talented, and displayed heart and soul with soprano, alto, tenor, and baritone saxophones. Refreshing for his time, he made headway into the jazz mainstream. His fifth album, 1974's "Mister Magic" was a commercial success, and introduced guitarist Eric Gale in as a near-permanent member in Washington's arsenal.
A string of acclaimed records brought Washington through the 1970s, which culminated in the signature piece for everything Washington would do from then on. 1980's Winelight was the album that defined everything Washington was about. The album was smooth, fused with R&B and easy listening feel. Washington's love of basketball, especially the Philadelphia 76ers, led him to dedicate his first track, "Let It Flow" to Julius Erving (Dr. J). The highlight of the album, and a main staple of radio airplay everywhere, was his great collaboration with soul artist Bill Withers, "Just The Two of Us". It was also the final step away from Motown, landing him on Elektra Records and into a new era of jazz excellence. The album went platinum in 1981, and also won Grammy Awards in 1982 for Best R&B Song ("Just The Two of Us"), and Best Jazz Fusion Performance ("Winelight"). "Winelight" was also nominated for Record of the Year and Song of the Year.
From that point, Washington is credited (or scorned, as some may say) for giving rise to a new batch of talent that would make its mark in the late 80s and early 90s. He is blamed for bringing Kenny G to the forefront, but also credited with bringing such smooth jazz artists as Walter Beasley, Steve Cole, Pamela Williams, Najee, George Howard and The Philadelphia Experiment.
The tragedy and irony of Washington's life was that while he was able to get his big break from another artist's absence, Washington lived long enough to bring smooth jazz to the last points of the old millennium, but didn't outlive Hank Crawford, whose absence gave him his big break (and is still alive, as of 2005). On December 17, 1999, while waiting in the green room after taping four songs for the The Early Show, at CBS Studios in New York City, Washington collapsed. He was taken to St. Luke's-Roosevelt Hospital, where he was pronounced dead at about 7:30 p.m. His doctors determined that he had suffered a massive heart attack.
Grover Washington Jr.'s legacy lives on in the futures of up-and-coming jazz artists, and his life is celebrated from college campuses all around the nation to the hallowed streets of his own Philadelphia, his adopted hometown.
Biographical information coutesy of wikipedia; for more reading see link below
http://en.wikipedia.org/wiki/Grover_Washington_Jr