George Howard, Instrumental and Smooth jazz Artist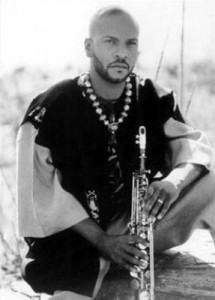 This week's Featured Artist gained recognition and popularity as a smooth/contemporary jazz artist in the late 1980's while touring with the late Grover Washington Jr.  In 1982 he began a very productive recording career giving the music listening audience eleven albums before his untimely death in 1998.  Meet smooth/contemporary jazz saxophonist – George Howard.
Born in Philadelphia, Pennsylvania, USA
Genre: Smooth/Contemporary Jazz, jazz Fusion, Funk, R&B, Pop/Rock
George Howard's polished fusion of funk, jazz, and urban soul helped the soprano saxophonist become one of the most popular contemporary jazz performers of the '80s and '90s.  Since he concentrated on groove and overall sound instead of improvisation, Howard never received much attention from jazz critics, but he retained a large audience well into his second decade of performing.
Howard began his musical career in the late '70s. He received his first break when Grover Washington, Jr., one of his musical idols, invited him on a tour in 1979.  The tour helped establish Howard's name, and in 1982 he released his debut album, Asphalt Garden, on Palo Alto.  The record was a moderate hit, as was its follow-up, 1984's Steppin' Out.  It wasn't until the 1985 release of Dancing in the Sun that Howard earned a large audience.  The album reached number one on the contemporary jazz charts.  Following the release of Dancing in the Sun, he moved to MCA, where he issued A Nice Place to Be, Reflections, Personal, and Love Will Follow.  All four records were considerable successes on the charts.
In 1991, Howard signed to GRP, releasing his label debut, Love and Understanding, that year.  It was followed by Do I Ever Cross Your Mind in 1992 and When Summer Comes in 1993.  A Home Far Away was released in 1994, and Attitude Adjustment was issued in 1996.  All of his GRP recordings were quite successful, confirming his place among the most popular contemporary jazz performers of the '90s.  His first five years with GRP, plus a selection of his MCA recordings, were summarized on 1997's The Very Best of George Howard.
Howard returned to recording with Midnight Mood, which was released in January 1998.  Sadly, it was the last record he would release in his lifetime.  He died unexpectedly on March 29, 1998.  A few months later, his last recording — a version of Sly Stone's There's a Riot Goin' On, which was conceived as part of Blue Note's cover series — was released. ~ Stephen Thomas Erlewine, Rovi
Biographical information courtesy of music msn.com; for more readings check out link below
http://music.msn.com/music/artist-biography/george-howard.4/