Ella Fitzgerald, Vocal jazz Artist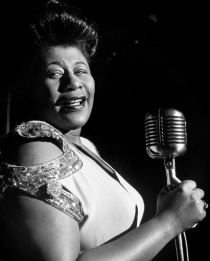 Dubbed "The First Lady of Song," Ella Fitzgerald was the most popular female jazz singer in the United States for more than half a century. In her lifetime, she won 13 Grammy awards and sold over 40 million albums.
Her voice was flexible, wide-ranging, accurate and ageless. She could sing sultry ballads, sweet jazz and imitate every instrument in an orchestra. She worked with all the jazz greats, from Duke Ellington, Count Basie and Nat King Cole, to Frank Sinatra, Dizzy Gillespie and Benny Goodman. (Or rather, some might say all the jazz greats had the pleasure of working with Ella.)
She performed at top venues all over the world, and packed them to the hilt. Her audiences were as diverse as her vocal range. They were rich and poor, made up of all races, all religions and all nationalities. In fact, many of them had just one binding factor in common – they all loved her.
Born: Newport News , Virginia , USA
Genre: Swing, Bebop, Traditional Pop, Vocal Jazz, Blues
Ella Jane Fitzgerald was born in Newport News, Va. on April 25, 1917. Her father, William, and mother, Temperance (Tempie), parted ways shortly after her birth. Together, Tempie and Ella went to Yonkers, N.Y, where they eventually moved in with Tempie's longtime boyfriend Joseph Da Silva. Ella's half-sister, Frances, was born in 1923 and soon she began referring to Joe as her stepfather.
To support the family, Joe dug ditches and was a part-time chauffeur, while Tempie worked at a laundromat and did some catering. Occasionally, Ella took on small jobs to contribute money as well. Perhaps naïve to the circumstances, Ella worked as a runner for local gamblers, picking up their bets and dropping off money.
Their apartment was in a mixed neighborhood, where Ella made friends easily. She considered herself more of a tomboy, and often joined in the neighborhood games of baseball. Sports aside, she enjoyed dancing and singing with her friends, and some evenings they would take the train into Harlem and watch various acts at the Apollo Theater.
In 1932, Tempie died from serious injuries that she received in a car accident. Ella took the loss very hard. After staying with Joe for a short time, Tempie's sister Virginia took Ella home. Shortly afterward Joe suffered a heart attack and died, and her little sister Frances joined them.
Unable to adjust to the new circumstances, Ella became increasingly unhappy and entered into a difficult period of her life. Her grades dropped dramatically, and she frequently skipped school. After getting into trouble with the police, she was taken into custody and sent to a reform school. Living there was even more unbearable, as she suffered beatings at the hands of her caretakers.
Eventually Ella escaped from the reformatory. The 15-year-old found herself broke and alone during the Great Depression, and strove to endure.
Never one to complain, Ella later reflected on her most difficult years with an appreciation for how they helped her to mature. She used the memories from these times to help gather emotions for performances, and felt she was more grateful for her success because she knew what it was like to struggle in life.
http://www.ellafitzgerald.com/about/biography