Down To The Bone, Instrumental and Smooth jazz Artist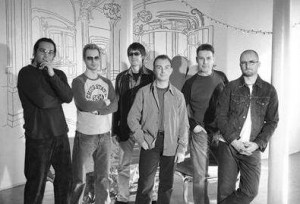 This week's Featured Artist is a jazz band from the United Kingdom.  Their music is soulful, jazzy and funky, and with their popularity is given the royal treatment as king of the UK contemporary and funky jazz experience.  Meet – Down To The Bone
Band was formed in the UK
Genre: Funk, Acid Jazz, Smooth Jazz, Soul
Down to the Bone is Stuart Wade as producer, writer and mastermind behind the whole groove project, working with other talented musicians and co-writers to bring together a project of good grooves.  Set up at the tail end of 1995 when Wade decided to take a track from the soul band he was in at the time, Think Twice, and remix it to give it a rawer and stripped down feel. The result was the Down To The Bone remix of the track 'Joy Is Free' which had great success.
Following on from the success of his remix he teamed up with Think Twice keyboard player, Simon Greenaway, to put together a string of songs.  This resulted in the first release on a 12" single of "Staten Island Groove".  Released on Internal Bass Records, a label Wade set up with another member of Think Twice.  This resulted in rave reviews for the single and club and radio play in the U.K.  It was at this time that Stuart decided to try to complete an album.  Wade had to look for future musicians to work with, whilst still working with Internal Bass Records.  This resulted in the introduction of musicians like Richard Sadler, Richard Wargent, Neil Cowley and Tim Best in order to complete the first album.
After the completion of "From Manhattan To Staten", a title Wade came up with to show his influences from across the pond, it was decided to try to take the whole sound over to America to see what would happen.  Not expecting anything, Wade was astounded by the huge response after two important guys at U.S. Jazz radio, Blake Lawrence and Steve Williamson decided to take it upon themselves to playDTTB on their stations. With support from people like DJ Chillfreeze, Marc E Copeland, Rick Laboy, Cozmic Cat and Andrea 'DJ Sun and some Urban radio interest, DTTB was introduced to a US audience.  It was clear DTTB happened to be in the right place at the right time. The momentum grew and "From Manhattan To Staten" reached No.2 in the National US Billboard Jazz Chart, No.3 in the Gavin Jazz chart and No 4 in the Radio and Records Jazz Chart. DTTB was also the No.1 top selling independent Jazz artist of 1999, No 5 top selling Jazz artist and album of 1998 and No 5 top selling Jazz artist and album in 1999 and with a string of radio hits in the U.S it shows how DTTB have been able to accumulate well over half a million sales worldwide.
Biographical information courtesy of Down to the Bone; for more reading see link below.
http://www.downtothebone.com/band/