Dianne Reeves, Vocal and Classic jazz Artist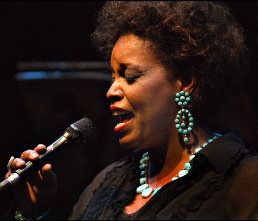 Her album "Beautiful Life", won the Grammy for Best Jazz Vocal Album in 2015. "Beautiful Life" showcases Dianne's sublime gifts in what is a melding of R&B, Latin and pop elements within the framework of 21st Century jazz. The album features memorable covers of Bob Marley's "Waiting in Vain," Fleetwood Mac's "Dreams," Marvin Gaye's "I Want You" and Ani DiFranco's self-empowering "32 Flavors." The rest of the twelve tracks cover a spectrum from jazz to soul, along with two new emotionally volcanic songs, "Cold" and "Satiated."
Produced by Terri Lyne Carrington, Beautiful Life features an all-star cast including bassists Esperanza Spalding and Richard Bona, vocalists Gregory Porter and Lalah Hathaway, pianists Robert Glasper and Gerald Clayton and Reeves' cousin and frequent longtime collaborator, the late great George Duke.
Born: Detroit, Michigan, USA
Genre: Jazz
Dianne Reeves was born into a musical family. Her father sang, her mother played trumpet, her uncle is bassist Charles Burrell, and her cousin is George Duke. She was born in Detroit and raised in Denver.
In 1971 she started singing and playing piano. She was a member of her high school band, and while performing at a convention in Chicago was noticed by trumpeter Clark Terry, who invited her to sing with him. "He had these amazing all-star bands, but I had no idea who they all were! The thing I loved about it was the way they interacted with each other – the kind of intimate exchange that I wasn't part of. For a young singer, it was fertile soil."
She studied classical voice at the University of Colorado.
Reeves moved to Los Angeles, where she sang and recorded with Stanley Turrentine, Lenny White, and Billy Childs. She became a member of the band Caldera, then founded the band Night Flight with Billy Childs, with whom she would collaborate again in the 1990s. She moved to New York City and from 1983 to 1986 toured with Harry Belafonte.
She signed with Blue Note in 1987 and that year her eponymous album, featuring Herbie Hancock, Freddie Hubbard, and Tony Williams, was nominated for a Grammy Award. She went on to win five Grammy Awards.
Music critic Scott Yanow has said of her, "A logical successor to Dinah Washington and Carmen McRae, Reeves is a superior interpreter of lyrics and a skilled scat singer." Her sound has been compared to that of Patti Austin, Vanessa Rubin, Anita Baker, and Regina Bell.
Reeves performed at the closing ceremony of the 2002 Winter Olympics in Salt Lake City. In 2005, she appeared in the film Good Night, And Good Luck singing 1950s standards (including "How High the Moon", "I've Got My Eyes on You", "Too Close for Comfort", "Straighten Up and Fly Right" and "One for My Baby"). In 2006 the soundtrack won the Grammy Award for Best Jazz Vocal Album.
Biographical information courtesy of Wiki and Dianne Reeves; for more reading see links below.
https://en.wikipedia.org/wiki/Dianne_Reeves