David Sanborn, Classic and Smooth jazz Artist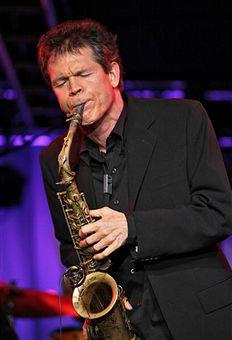 David Sanborn is an alto saxophonist. Though Sanborn has worked in many genres, his solo recordings typically blend jazz with instrumental pop and R&B. He released his first solo album Taking Off in 1975, but has been playing the saxophone since before he was in high school. He is one of the most commercially successful American saxophonists to earn prominence since the 1980s, Sanborn is described by critic Scott Yannow as "the most influential saxophonist on pop, R&B, and crossover players of the past 20 years." He is often identified with radio-friendly smooth jazz, but he has expressed a disinclination for the genre and his association with it.
Born: Tampa, Florida, USA
Genre: Jazz, Jazz Fusion, Rock, R&B, Pop, Funk
David Sanborn has been a highly regarded session player since the late 1960s, playing with an array of well-known artists, such as James Brown, Bryan Ferry, Michael Stanley, Eric Clapton, Bobby Charles, Cat Stevens, Roger Daltrey, Stevie Wonder, Paul Simon, Jaco Pastorius, the Brecker Brothers, Michael Franks, Kenny Loggins, Donny Hathaway, George Benson, Players Association, Elton John, David Bowie, Todd Rundgren and Bruce Springsteen to name a few.
His solo recordings have often featured the bassist/multi-instrumentalist and producer Marcus Miller. He has also done some film scoring for films such as Lethal Weapon (and its sequels) and Scrooged.
In 1991 Sanborn recorded Another Hand, which the All Music Guide to Jazz described as a "return by Sanborn to his real, true love: unadorned (or only partly adorned) jazz" that "balanced the scales" against his smooth jazz material. The album, produced by Hal Willner, featured musicians from outside the smooth jazz scene, such as Charlie Haden, Jack DeJohnette, Bill Frisell, and Marc Ribot.
In 1994 Sanborn appeared in A Celebration: The Music of Pete Townshend and The Who, also known as Daltrey Sings Townshend. This was a two-night concert at Carnegie Hall produced by Roger Daltrey of English rock band The Who in celebration of his fiftieth birthday. In 1994 a CD and a VHS video were issued, and in 1998 a DVD was released.
In 1995 he performed in The Wizard of Oz in Concert: Dreams Come True a musical performance of the popular story at Lincoln Center to benefit the Children's Defense Fund. The performance was broadcast on Turner Network Television (TNT) and issued on CD and video in 1996.
In 2006, he was featured in Gordon Goodwin's Big Phat Band's album The Phat Pack on the track "Play That Funky Music", a remake of the Wild Cherry hit in a big band style. Sanborn often performs at Japan's Blue Note venues in Nagoya, Osaka, and Tokyo. He plays on the song "Your Party" on Ween's 2007 release La Cucaracha.
On April 8, 2007, Sanborn sat in with the Allman Brothers Band during their annual run at the Beacon Theatre in New York City.
In 2010, Sanborn toured primarily with a trio featuring jazz organist Joey DeFrancesco and Steve Gadd where they played the combination of blues and jazz from his album Only Everything.
In 2011, Sanborn toured with keyboardist George Duke and bassist Marcus Miller as the group DMS.
In 2013, Sanborn toured with keyboardist Brian Culbertson on "The Dream Tour" celebrating the 25th anniversary of the song "The Dream."
Biographical information courtesy of Wiki and Dave Sanborn; for more reading see links below
https://en.wikipedia.org/wiki/David_Sanborn
https://www.davidsanborn.com/bio