Chris Walker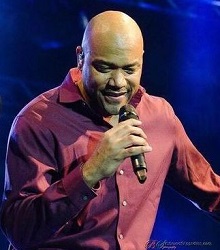 It is most appropriate if there was anyone to continue the legacy of Al Jarreau, it's Chris Walker who served as Al Jarreau's Musical Director, co-vocalist and bassist for more than twenty years. In the summer of 2019, Walker released his homage to Jarreau: "We're In This Love Together – Celebrating Al Jarreau", The Album continues to receive rave reviews from both critics and fans alike. Almost all the musicians on the album worked with Jarreau.
Among other highlights in Chris Walker's varied and ever evolving musical career include: Co-Executive Producer for "Bossa Nova Noites," which produced shows for the USOC, French, German and Japanese Houses during the 2016 Olympics in Rio de Janeiro, featuring Daniel Jobim and Alexandra Jackson, being part of "Joined at the Hip;" a group with Bob James and Kirk Whalum, and performing regularly on Dave Koz's cruises as well as being a special guest with Koz on his 2019 "Gifts of the Season" holiday tour and record.
Born: Houston, Texas, USA
Genre: R&B, Pop, jazz
Chris Walker musician, singer and producer who began singing before he started speaking. He got his start in the church as a member of his family gospel group, The Walker Brothers, and started playing bass at 8 years old.
He plays the bass upside down like one of his early heroes, Jimi Hendrix did on the guitar. The Walker's raised their children with a strong hand, and once Chris graduated from the High School for the Performing and Visual Arts in Houston, he was ready to head to New York to pursue his musical dreams, but he only had forty dollars. In order to attend the New School for Jazz and Contemporary Music, he sold his bass amp; but was denied entry due to his inability to pay the tuition. However, fate would intervene. While walking the halls of the college, he heard a jam session going and decided to join in. When he took the stage the school dean happened to hear him and offered him a full scholarship on the spot. Thus, began a new chapter in his musical journey.
While at the New School, Chris was afforded the opportunity to play with such Jazz greats as Ornette Coleman, Art Blakey, Bob James, Jimmy Heath, Cassandra Wilson and countless others. His musicianship garnered him a position as the Musical Director for R&B songstress Regina Belle as well as touring with Ornette Coleman. For the next two years, he juggled between the two artists. With his desire to sing more, he chose to stay with Ms. Belle, which ultimately led to a successful solo debut project on Pendulum Records.
Chris Walker's first release First Time produced two top five singles; "Giving You All My Love" and "Take Time," which crossed over to become top 30 on the pop charts. His second release entitled Sincerely Yours, included the classic song, "How Do You Heal A Broken Heart," written by Chris and Carole Bayer Sager. It has received over 60 million views on YouTube. His former teacher, Gil Goldstein brought to fruition a longtime dream of Walker's to work with 7-time Grammy Award winner Al Jarreau and continued working with him as his Musical Director, bassist and co-vocalist until Jarreau's passing in 2017.
Biographical information courtesy of Chris Walker; for more reading see link below
https://chriswalkersmusic.com/about-chris-walker/