Al jarreau, Vocal jazz Artist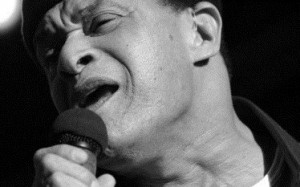 Alwin Lopez Jarreau (March 12, 1940 – February 12, 2017)
This singer Songwriter and seven-time Grammy Awards winner was the quintessential Pop, R&B, Contemporary and Vocal jazz artist of our time.  He kept a high level of performance throughout his career, and is the first vocalist in music history to have received Grammy Awards in (Jazz, Pop and R&B) three separate genres.
Born in Milwaukee, Wisconsin, USA
Genre: R&B, Pop, Vocal Jazz, Smooth/Contemporary Jazz,
Al Jarreau's unique vocal style is one of the world's most precious treasures. His innovative musical expressions have made him one of the most exciting and critically-acclaimed performers of our time with seven Grammy® Awards, scores of international music awards and popular accolades worldwide.
It's not surprising that he has perfected his technique to such an art.  After all, he has been singing since the age of four, harmonizing with his brothers and performing solo at a variety of local events in his hometown of Milwaukee, Wisconsin.  Music, however, was not always the major force in his life.  He excelled in sports and was an above-average student throughout high school and college.
In San Francisco, Al's natural musical gifts began to shape his future.  He found himself performing at a small jazz club with a trio headed by George Duke, and by the late 60s, he knew without a doubt that he would make singing his life.  Relocating to Los Angeles, he began his apprenticeship in such famed nightspots as Dino's, the Troubadour and the Bitter End West. Shortly thereafter, he branched out to New York City as well, where he gained national network television exposure with Johnny Carson, Merv Griffin, David Frost and Mike Douglas.  Al teamed with guitarist Julio Martinez to "spell" up-and-coming comics John Belushi, Bette Midler, Robert Klein, David Brenner, Jimmie Walker and others at the famed comedy venue, The Improv.
In 1975, following an extended stint at the Bla Bla Cafe in Los Angeles, he was spotted by Warner Bros. Records talent scouts and was signed to a recording contract.  His debut album for the label, "We Got By", was released to unanimous acclaim.  It was a reception that spread across the continent and over the Atlantic when Jarreau was awarded a German Grammy for Best New International Soloist that same year.  A second German Grammy came his way with the release of his follow-up album, "Glow".
Biographical information courtesy of Al Jarreau.  For more reading see link below
http://aljarreau.com/about-al/